The hotel industry is growing and showing no signs of slowing down. On average, Americans spend 26% of their travel budget on hotel lodging. Competition is intense in the hospitality industry, and upward trends make it vital for hotel owners to stand out.
Hotel owners must prioritize their financing options to avoid losing valuable revenue. Hotel financing allows hotel owners to run their businesses at their full potential.
Thankfully, many hotel financing options are available, depending on your hotel needs. Let's unpack why your hotel may need financing and the best loans available for hotel owners.
What are the Reasons Your Hotel Business Would Need Financing?
Hotel financing is necessary if you plan to build a brand-new hotel from the ground up. But what about other business operations?
Hotel financing is helpful for many different reasons. Some of the reasons to take loans for hotels may even surprise you! Financing is great for new projects, renovations, and cash safety nets.
To Build a New Hotel
The average 3-star hotel in the US costs $22,000,000 to start. However, luxury 5-star hotels can cost more than $60,000,000.
These numbers sound intimidating, and there is no hiding that starting a hotel business requires a significant up-front investment. Thankfully, these investments often pay off as the travel and hotel industry grows.
When building a brand-new hotel with financing options, payments need to be made for the following:
Architects
Construction teams
Marketing
Interior designers
Hotel staff members
Electricity
Internet
Cable television
Plumbing
Each room in a standard, good-quality 3-star hotel costs around $221,000 to construct. Costs associated with individual rooms are:
Windows and curtains
Air conditioning units
Televisions
Beds and furniture
Bathtubs and showers
Hotel financing is essential for building and starting a new hotel. However, the long and strict application process often makes securing traditional bank loans difficult. Thankfully, multiple alternative loans are available for hotel owners, and the application process is much simpler.
Purchase an Existing Hotel
Taking ownership of an existing hotel costs much less than starting a brand-new one, but the purchase still requires money upfront.
Buying an existing franchise hotel can cost roughly between $195,000 and $7,530,000, just the startup cost. After purchasing an existing hotel, other financial factors come into play, such as:
Property taxes
A mortgage
Payroll for staff
Utility payments
Franchise fees
Hotel financing is the best way to fund startup costs so you can start making a large return on your investment.
Renovate Your Hotel
If you've been running a hotel successfully for some time, it may be due for updates or renovations. You can choose to renovate the entire building or only specific areas.
Renovation costs will vary depending on your hotel's market tier. The most common hotel tier classifications are:
Economy
Midscale
Extended Stay
Upscale
High Upscale
Luxury
The higher the tier classification, the higher the renovation costs. Creating a budget is essential so that you know how much hotel financing you need to secure. Financing can be used for renovations of all kinds, including, but not limited to:
Technology upgrades
Updated appliances
New flooring and paint
Towels and shower curtains
Utility tune-up
Updated lighting fixtures
Buy New Equipment
Did you know that you can get financing specifically for buying new equipment? This type of financing is popular with the medical and construction industries because they require large, expensive equipment, but it can also be useful in the hotel industry.
Buying new equipment for a hotel is a perfectly acceptable reason to pursue financing. Popular types of hotel equipment that need financing are:
Furniture
Artwork
Flat-screen televisions
Solar panels
Business operation software
Security systems
Ice and vending machines
Luggage carts
If you're looking to purchase updated hotel equipment, financing can help. We'll take a look at the details of equipment loans shortly.
Increase Cash Flow
Working in the lodging industry requires a certain amount of cash flow, especially if your hotel business is just starting. Backup cash acts as a safety net when customers cancel last minute and during slow travel seasons.
If your hotel business is new, you need cash available to pay your employees while you wait for a return on your investment. Hotel financing can operate as a fail-safe so you never have to worry about payroll or billing issues.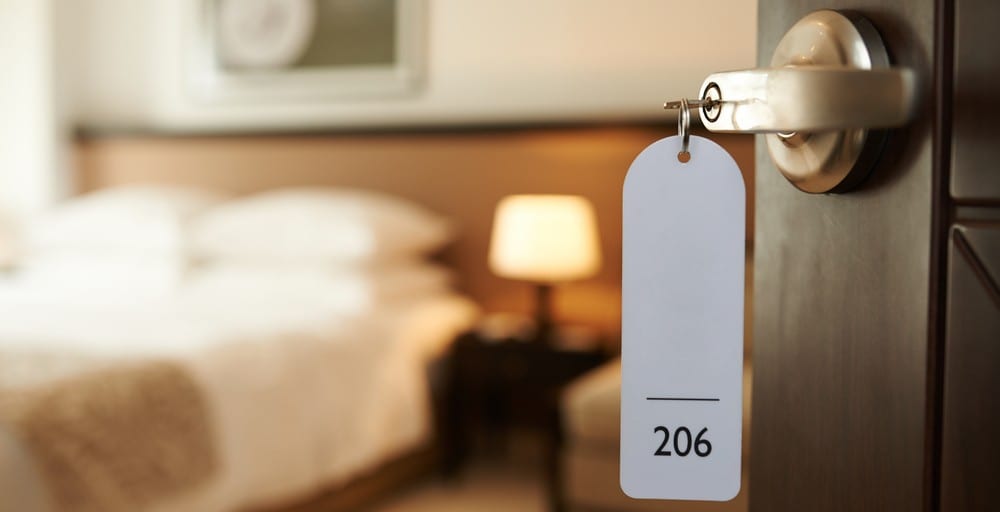 Hotel Financing Options: Types of Hotel Loans
If your business falls into any of the above categories, you will make a great candidate for hotel financing. Hotel loans are some of the most popular routes to pursue.
Depending on your needs, credit score, and financial status, different kinds of loans can finance your business. Here are some of the best loans available for hotels:
SBA Loans
The Small Business Administration (SBA) is a government agency that helps entrepreneurs start and grow their small businesses. The SBA does not operate as a lender; instead, they match small businesses to SBA-approved lenders.
SBA loans provide some of the lowest interest rates with long-term funding. SBA loans are low-risk for lenders, which makes them popular funding options. There are three popular SBA loan programs. They are:
The 7(a) Loan Program: Best for business startups or access to working capital.
The Small Business Microloan Program: Startups and small businesses receive loans of up to $50,000 from intermediary nonprofit lenders.
The CDC/504 Loan Program: Best for small businesses trying to expand or modernize. Provides long-term, fixed-interest rates.
Of all alternative loan options, small business administration loans require the most thorough application. It is important to note that these are not quick cash flow solutions, and it will most likely take a few weeks to get approved.
Term Loans
Term loans are great business loans for hotel owners. A business term loan is a specified amount of capital that you pay back within a designated repayment time. There are short-term, medium-term, and long-term loans, with short and medium being the most popular options for hotel owners.
Short-Term Loans
A short-term business loan provides capital for purposes such as:
Renovation Projects
Expansion
Working Capital
Inventory
Customer Acquisition
And More
A short-term loan is easier to secure compared to a long-term loan. Once you receive the capital, you have a designated time frame of 18 months or less to repay the money. You can expect to make payments monthly, weekly, or sometimes even daily. Most credit scores are considered, and the repayment terms are shorter to lessen the associated risk. Also, hotel financing rates are higher for short-term loans than medium- or long-term loans.
Bridge Loans
Hotel bridge loans are short-term business loans that owners often take advantage of. A bridge loan can be taken out for a period of two weeks up to one year.
Bridge loans offer coverage for a short period of time until a borrower can secure permanent financing. However, bridge loans have relatively high-interest rates and often require collateral.
Medium-Term Loans
Medium-term loans are very similar to short-term loans. The only difference is that these loans are available to people with mid-range credit scores.
Because there is less risk for lenders, medium-term loans can allow the borrower up to two years for repayment. Monthly or bi-monthly payment schedules are standard for medium-term loans.
Commercial Real Estate Loans
A commercial real estate loan is a business loan that helps cover commercial mortgage payments. This is a technical way to differentiate residential and commercial mortgages.
These loans make great hotel loans because they are reserved for real estate that operates for business purposes. Hospitality businesses and retail stores, offices, and apartment buildings are included. A certified public accountant can help you navigate the right commercial real estate loan for your business.
Equipment Loans
Equipment financing is a fantastic option for hotel businesses only looking to update equipment. Equipment loans are popular hotel loans because every business needs equipment of some sort, even if it's just computers.
These business loans are used to fund the purchase of equipment integral to business operations. For hotels, this can include:
Shuttle Buses
Televisions
Operating Software
Furniture
Equipment financing is low-risk for lenders because the equipment itself acts as collateral. The best part is that you officially own the equipment once repayment has been completed.
Discover Loan Offers Perfect for Your Hotel Financing
As you can see, the options for hotel financing are ample. Whether you need quick cash for a renovation or large amounts of financing to start a brand-new hotel, you can find the perfect financing option for your business.
If you want more information about any loans mentioned here, AdvancePoint Capital offers free quotes that will not affect your credit score. Don't wait any longer to secure a business loan to take your hotel to the next level.