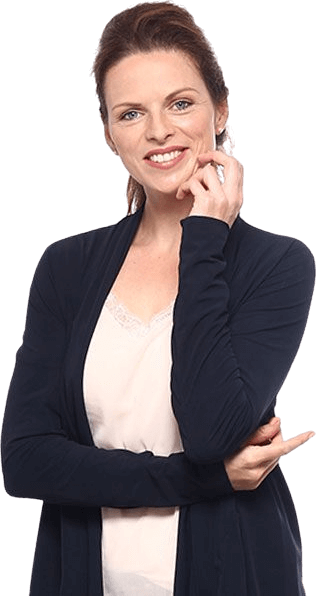 Small Business Loans With Bad Credit
If your poor credit history is holding you back from getting financed by traditional lenders, we're here to be the bearers of good news—it doesn't have to. Luckily, there exists a wide range of special business financing you can take advantage of today. No doubt it's easier with great credit, but there are options to get a small business loan with poor credit. At AdvancePoint Capital, acquiring a small business loan with bad credit, no matter what level your personal FICO credit score is possible. By working with AdvancePoint Capital, you can enjoy the benefits of alternative lenders and business loans with bad credit.
Banks and credit unions do not typically provide business loans for small business owners with bad credit because they have to protect their depositors when offering bank loans. That's where AdvancePoint Capital comes into play for a small business with bad credit. We understand that running small businesses takes great initiative, courage, and support. You may need money for working capital, renovations, restaurants — the list goes on. If one of those key elements is missing from your business, the structure can quickly fall apart. Having the opportunity to access capital through business financing for your business while struggling with bad credit may be the very thing you need to catapult your company into the next income bracket. So, let's dive into business loans for bad credit so you can be better prepared.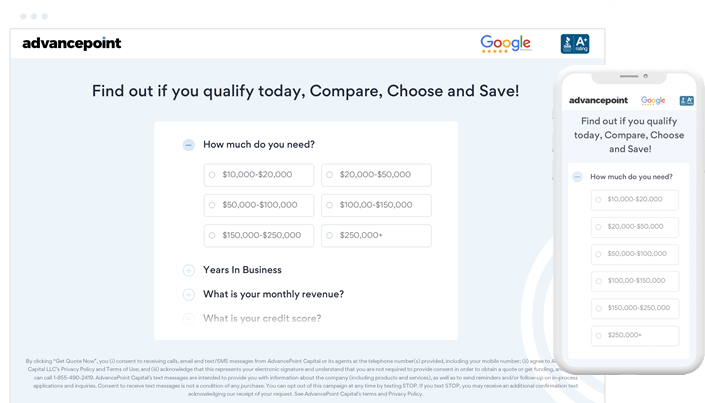 Get Started Today
AdvancePoint Capital makes the loan application process a simple, straightforward experience.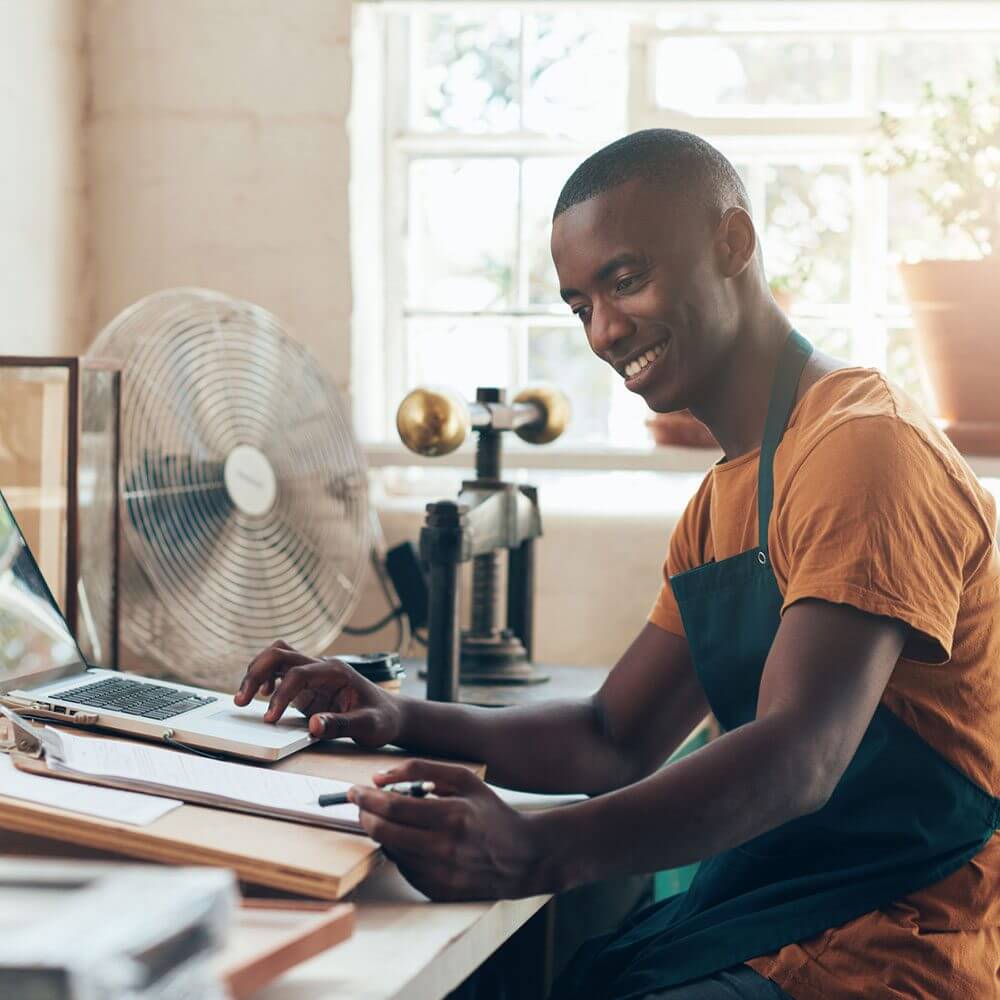 What Defines a Bad Credit Business Loan?
When your credit is calculated by a credit bureau, a FICO score is created on your credit report based on a preset algorithm. These credit scores range from 300 to 850, and your approval rates for business financing and the interest rates you are given are based on your individual score. Personal credit is about more than just a FICO Score.
Business lenders look at FICO scores and have developed specific risk models, which look at what type of tradelines you have, including revolving credit like credit cards, installment loans like mortgages, car loans, and other forms of credit. The number of trade lines of credit you have, payment history length of your trade lines, and credit availability will play a role in the credit decision or a business loan with bad credit. These type of loans offer solutions for those struggling with bad credit.
Your Personal Credit Score Can Impact
Getting a Business Loan
Both traditional lenders and alternative business lenders look not only at the business credit scores of the business but also the personal credit report of the small business owner because it is a key indicator of willingness to repay behavior. Whether it's personal loans or business financing made to small businesses, the data shows lenders that this metric is a key indicator of repayment. The interest rate of the small business loan may also be affected due to that bad credit.
If you're credit score crazy like we are at AdvancePoint Capital, this is a source of information related to what's evaluated by credit reporting agencies in your personal credit FICO score.
The bottom line about business loan with bad credit is that although you don't need a minimum credit score, the better the business owner's personal credit history, the more business financing options are available from online lenders.
What Credit Score Do You Need For A Business Loan?
The specific credit score required for a business loan varies depending on the type of business financing and financial institution. As a rule of thumb, a good credit score of 680 or higher is preferred, but more options and better rates and terms are available above the 720 credit score.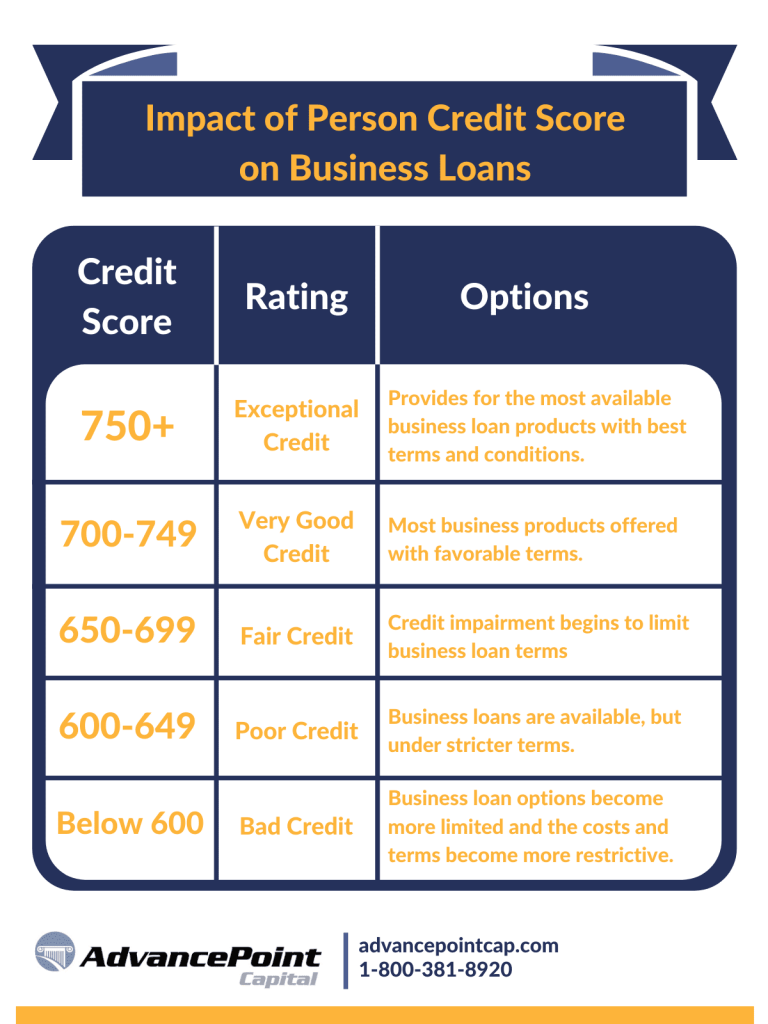 Here's a breakdown chart of the range of personal credit bureaus available by the credit reporting agencies Experian, Trans Union, and Equifax:
Business Loan Options for Poor Credit

Short-Term Bad Credit Small Business Loans
You can classify short-term small business loans as bad credit business loans because the lenders will consider bad credit because of the short duration of repayment. Small business loans are the most popular request from business owners seeking a working capital loan.
Advantages
Quick funding in as little as a day
Low credit requirements starting at 520
No personal collateral required
Tax Deductible

Merchant Cash Advances
Merchant cash advances are a bad credit business loan alternative. Although not a loan, an advance on receivables, merchant cash advances allows for lower personal credit scores and business credit scores because the length of time of repayment is set to be shorter in duration and repayment is attached to future sales and not fixed payments and terms.
Advantages
Based off of revenue instead of profit & loss
Bad Credit Accepted
Quick & Easy Funding
Flexible repayment

Business Cash Advance
Business cash advance, another bad credit business loan alternative, does not have a minimum personal credit score requirement or business credit score requirement for that matter, unlike a traditional business loan. A great option to support cash flow.
Advantages
Revenue based funding
Credit scores as low as 550
High approval rate
Flexible repayment, can adjust to monthly revenue

Invoice Financing
Invoice financing does not consider the personal credit scores of the business looking to get an advance on an unpaid customer invoice within the set "net terms" of the invoice. The personal credit score and business credit score of the client who has to pay the invoice is evaluated. Invoice factoring is a great product to accelerate cash flow.
Advantages
Invoices are purchased and not a loan
Credit of business owner does not matter
Fast funding once invoice is submitted
Does not build up debt on the business

Equipment Financing with Bad Credit
With certain types of collateral, some equipment financing will allow a bad credit score. The business's cash flow must be in good health for financing.
Advantages
Equipment is used as collateral for funding
All credit considered
Funding in as little as 1 to 2 days
Terms are 2 to 5 years

Business Credit Card for Bad Credit
Business credit cards that are secured accept low credit scores. In fact, in most cases, there is no minimum personal credit score requirement. A cash deposit equal to your credit limit is required along with a personal guarantee is required to compensate for a bad credit score.
Advantages
Revolving credit line
Only pay interest on balances
Card issued for purchases & paying expenses
Secured card requires deposit
The fast, convenient and straightforward way to get the money you need for your business – now!
Get your quote today by filling out our simple form.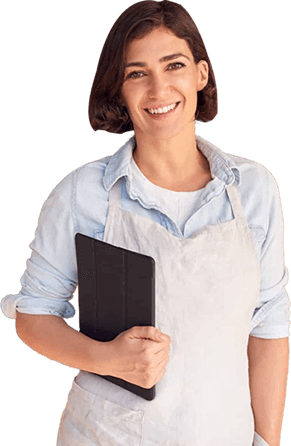 Key Considerations Funding Businesses with Bad Credit
Below are the key considerations for funding businesses with bad credit:
Personal & Business Credit -(credit score may also be a consideration)-Lenders will consider both personal and business credit in determining credit worthiness.
Industry - The industry you are involved in does factor into risk as some industries are more risky than others.
Financial Statements - The business will need to supply bank statements to demonstrate cash flow management. Depending on the product and qualifications, sometimes other documents are required
Current Debt Obligations - The current debt on the business may impact your approval or offer terms.
Annual Revenue - Annual revenue is considered for the purpose of determining eligibility and qualifications.
How to Get Approved For Business Loans With Bad Credit?
There are certain steps to follow to get approved for a business loan when you have a bad credit score. The process is far less lengthy and involved when working with alternative lenders than trying to get a business loan through a traditional lender, such as a bank.
Choose your Originator- Select a business loan originator that has a variety of products and terms to meet your needs.
Application - You will be filling out an application with both business and personal information
Documents- Along with your application, you will be asked to provide documents to support an offer an approval. For bad credit loans, usually you only need to provide business bank statements.
Offers- Once your application has been processed, you business loan originator with provide your offer(s) in writing going over products, rates, terms and conditions for your review and consideration.
Compare & Shop - Always shop and compare offers to make sure you are getting the best products and terms.
Accept Offer - When accepting an offer, sign agreement and provide the necessary closing stipulations.
Fund - Once closing stipulations have been cleared by the lender, funds will be either sent by wire or ACH.
Always Check Your Credit Score
You know you have low credit, but you're afraid to look. Even though you might not want to, knowing your credit score is essential. Knowing your credit score, even if it's poor, will help you narrow down what types of loans you are most likely to qualify for. You may be wondering:
You won't have a business credit score if you've been in business for less than a year because there simply isn't enough information about your business's debt management. Alternative lenders will consider your personal credit score if you've been in business for less than a year.
If you've been in business for more than a year, lenders will consider your personal and business credit scores. Traditional lenders often require a minimum credit score of 680 or more. Alternative lenders focus more on your personal credit score, working capital, and business revenue than your business credit score.
If you want to improve your score as you go forward, consider these tips:
Pay all bills on time
Pay off debt as quickly as possible
Check your credit score frequently
Stay below credit limits
Use a credit monitoring service
If your score improves, lenders will take notice. This will show them that you have more financial responsibility, and your financing options will improve. Even though loan options are available to you if you have bad credit, improving your credit is always a good idea.
Research Options
Once you've checked your credit score, you can research your loan options. Online lenders will be your best bet for securing a small business loan with bad credit. Take note of what options are available to you, and try to find a loan that will give you the amount of money you need with the lowest interest rates. Make sure that whichever loan you pursue has a repayment term that works for you.
If you're unsure which loans for bad credit are available, keep reading to discover your options.
Write Up a Plan
Many lenders will require a written business plan for your loan application. If your application doesn't require one, writing up a business plan is still a good idea. Having a solid business plan written down will help you pinpoint if your bad credit comes from money management issues.
When you can see your patterns and goals clearly out in front of you, it will help keep you from making the same mistakes over and over with your business finances. Many free business plan templates online will help you get started.
Choose Your Collateral and Cosigner
Putting up collateral can improve your chances of securing a business loan with bad credit. Collateral is an asset that you can offer up to qualify for a loan. Oftentimes, collateral makes a lender more confident in extending a loan because it protects their financial stake if the borrower fails to repay the loan fully.
Options for collateral include:
Cash in a savings account
Stocks
Bonds
Equipment
Boat
Car
Future paychecks
Jewelry
Antiques
It is recommended to avoid providing personal assets as collateral whenever possible, especially your home. If you go out of business, you don't want to lose your home and business because you can't repay your loan.
In addition to collateral, finding a cosigner is another way to boost your application. You can try to find someone with good credit to cosign on a loan with you. A cosigner agrees to take over loan payments if you can't pay them. Because of this, it is vital to ensure your cosigner can afford to do so. You must be fully comfortable with the agreement before signing on.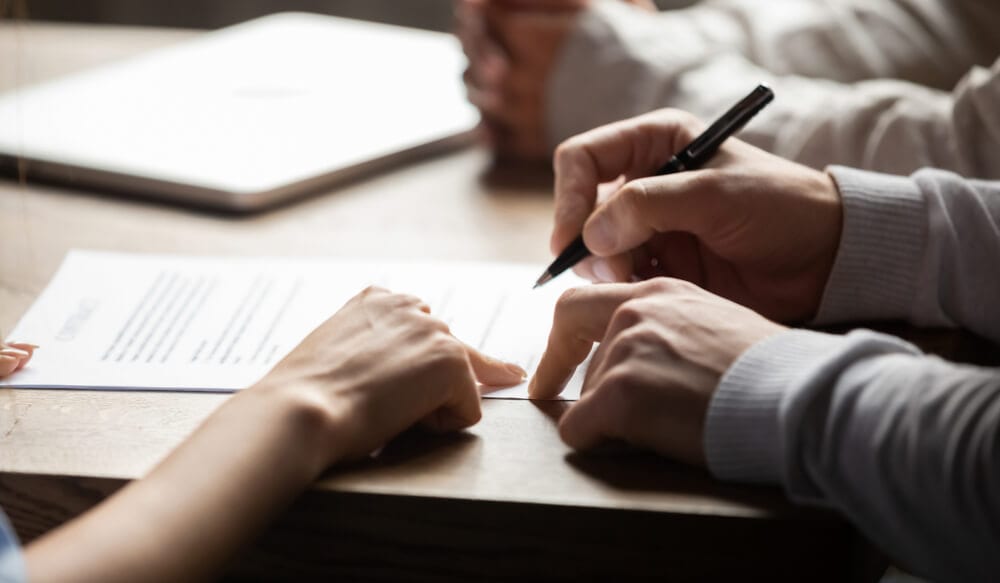 Credit Scores & Loan Options
Now that you know how to prepare for securing a business loan when you have bad credit, let's look at the different small business loan options available to you. Certain loans may or may not be available to you, depending on your credit score. Reference the following breakdown with the types of financing you can qualify for based on your credit score:
700 or above: All business financing options are on the table, such as traditional bank loans, bank business lines of credit, and small business administration (SBA) loans.
640 to 700: Meets the minimum score for SBA loans. Medium-term loans and equipment financing are good options.
600 to 640: Equipment financing, medium-term loans, small-term loans, and invoice financing are best.
550 to 600: Eligible for invoice financing and merchant cash advances
550 or below: Financing options are limited, but merchant cash advances are an option.
Pros and Cons of
Business Loans for Bad Credit
Pros
Access to Working Capital – Instead of being declined by traditional banks, funding can be achieved with alternative lenders for working capital or other needs. Look for higher loan approval rates for less-than-stellar credit.
Credit Score– In some cases, no minimum credit score requirement. Credit score requirements vary.
Fast Business Loan Application Process – Loans are processed and funded on the same day (sometimes).
Reduced Documentation – Compared to traditional business financing, these loan options require less documentation than other business funding, eliminating potential declines.
Personal guarantees are Required for some products, but not all.
Cons
Interest rates will be higher than that of traditional business loans
Fees may cost more than conventional business loans (but not always the case)
Terms will be shorter in the duration of time to repay
May not offer the same flexibility as other business financing.
Business loan amounts and access to the amount of capital may be reduced
Most Common Reasons to Acquire a Bad Credit Business Loan
Here're the most common reasons to acquire a bad credit business loan:
Emergency loan - Businesses often will come up with emergencies such as repairs, unexpected expenses/bills
Working Capital loan- Operating expenses can add up, especially when a business has a slow sales month. Working capital can fill in the gaps.
Cash Flow Shortages - Cash flow shortages can a rise from mismanagement of the books or unexpected downturns in business.
Business Expansion Loans- Businesses often need to grow and expand
Advertising, Marketing, and Customer Acquisition - For some businesses, acquiring and maintaining customers requires advertising spend.
Equipment Loans or Leases- Some businesses rely heavily on equipment for there operations. Loans help defray the cost of equipment with affordable payments.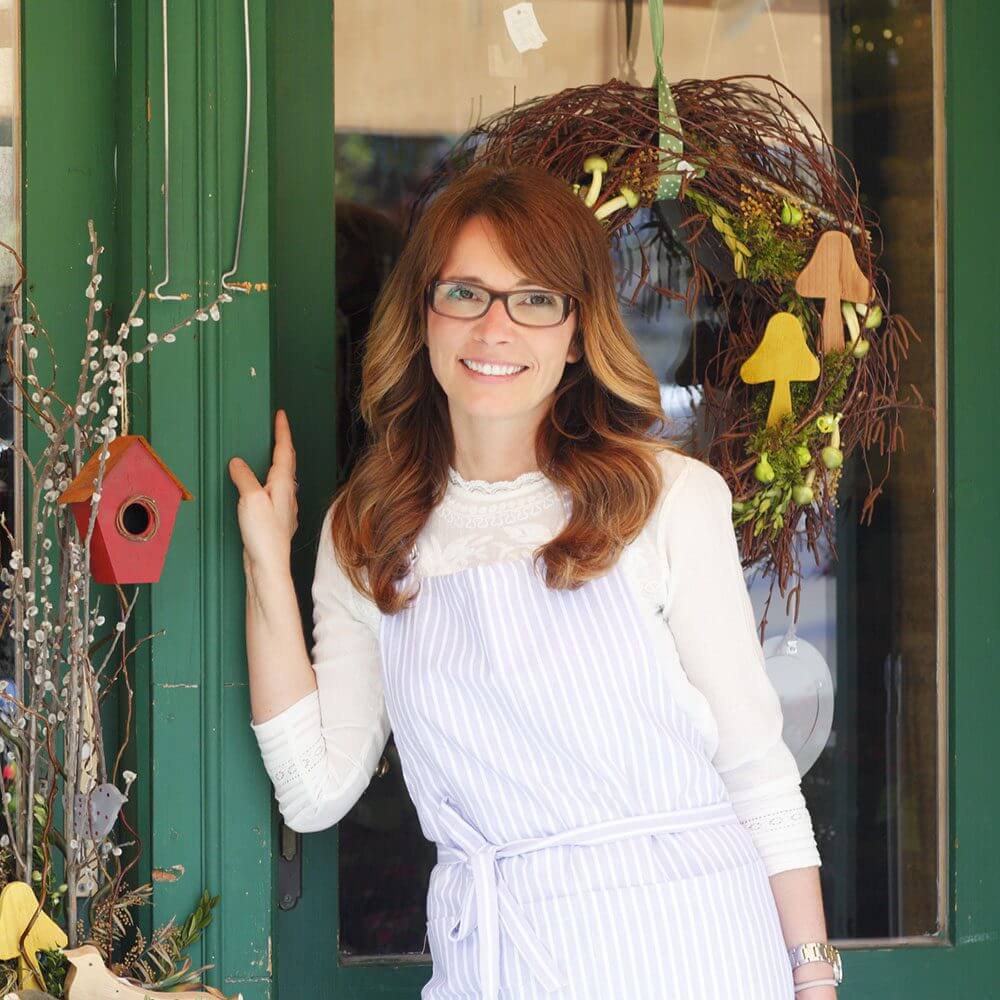 How to Avoid Being Taken Advantage of by
Business Lenders Because You Have Bad Credit
Evaluate the expertise of business loan originators for product knowledge and experience.
Determine a variety of product offerings. Ask yourself if the business loan originator has a diverse amount of business finance product offerings and the best business loans for your business.
Ask how the application, underwriting, and funding processes work. How quick and efficient is the process?
Check various reviews from independent third-party sources that don't work directly with companies, like the Better Business Bureau and Google.
Review agreements, fee disclosures, and term sheets; Always require loan originators to provide any business financing quotes an agreement, fee disclosure, or term sheet with all terms and conditions.
Review and consider all costs or fees associated with the funding transaction.
Consider your offers and quotes, then comparison shop. Any reputable business loan originator will give you a reasonable amount of time (typically a week) to consider any funding offer.
What Types of Lenders Provide
Business Financing With Poor Credit?
Marketplace Business Loan Providers – These providers have the largest network of business financing options of any entity.
Business Loan Brokers – Many brokers specialize in helping those with bad credit scores and have unique funding products to offer with an array of business loan options.
Online Business Lenders (Fintech) – Online business lenders, also known as alternative lenders, may help provide business financing for those with bad credit. Still, the limited product lines may not offer the best choice. Always compare offers with other online lenders if choosing this route, as online lenders have varying guidelines.
Invoice Factoring Companies – Invoice factoring is a unique option for those who invoice their clients as a part of their operation. The business owner's credit score is NOT evaluated. The invoiced clients have their credit evaluated because that is where the collection of funds is coming from in invoice factoring. Fees are low for invoice factoring well, providing an attractive alternative for those with a bad credit score.
Hard Money/Private Business Lenders – This type of lender can provide unique opportunities because it is common for these lenders to use personal and business collateral as compensating factors to fund.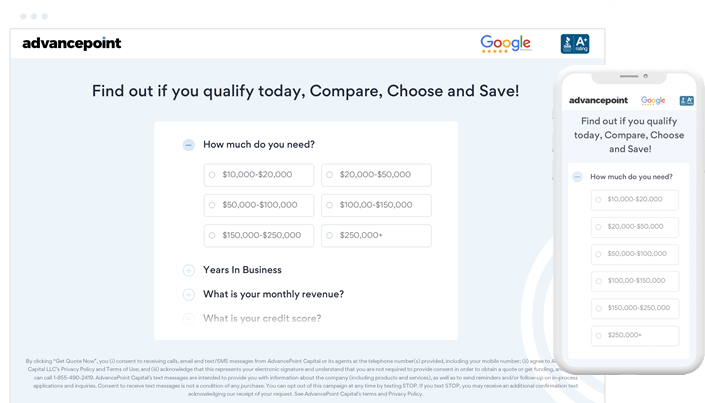 Get Started Today
AdvancePoint Capital makes the loan application process a simple, straightforward experience.
Frequently Asked Questions
Advice, Tips, and Warnings about a Bad Credit Business Loan
Getting business line of credit loans for business owners struggling with their credit score these days is a lot easier than it used to be. There are some exciting new loan options and other small business financing options to access capital for their businesses. These unique product structures provide small business owners access to the capital they may not otherwise get approved for by traditional lenders due to bad credit. Business loans for bad credit are available far and wide if you know where to look for business loans with bad credit. With such a wide range of small business loan opportunities, it can be difficult to find the best business loan options that work for you without help.
However, the business owner still must ask critical questions when getting business financing. Make sure you ask yourself; What is my cost vs. benefit analysis? Should I attempt to improve my bad credit first before choosing business loans for bad credit? Can I make more than it's going to cost me for this money? What are the long-term benefits of accessing this capital for my business? Are the costs, fees, and terms worth it?
If you ask the tough questions of yourself as a business owner and are comfortable with your answers, these bad credit business loans can be an excellent source to help your business grow!
Get a Small Business Loan With Bad Credit and No Collateral
AdvancePoint Capital offers an effortless experience for obtaining bad credit business loans. Our customers love the fast, streamlined process and high approval rates that come from working with us. Bad credit scores are considered. Our marketplace consists of some of the best business lenders in the industry that specialize in bad credit. Let us help you find the best bad credit business loans.
Applying for a loan with AdvancePoint Capital is as simple as a 1, 2, 3, 4 process. Start with this online form, then fill out the short one-page business loan application, wait a few hours for your approval, and then get your money!