Georgia is the 8th most populous state with a population of over 10 million. Atlanta, GA, is both the State Capital and the largest city in the state, with an estimated 6 million people in the Atlanta metropolitan area, which is the 9th most populous metropolitan area in the United States. Georgia's gross state product is over 600 million, which, if it were a country, would be the 28th largest economy in the world.
Georgia has seen tremendous growth in finance, insurance, technology, manufacturing, real estate, service, logistics, transportation, film, communications, convention, and trade show businesses and industries. At the same time, small businesses are the backbone of Georgia's economy.
They play a vital role in creating jobs, promoting innovation, and driving economic growth across the state. At AdvancePoint Capital, we understand the challenges small business owners face in Georgia. That's why we offer a range of flexible loan options to help businesses access the capital they need to grow and succeed. Our small business loans in Georgia can be used for various purposes, including working capital, equipment purchases, inventory management, and business expansion. With our competitive rates and flexible terms, we're here to support the success of small businesses throughout Georgia.
Get A Small Business Loan in Georgia
In the current business landscape, obtaining a loan can be challenging but not unattainable. The key is to identify where to search and understand your funding requirements.
Advancepoint Capital collaborates with diverse businesses across various sectors, leveraging our network of independent business funding specialists to help you find the optimal financing for your business. Our mission is to provide quick and straightforward access to the working capital you need to take your business to new heights. Reach out to us now.
9 Best Small Business Loans in Georgia (December 2023)

Small Business Loans for
Georgia
The most commonly requested business finance tool, small business loans offer fixed rates and terms with no restrictions on the use of funds.

SBA Loans in Georgia
A very popular product due to the attractive rates and terms, the Small Business Administration loans are government back loans. To qualify, you will need good credit and can support the health of the business with documentation.

Merchant Cash Advance in
Georgia
Merchant cash advance is a popular revenue based business funding solution for businesses who consistently process credit cards in there normal coarse of business. Approval is based on revenue and less reliant on credit. Repayment is based on a set percentage of future credit card processing batches so repayment fluctuates to future credit card processing. A great alternative to traditional loans.

Business Cash Advance in
Georgia
A business cash advance is known as revenue-based funding and purchase of future receivables. This is commonly used as an alternative to a business loan when that option is not available due to qualifications. Approval is easier to obtain on a business cash advance because it's based on revenue and not profit & loss. Repayment is made by the purchaser taking a fixed percentage of future sales. Higher approval rates with looser credit guidelines and less documentation.

Business Line of Credit in
Georgia
A business line of credit is a revolving credit line, like a credit card, that allows the business owner to draw money on demand. Good credit and documentation are required for approval.

Equipment Financing for
Georgia
Georgia businesses rely on equipment financing to purchase new equipment at affordable terms from 2 to 7 years. Quick approval process.

Invoice Financing in
Georgia
Invoice financing is a funding solution where businesses get an advance from an invoice factor company at the time of issuance of an invoice for a small fee. The invoice finance company assumes responsibility for collecting from the client within the terms of the invoice. This is a great option if you need to get paid on the invoice fast to support current cash flows.

Short Term Small
Business Loans in Georgia
An alternative to traditional financing, a short-term business loan is a great option when you need approval fast. Functions like a traditional term loan but shorter in term typically 6 to 24 months. High approval rate due to less documentation and lower credit requirements.

Long Term Business Loans for
Georgia
Long-term business loans are for established Georgia businesses looking for a long-term option because of large capital expenditure. Terms range from 2 to 10 years depending on qualifications.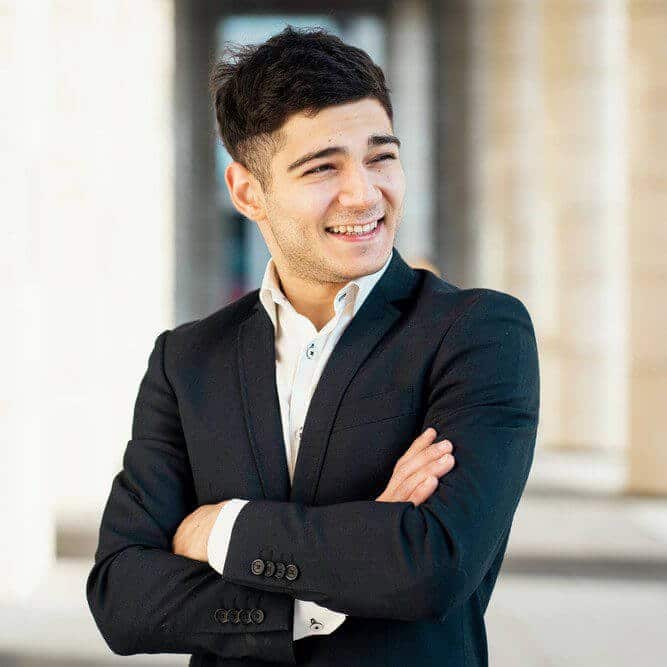 Why Does Your Georgia Businesses Need Money?
The most common use of proceeds small businesses acquire loans for their business.
Enhancing working capital
Procuring and maintaining equipment
Scaling up inventory
Exploring new business prospects
Fueling business growth and development
Managing cash flow and revenue
Tackling facility repairs
Addressing unforeseen business expenses
Investing in advertising, marketing, and customer acquisition strategies
Any legitimate business purpose, use, or opportunity
Government Programs, Tips, Advice, and Information for Georgia Businesses
Here are the available Initiatives, Programs, and Grants to support small businesses in Georgia.
Contact AdvancePoint to help you navigate through the above information and resources available to small business owners.
The State of Georgia Department of Economic Development "Finance My Small Business"
ACE's WISE (Women Investing in Successful Entrepreneurs)
Why AdvancePoint Capital?
We have established a solid track record of working with businesses in Georgia for over a decade, demonstrating our extensive experience and expertise in the region.
Earning an A+ rating from the Better Business Bureau for over 10 years and receiving a remarkable 4.8 out of 5 rating on Google Reviews, we have gained the trust and satisfaction of our customers in Georgia. Testimonials from current customers further attest to the quality of our services.
When you reach out to us, you will be connected with well-informed and knowledgeable business funding representatives who will handle your request with professionalism and understanding.
Our commitment to transparency is reflected in our provision of free quotes. You can explore all the offers and options without any obligation to proceed with funding.
Through our network of lenders, we have established a wide range of products available specifically for businesses in Georgia, ensuring that you have access to a diverse menu of financing solutions.
Apply for Georgia Business Loans Today!
We make getting a business loan in Georgia easy with AdvancePoint Capital. All you need to do is fill out our online form, and application page, and in just a few hours — you're well on your way to getting yourself a business loan in Georgia.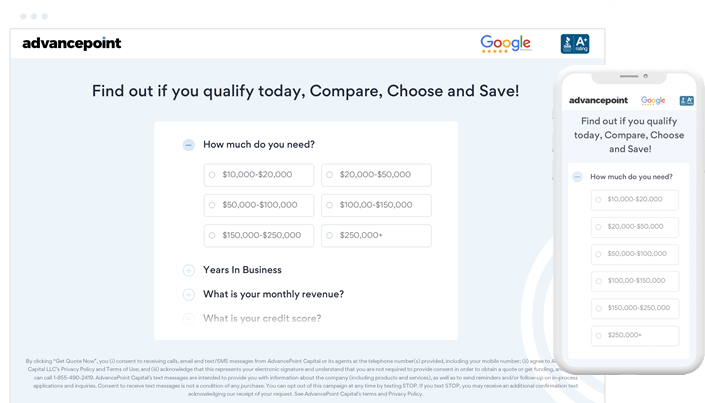 Get Started Today
AdvancePoint Capital makes the loan application process a simple, straightforward experience.
Frequently Asked Questions