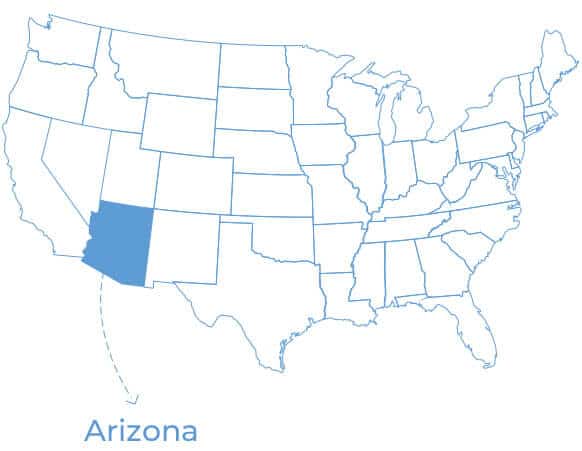 Arizona is the 6th largest and the 14th most populous of the 50 States. The capital and largest city and metropolitan area in Arizona is Phoenix, listed as the 5th most populous region in the United States.
With all that Arizona has going for it from an economic perspective, small business owners still face many challenges getting business financing from traditional banks that have stringent guidelines, credit requirements, mountains of paperwork, and limited products to offer. That's where Advancepoint Capital can help. We are a direct lender that offers business loans in Arizona with simple, fast and transparent financing. We have a wide range of loan products to fit your business needs and offer competitive rates and terms, and our loan process is quick and easy.
How To Get A Business Loan in Arizona?
Whether you're in Phoenix, Tucson, Mesa, or any other city in Arizona, business funding is available outside of traditional financing from banks, as most business owners know, can be difficult to secure approval from a bank. There are many products that consider limited time in business, credit issues, or limited or deficient financial statements.
If you're considering starting a small business in Arizona, need working capital, purchase equipment, or any other need, advancepoint capital has a lender network full of alternative products and terms to suit your needs.
Let's explore some business funding products for small businesses in Arizona!
8 Best Options for Business Loans in Arizona (December 2023)

Long-Term Small Business Loans
For those Arizona businesses planning a costly project or expansion, long term business loans are the most popular solution. Affordable rates, payments and terms that range from 2 to 10 years.

Business Line of Credit for Small Businesses
Considered the most flexible finance product, a credit line is an open revolving line that you can draw money on demand. This is a great working capital solution when you need it in a pinch. Cash can be drawn upon request and interest is only paid based on current outstanding balance. Credit limits apply.

Short-Term Small Business Loans in Arizona
Short term loans are alternative loans that offer higher approval rates and lower documentation than traditional loans. Due to a shorter repayment time frame, which reduces risk to the lender, you will find higher approval rates. Same day processing from application to funding.

Business Cash Advance for
Arizona Businesses
A business cash advance provides financing to businesses that don't have access to traditional financing due to some deficiency. This is a revenue-based funding option based on revenue not profit, which leads to a higher approval rate. Repayment is made by the funder being repaid out of a set percentage of future business revenue. Fast and easy application process with flexible repayment terms.

Merchant Cash Advance for
Businesses
This business funding option of a merchant cash advance is a great alternative when banks are unwilling to lend. Leverages credit card sales for cash now to the business owner. Allows for all credit types and limited documentation is required. Repayment is through future credit card processing offering flexible repayment.

Equipment Financing for
Small Business
Equipment loans or leases are most commonly used by businesses that rely heavily on equipment to operate. Equipment financing uses the collateral of the equipment to leverage better terms providing longer term financing due to offset the high cost of equipment.

Small Business Administration (SBA) Loans
The Small Business Administration supports small businesses by offering small business loans (government-backed loans) issued by approved lenders. Very attractive rates and terms but be aware that the application process is lengthy and has stringent credit requirements. Advancepoint Capital can guide you through the application process.

Invoice Financing in Arizona
Invoice factoring is a product for businesses that invoices the same client month over month. Invoice financing advances unpaid invoices at issuance to business owners instead of the invoice issuer having to wait to get paid under the terms of the invoice. This process accelerates receivables while avoiding taking out long term debt in exchange for an affordable fee.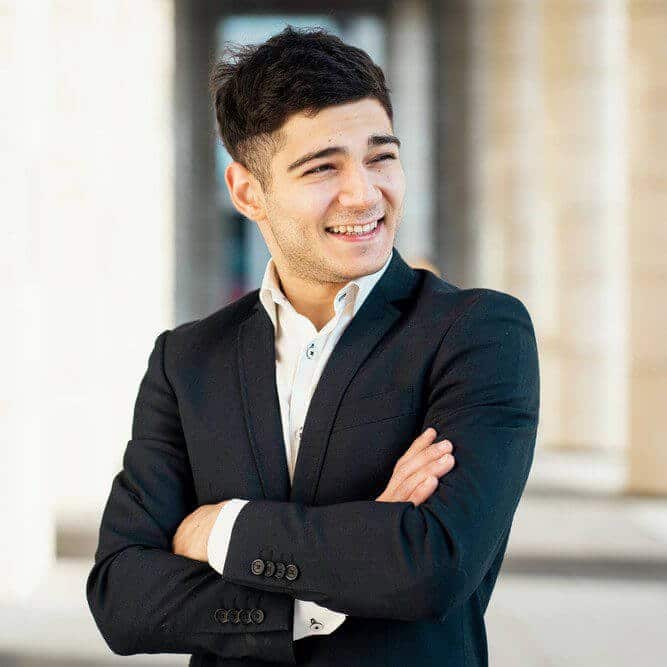 Arizona Small Business Loans for Growth
The most common use of proceeds from business funding that you can get in Arizona:
Advertising and marketing
Any legitimate business purpose or use
Additional Resources, Grants, and Financing Information on Arizona Small Business Loans
Why AdvancePoint Capital?
Our extensive tenure in Arizona has given us ample experience working with businesses in the state. We have garnered trust through positive reviews and feedback from satisfied small business owners. Our loan specialists in Arizona are well-versed in providing funding solutions tailored to your business needs. We offer no-obligation quotes without any associated costs, and our range of business loan products caters to the diverse needs of Arizona-based businesses.
Apply for Business Loans in Arizona Today!
Obtaining financing or financial guidance in Arizona can often be challenging. However, at AdvancePoint Capital, we have streamlined the process of applying for a business loan to make it quick and effortless. By simply completing our straightforward online form and application page, you can set the wheels in motion for acquiring a business loan in Arizona within a few hours.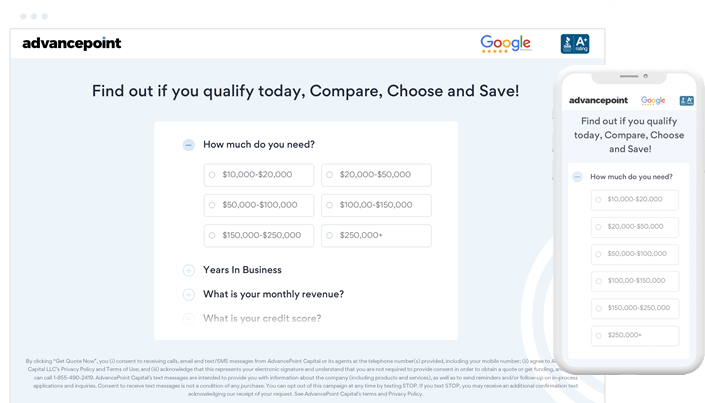 Get Started Today
AdvancePoint Capital makes the loan application process a simple, straightforward experience.
Frequently Asked Questions