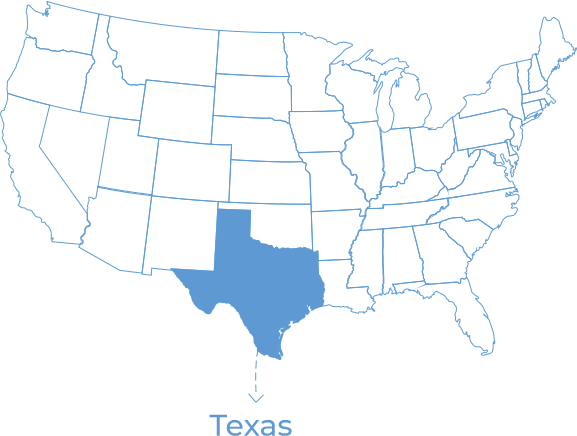 Houston is the fourth largest city in the United States. The economy is larger than most small countries, with a population of over 2,250,000. Houston is known as one of the most government-friendly places in the nation for small businesses. Growing a business requires capital and finding the right business loan for your business can be challenging.
Your first step in looking for a small business loan is usually the bank or credit union you do your business banking. Unfortunately, all too many businesses discover how difficult it is to obtain business financing from banks or credit unions. Banks have a responsibility to protect depositors and follow Federal Reserve requirements and guidelines. Due to those reasons, banks require excellent credit and a copious amount of paperwork and financial statements to prove creditworthiness.
At AdvancePoint Capital, we know that each business is unique and requires a personalized approach when it comes to financing. That's why we offer a range of loan options, such as SBA loans, term loans, and lines of credit, tailored to meet the specific needs of small businesses in Houston, TX. Our financing specialists will work with you to identify the most suitable loan product and scour the market for competitive rates and terms to ensure you get the funding you need to grow your business. Contact us today to learn more about our small business loans in Houston, TX.
Get A Small Business Loan in Houston
Advancepoint Capital has a lender network with full of alternative business funding options you would not find at a traditional bank or credit union.
Our loans are simple and straightforward, and our application process is quick and easy. We're here to help you get the funding you need to grow your business. To learn more about our business loans in Houston and how we can help you, contact us today.
9 Best Financing Options for Houston Small Businesses (December 2023)

Small Business Loans
Choose from a variety of business Loan plans tailored to fit your small business needs. A marketplace of business financing options for businesses with all credit types. Easy Application Process.

SBA Loans in Houston
The Small Business Administration loan programs offer attractive rates and terms not found with other business funding options. Credit standards are high and the application process can be lengthy but the effort is worth it.

Merchant Cash Advance
A merchant cash advance is a business funding option that you can repay using a percentage of credit card sales, for a fee. Repayment process is a percentage of future credit card sales.

Business Cash Advance
A business cash advance is an alternative to traditional financing which bases its approvals on revenue instead of profit & loss and the balance sheet of the business. Repayment is made based on a set percentage split of the future revenue of the business, unlike traditional loans.

Business Line of Credit in
Houston
A business line of credit is a revolving credit line, similar to a credit card, allowing you to draw funds and pay down funds on demand up to a set limit. Lines of credit are popular due to the flexibility versus a term loan. You only have to pay interest on the balance.

Equipment Financing
Equipment loans or leases, from heavy-duty equipment to general-purpose machines, options are available for financing from 2 to 7 years.

Invoice Financing
Invoice financing, also known as invoice factoring, is when a finance company purchases invoices from issuers at the time of issuance at a discount. The issuer gets money upfront on an invoice instead of waiting for the client to pay the invoice over the normal terms. Invoice financing helps the cash flow of the business by accelerating receivables collections.

Short Term Small Business Loans in Houston
Short term loans are quick solutions when you don't have the qualifications or time for a traditional loan.

Long Term Business Loans
Long term loans are businesses who have a demonstrated track record of success and looking for long term financing for substantial projects or expansions.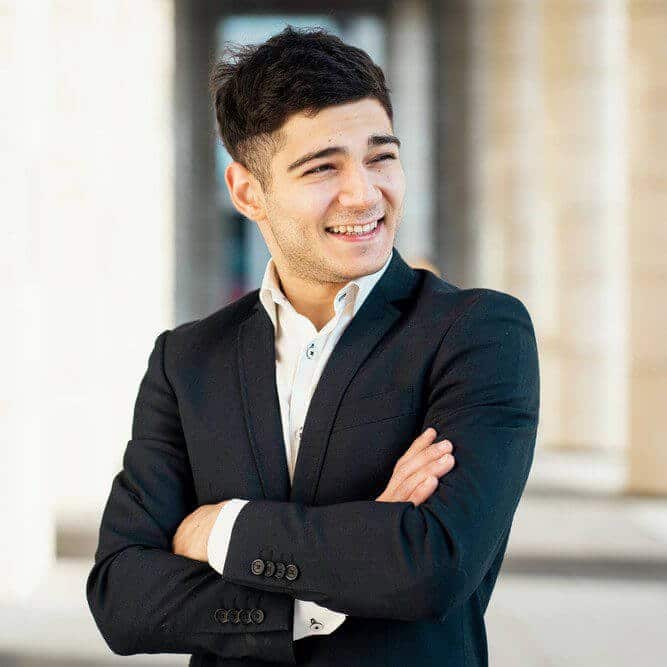 Why Do You Need a Small Business Loan In Houston?
It's important to identify what business owners need to acquire the money for the business. Let's take a look at some common reasons why small businesses need business loans in Houston.
Additional Working Capital
Office Equipment
Business Expansion
Emergencies
Advertising and Marketing to Increase Business
Additional Resources, Information, and Grants in Texas
Texas initiated the "Go Big in Texas" initiative to promote starting and growing your business in Texas.
University of Houston UH SBDC - Discover resources to support your small business in Houston, Texas
Why AdvancePoint Capital?
Houston Business Experience - For several years, we have offered financial services in Houston, Texas.
Reliability - We have received outstanding reviews and positive feedback from small business owners in Houston.
Expert Loan Advisors - Our team of knowledgeable business finance experts operates in Houston, Texas.
No Commitment - Obtain free and non-binding quotes without any charges or obligations.
Range of Offerings - We provide a diverse selection of business loan products specifically tailored for Houston, Texas enterprises.
Apply for Small Business Loan in Houston, TX!

Getting swift financing or financial guidance in Houston can be challenging. However, at AdvancePoint Capital, securing a business loan is a quick and effortless process, thanks to our streamlined application procedure. Simply complete our online form and application page, and within a short span of a few hours, you'll be on your path to obtaining a business loan in Houston.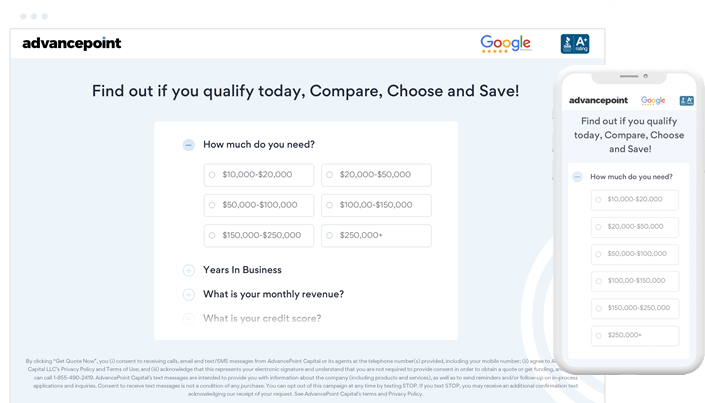 Get Started Today
AdvancePoint Capital makes the loan application process a simple, straightforward experience.
Frequently Asked Questions