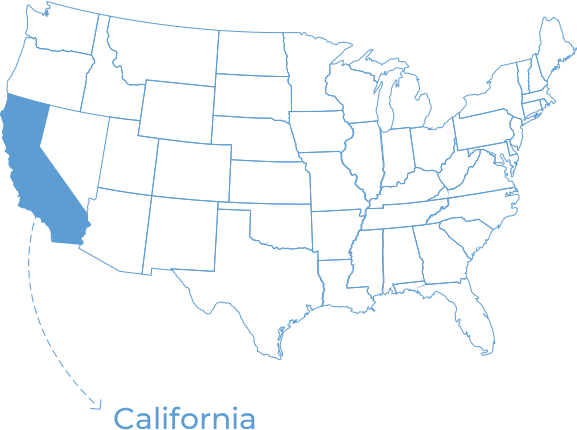 The Los Angeles metropolitan area has a population of over 13 million people. It is the cultural, financial, and commercial center of Southern California. The city is home to many large businesses and is a major center for entertainment, fashion, media, and technology.
However, Los Angeles County is one of the most hyper-competitive business markets in the world. To succeed, your business will need every advantage it can get.
Small businesses are a vital part of the Los Angeles economy, accounting for a significant portion of the city's employment and revenue. However, starting and running a small business in Los Angeles can be challenging, especially when it comes to securing funding. This is where business loans in Los Angeles come in.
Whether you need working capital, equipment financing, or funding for expansion, various loan options are available to help your small business succeed. At AdvancePoint Capital, we offer small business loans in Los Angeles with flexible repayment terms and competitive interest rates, so you can get the funding you need to take your business to the next level.
Get A Business Loan in Los Angeles
If you want to expand your business in Los Angeles County, having sufficient working capital is crucial. Small business loans or lines of credit are among the most effective methods to obtain the capital.
However, traditional lenders have strict requirements, including at least two years in operation, high credit standards, financial statement suitability requirements, reserve funds requirements, and a well-established operation with a proven track record. Furthermore, they often offer limited loan programs for business financing.
AdvancePoint Capital offers a marketplace of business funding products including loans, lines of credit, SBA loans, equipment financing, invoice factoring and many other alternative loan options with flexible terms and competitive rates. We also can introduce you to grants and loan programs offered in Los Angeles County. We're here to help you get the loan program and funds you need to grow your business.
9 Best Business Loans in Los Angeles (December 2023)

Small Business Loans
Small business term loans are the most requested product for small businesses. This loan program offers fixed rates, fixed terms with fixed payments. Small business loans are predictable and reliable products that support small business.

SBA Loans in Los Angeles
The Small Business Administration loan program offers business loans in Los Angeles county with low interest rates and favorable terms. These products require good credit and a significant amount of documentation to get approved.

Merchant Cash Advance
When you get turned down for traditional financing options, merchant cash advance is available as an alternative. Advances are not considered loans. This product is easier to get approved with lower credit and document requirements as the repayment is based on future accounts receivable credit card sales.

Business Cash Advance
Small businesses use business cash advance when they cannot be approved for term loans or lines of credit. Advances are not considered loans. Business cash advance is a great alternative that allows you to payback the advance by taking a fixed percentage of future sales which offers flexibility as the repayment is tied to future receivables that can fluctuate.

Business Line of Credit in
Los Angeles
Small businesses love business line of credit because it is a revolving line that allows businesses to draw money on demand up to a credit limit without the need to go through an approval process. Great product for working capital needs.

Equipment Financing
Equipment loans and leases are the go to product for businesses buying new equipment that can be costly and want to use that equipment for collateral to get longer terms with lower payments due to the price tag. Equipment loans may require good credit, but there are other alternatives that allow for credit impaired borrowers.

Invoice Financing
Businesses that invoice there clients on a monthly basis love invoice factoring as is allows them to get and advance on the outstanding invoice before the client pays within the net terms.

Short Term Small Business Loans
Short term business loans are a great option for businesses that can't get traditional business loans for either credit, financial statements or other reasons. These loans offer reduced documentation requirement and lower credit standards than tradition loans. Loans range from $10,000 up to a million.

Long Term Business Loans
For those businesses looking at large and expensive business expansions like building renovations, long term business loans are the solution as they spread the cost over many years which provides for affordable payments and larger amounts that can be offered.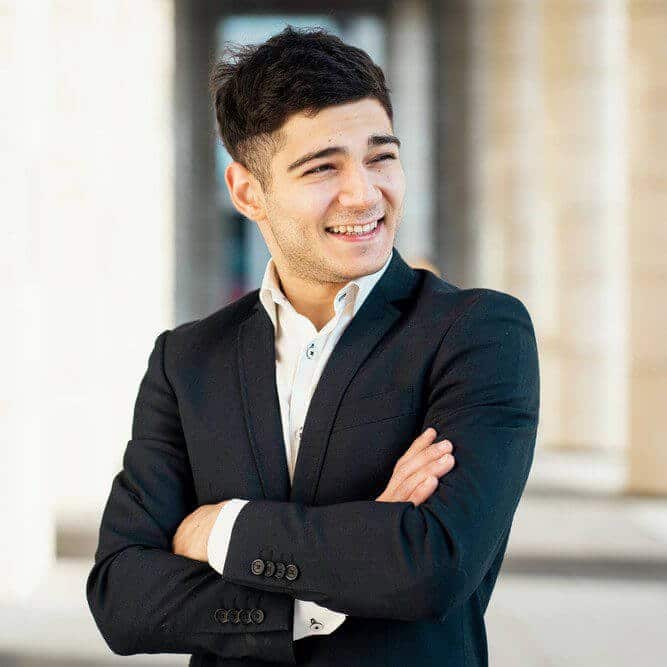 Why Does Your
Los Angeles Business Need a Loan?
Every business owner has their own reasons or needs for quick cash flow or advance options. That being said, not every alternative funding solution or loan program works for every business. You must first understand the details, pros, and cons of each loan program to determine if its right for you and the reasons you need the money to begin with.
Working Capital
General working capital can cover a lot of reasons such as unforeseen expenses, delays in accounts receivable, shortage of reserve business assets and other general operation needs that require financing.
Marketing
A powerful tool that can make or break many businesses in Los Angeles. With such a congested market, promotion is a necessity that can't be avoided.
Inventory
Some businesses need to stock up on large quantities of inventory that requires financing.
Equipment
Some businesses are Equipment dependent, and the cost to acquire can be very high. Business funding in many cases is the only way to acquire the equipment needed to do the job.
Growth
Growth and increasing the size of your company operation are great, but ultimately cost money to expand will require funding. While a new office space, building improvements or new employees can be exciting, they also may require financing help from an alternative lending service. Employees may require signing bonuses to acquire which creates the need for funding as well.
Once you've identified the reason for seeking financing, it's essential to consider a few additional questions to make an informed decision. These include determining the specific amount of funding required, evaluating your typical business cash flow, establishing a company budget for financing, and determining what payment is affordable. By answering these questions, you'll be better equipped to choose the right financing option for your business needs.
Additional Resources, Funding Programs, and Grants in Los Angeles
Why AdvancePoint Capital?
Business Proficiency – Our team possesses vast expertise in delivering financing solutions to enterprises in Los Angeles.
Valued by Local Businesses – Small business owners across Los Angeles have given us outstanding reviews and feedback, placing their trust in our services.
Committed Funding Specialists – Our seasoned specialists in business funding, based in Indiana, are committed to assisting you in identifying the ideal loan program that suits your requirements.
No Commitment Quotes – Initiate the process with us without any obligations. We provide free quotes without any upfront expenses.
Loan Options – We present various loan products specifically designed to cater to the distinct needs of small businesses in Los Angeles.
Apply for Los Angeles Business Loans Today!
Securing financing or seeking financial guidance in Los Angeles can be demanding. Nonetheless, the process of applying for a business loan through AdvancePoint Capital is efficient and uncomplicated. By completing our online application form, you can potentially be well on your way to obtaining a business loan in Los Angeles within a matter of hours.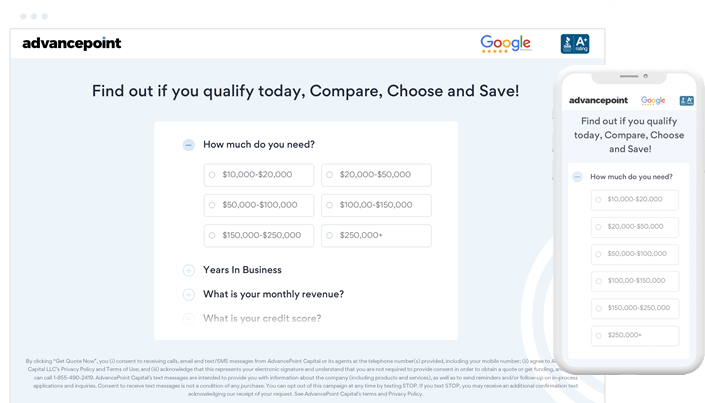 Get Started Today
AdvancePoint Capital makes the loan application process a simple, straightforward experience.
Frequently Asked Questions