There is a large and diversified economy in buckeye State of Ohio. With so many people and so much business in Ohio, the Ohio's economy provides a stable and robust environment for businesses to grow and thrive. That's good news for Ohio businesses looking for working capital or small business funding.
Bank loans can be difficult to acquire for small businesses in Ohio because banks and credit unions are risk adverse to small business financing. Banks lack the product diversity when it comes to business financing.
At AdvancePoint Capital, we specialize in providing business loans in Ohio with our lenders network. We understand that time is of the essence for small business owners when it comes to growing a company, so we work quickly and efficiently with the business owner to get you the working capital loans and cash flow you need.
Securing A Small Business Loan in Ohio
Borrowers without a strong credit score may have difficulty securing a traditional bank loan, but there are other financing options in Ohio that is available for small businesses.
Our focus at AdvancePoint Capital is on providing fast and flexible funding to small businesses. We offer a variety of loan products that can be tailored to meet your specific needs and goals.
9 Best Loan Options for Ohio Small Businesses (December 2023)

Small Business Loans
The #1 request from small businesses is small business loans. Small businesses like the fixed terms, interest rates and payments that come with this business financing option.

Small Business Administration's SBA Loans
SBA loans are backed by the federal government Small Business Administration which sets the loan program guidelines and underwriting requirements for approved SBA lenders and then provides them with a loan program guarantee. Essentially it's SBA backed loans. Small businesses would love to acquire an SBA loan because they have attractive interest rates and loan terms like SBA Express. An SBA loan program will require significant paper work and a business plan for approval, but it's worth the effort.

Merchant Cash Advance
Merchant cash advances are not loans, but future sales receivable agreements. Small business owners can leverage there annual sales to receive an upfront sum of money that they would repay a set percentage of future credit card processing sales until paid back in full. Repayment is flexible because it is attached to future sales fluctuations.

Business Cash Advance
Business cash advance is a great alternative when traditional loans are not an option. An advance is based on the current revenue of the business and repaid by fixed percentage of future sales paid back via a daily or weekly ACH convenience payment. When you need cash fast for your Ohio business, this is a great solution.

Business Line of Credit
Credit lines are popular because they are revolving lines of credit that you only pay interest rate on outstanding balance, which saves money if you early pay. You may draw money off the line at any time up to a credit limit.

Equipment Financing
Equipment loans are used for large equipment purchases for business that rely on equipment for there services. Financing increases buying power at affordable payments.

Invoice Financing in Ohio
Invoice financing, also called invoice factoring, allows businesses that regularly invoice there clients the ability to advance funds off of the unpaid invoice as long as its within the terms of the invoice whether it be 15, 30, 45 or 60 days.

Short Term Small Business Loans
When traditional financing is not an option, short term loans can be an alternative. Short term are considered to be 6 to 18 months to repay. There requirements are lenient because of the shorter duration of repayment.

Long Term Business Loans
Long term loans are designed for businesses looking for a large and costly expansion and need to spread the terms over years for affordable payments.
Business Programs, Technical Assistance, and Grants in Ohio
Ohio Development Service Agency – Business Grants, Loans, and Tax Credits
The Small Business Development Center (SBDC)
Small Business Administration in Ohio
Why AdvancePoint Capital?
Experience in Ohio - Advancepoint has been catering to the needs of Ohio's small business community for more than a decade.
Trust With Ohio Businesses - With outstanding Google reviews, an A+ BBB rating, and positive feedback from contented customers in Ohio, Advancepoint has earned a strong reputation.
Loan Specialists in Ohio - Advancepoint's loan specialists possess the expertise, know-how, and training to identify the most suitable product for your specific circumstances.
Free Quotes - The application process is free of charge and entails no obligation on your part.
Products we provide in Ohio - Advancepoint offers a diverse range of business funding products through its extensive network of lenders.
Apply for Ohio Business Loan Today!
Obtaining financing or financial guidance in Ohio can often be a cumbersome task. However, AdvancePoint Capital streamlines the process by providing a quick and straightforward application procedure for business loans. By simply completing our online form and application page, you can set yourself on the path to securing a business loan in Ohio in a matter of hours.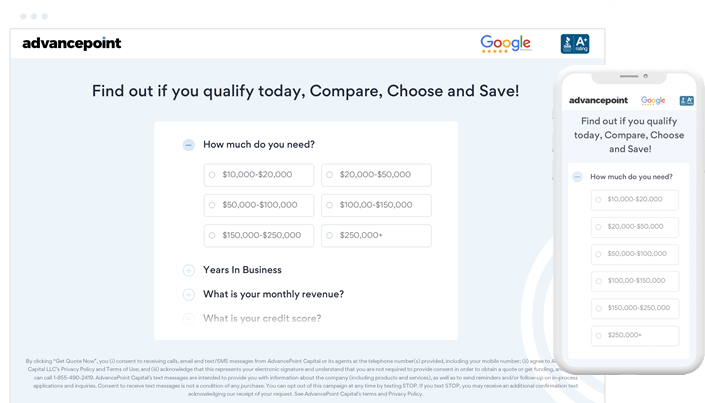 Get Started Today
AdvancePoint Capital makes the loan application process a simple, straightforward experience.
Frequently Asked Questions