Whether you have an established medical practice or are new to the field, it can be a never-ending process to improve your business. Throughout the life cycle of a medical practice, the need for financing and capital will arise.
Knowing about your financing options in the first step. As a medical practitioner, the search for financing should always start with answering the questions "Why?" and "What are you using the money for?"
Let's answer those questions!
Top 6 Most Common Uses of Medical Practice Financing
Working Capital
Many medical practices generally rely on payments from insurance companies to get paid for services rendered. Insurance companies have a delay in making payments for services provided which can negatively impact cash flow. Having financing in place can level off cash flow for any unexpected delay in reimbursements from insurance companies or patients.
Medical Equipment Financing
Medical care is always improving. With those advances comes the need to purchase new equipment. Offering new services can require more equipment as well. The cost of this can impact your cash flow and reserve capital. Financing equipment, however, can free up your budget and help you keep advancing.
Whether it's updating existing equipment or expanding your care offerings, there are many medical practice financing offerings available such as equipment loans or leases, business lines of credit, long-term business loans, or SBA loans. This variety of options provides flexibility so you can choose the best financing product based on your specific needs and keep pace with the rapid advances in medical technology.
Practice Expansion or Remodel
Health care is change. With that change come's the need for expanding your medical practice which can mean a remodel, a re-location, or even the purchase of a new facility. Whatever the project, big or small, financing can play a crucial part in your plans. Having the proper financing vehicle may impact what exactly you do. Working with a business finance originator that specializes in your type of expansion plans will be very important as it may determine your final decisions about your idea for growth.
Most common expansion plans include:
Changes with an existing floor plan to optimizing space in a medical practice

Adding examination rooms

Expanding storage space or other operational space needs

Relocation to new space requirements

Purchase of a new facility

Consolidation of multiple locations into a new space
Marketing or Advertising
For many medical practices, referrals alone aren't enough to grow and expand the practice. Patients or clients just don't automatically show up at your door. If you want to attract new patients and grow your practice, you need to be in the world of marketing. There are many ways to go about marketing your business. Utilizing the internet is at the top of the list.
Due to the competitive nature of the health care industry, it's not easy to stand out on the internet without hiring internet marketing agencies who specialize in getting your practice noticed through methods like search engine optimization and pay per click advertising. This will require a substantial investment in capital before results start coming in.
It is not uncommon for medical practices to spend over six figures a year in internet marketing. The initial investment of website design, content building, and lead optimization funnels can cost $25,000 to $50,000.
The amount you spend in the initial investment, as well as first-year costs, could make all the difference as to what kind of results you can expect. Finding the right business financing could make all the difference to achieve results from your marketing efforts in the short term.
Debt Restructuring
Sometimes with rapid growth comes debt. If you build up too much debt the payments can really cut into the bottom line and your margin profits. Depending on the amount and type of debt, restructuring in the form of a long term loan can free up cash flow with lower monthly payments. It can consolidate debt into better terms than what you have been offered in the past.
Investment in Diversifying Medical Services
Often times with medical practices, services change and evolve with the times. Technology and the evolution of care can lead to new opportunities in treatment for medical practices. The growth of a practice may take the form of new treatments to expand patient care. Along with these new treatments and services come new needs in space, equipment, or software and technology that may require financing to accomplish.
Acquire Additional Practices
Growth in a medical practice can sometimes come in the form of acquisition. This is very common in the medical care industry with consolidation, mergers, and acquisitions happening all the time. Financing can play a vital role in the success of putting a deal together. In fact, the financing may make all the difference in the world if a deal can get done at all. Knowing what business financing products are available in the market is essential.

Types of Medical Practice Financing: What Are My Options?
Long-Term Medical Practice Financing
Long-term small business loans are small business loans with a duration of greater than two years. Businesses are offered a fixed amount of upfront and charged principal and interest. Unlike a business line, a business owner cannot draw money as you go with a long term loan. Typically, long term business lending is for business expansion and growth or to finance large projects. This business funding option is used for long term projects and needs.
Product Overview
Rates: Interest rates starting at 5.50% or treasury index plus 1% to 2.5%
Terms: 2 to 10 years
Fees: Origination fees range from 0% to 3%
Payment: Monthly or bi-weekly
Credit Standards: Good to excellent preferred, all types considered
Business Line of Credit
A business line of credit is an open revolving line. This type of funding allows business owners to draw funds when needed on-demand or make purchases. A business line charges a principal and interest rate. Business lines of credit do have a credit limit that cannot be exceeded without approval. They are not open-ended forever. They require renewal either semi-annually or annually to be extended. This business funding is primarily used for small purchases and working capital.
Product Overview
Rates: 5.50% interest rates or treasury index plus 1% to 2.5%
Terms: Open revolving line
Fees: Origination fees ranging from 0% to 3%
Payment: Monthly, bi-weekly, or weekly
Credit Standards: Good to excellent preferred, all types considered
Small Business Administration (SBA) Loans
The Small Business Administration (SBA) provides programs, guidelines, and loan guarantees to approved lenders for businesses throughout Arizona. The Small Business Administration SBA's mission is to help Americans start, build, and grow their businesses successfully. The Small Business Administration (SBA) is not a lender. They provide a guarantee that gives the approved lender ability to take on the risk of business lending under SBA terms that they would not ordinarily do on their own.
Small Business Administration (SBA) Programs
SBA Standard 7(a) Loan Program
SBA loan 7(a) is the SBA's primary program and is designed to provide financial assistance to small businesses. The terms and conditions–such as guaranty percentage and loan amount–may vary by the type of loan and small business.
Description: Standard term loan
Maximum Loan Amount: $5 million
Use of Proceeds: Term loan. Expansion, renovation, new construction, purchase land or buildings, purchase equipment, fixtures, leasehold improvements, working capital, refinance debt for compelling reasons, seasonal line of credit, inventory, or starting a business
Maturity: Depends on the ability to repay. Generally, working capital, machinery, and equipment are 5-10 years. Real Estate is up to 25 years. When loan proceeds are used for multiple purposes, maturity may be blended
SBAExpress
Description: Fast turnaround, streamlined process
Maximum Loan Amount: $350,000
Use of Proceeds: May be used for revolving lines of credit or for a term loan (must have term out period not less than draw period) Same as 7(a)
Maturity: Same as 7 (a) except LOC: Revolving plus term out can only have a maturity up to 10 years
SBA 504 Loans
The SBA 504 Loan is a powerful economic development loan program that will provide small businesses another avenue for business funding while promoting business growth and job creation. The use of proceeds from SBA 504 Loans must be used for fixed assets such as construction, commercial real estate, land or land improvements (and certain soft costs). They can also be used to refinance existing debt.
Description: Standard term loan. Provided through certified development companies (CDC's) which are licensed by SBA
Maximum Loan Amount: $5 million to $5.5 million
Use of Proceeds: Long term loan. Fixed-asset loans, lender (non-guaranteed) financing secured by the first lien on project assets. CDC loan provided from SBA 100% guaranteed debenture sold to investors at a fixed rate secured by 2nd lien
Maturity: CDC loan. 10, 20, or 25-year term with a fixed interest rate. Lender loan unguaranteed financing may have a shorter-term (minimum 10 years). May be fixed or adjustable interest rate
Equipment Financing
Businesses that use equipment to operate often turn to equipment financing for a purchase that uses equipment as collateral. Business owners must have very good to excellent credit, but limited paperwork is necessary to get approved.
Product Overview
Rate: Factor rate ranging from 1.09% up to 1.45%
Terms: 2 to 7 years
Fees: Origination fees range from 0% to 3%
Payment: Weekly or daily, fixed ACH
Credit Standards: All types considered
Invoice Factoring
Invoice financing advances the outstanding balance to a business owner to increase the speed of cash flow to the business. This solution provides cash quickly and there is no need to wait for outstanding invoices to be collected and received by the client with invoice financing in place. Invoice financing has affordable costs ranging from 1% to 2.5% fee off of the face value of the invoice advanced.
Product Overview
Rate: None
Terms: No term limits
Fees: 1% to 3% fee based on Invoice. Monthly service fees may apply depending on the volume of invoices factored
Credit Standards: Credit of the clients need to be favorable NOT the business owner
Short-Term Business Loans
Short-term business loans are loans that are typically repaid with 6 to 18 months. This small business funding features a lump sum offered up front with a fixed payback amount calculated using a factor rate over a short term of time. Rates are not principal and interest but a "factor rate" that costs more than traditional loans. Most businesses choose short term business loans when they do not qualify for traditional business funding. Short-term small business loans charge more for costs and are shorter-term. The payments are more frequent to compensate for the greater risks business lenders take in offering this product. Short-term business loans are popular with small businesses because of the reduced documentation requirements and credit tolerances that are laxer than traditional business loans.
Product Overview
Rates: Factor rates range from 1.09% up to 1.45%
Terms: 6 to 18 months in duration (typically 12 months or less)
Fees: 0% to 5% origination fees
Payments: Weekly, bi-weekly and in some cases daily
Credit Standards: All types considered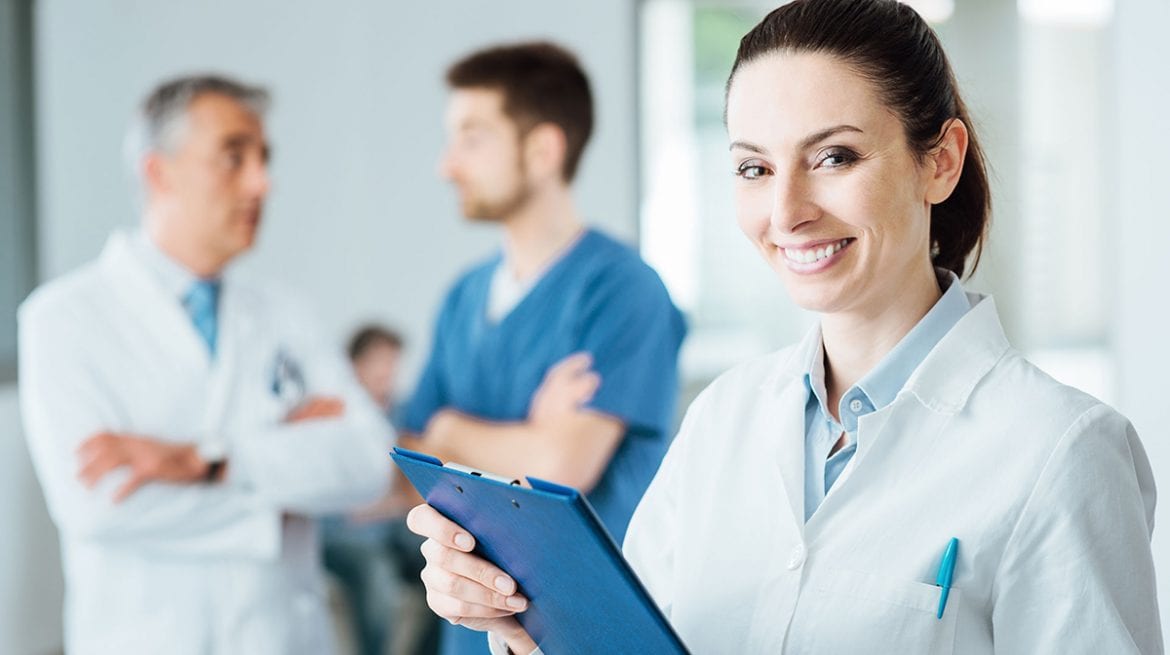 The Bottom Line: Advice and Tips About Applying for a Business Loan for Your Medical Practice
Always ask yourself the key questions when getting a business loan for your medical practice. What types of business financing products are offered? Does the Business Loan Originator have the experience and knowledge to assist you in finding the best product for your needs? Does the business loan originator have great customer service on the origination of your loan, processing, funding, and servicing of your loan on the back end?
Once you make your decision on who you want to work with, you still are the final decider on any business finance product you choose. Always start by asking why do I need the money and how am I going to put it to good use for the business? Have I been given all business funding options in the marketplace? Am I getting competitive rates, costs, and terms for my situation and credit profile? Have I done my cost verse benefit analysis for borrowing money for the business?
Always check your proposals, term sheets, and agreements for terms and conditions which should include the cost of money, (interest rate or factor rate), all closing or funding fees, term duration, payment frequency, personal or business guarantees, and any collateral requirements.
Why Choose Advancepoint Capital for Your Medical Practice Financing Needs?
Experience

. We have been funding medical practices for years.

Trust

. We have excellent reviews and feedback from medical practices.

Loan Specialists

. Our business funding specialists know the medical practice industry.

Products

. Choose from a variety of medical practice funding products. We don't just offer what we have. We offer what's available in the marketplace

No Cost, No Commitment Quotes
How to Apply for Medical Practice Financing: Let's Get Started and Grow Your Medical Practice Now!
The fast, convenient, and straightforward way to get the money you need for your business – now! Get your quote today.