Businesses in the manufacturing industry keep our economy running smoothly. Without manufacturers, shelves in supermarkets and stores nationwide would likely be completely empty.
We need manufacturers to provide various products for daily life and other business operations. Running a manufacturing company can be quite successful, but sometimes these types of businesses can run into a few roadblocks regarding funds.

Banks, credit unions, and online lenders offer financing options and loan products, providing manufacturing companies with the working capital required to keep things up and running year-round. Here is a list of reasons why you should apply for a business loan for manufacturers.
The Manufacturing Business: A Primary Economic Player
Manufacturing is an overarching term used to describe a wide variety of businesses. You might imagine rows of never-ending assembly lines and heavy machinery, but manufacturing can mean so much more.
Pretty much everything consumers buy goes through a manufacturing facility. From the initial creation of a product to its placement in containers and shipment to stores or consumers, manufacturing covers a lot of bases.
For example, a company that creates beauty products might manufacture each item from raw materials, package it on-site, and provide shipping services to various stores. Food manufacturers may do the same, just with a different product. Car parts and other mechanical items are also made and often distributed by different manufacturing companies.
As you can see, manufacturing can mean many different things. Regardless of the product a manufacturing business supplies, they'll surely require business financing at some point to continue growing and improving operations.
7 Major Reasons to Apply for Manufacturing Loans
Investing in your manufacturing business is essential for growth. As a result, owners of manufacturing companies often seek business financing or manufacturing loans from banks, credit unions, or online lenders to continue improving their small businesses.
Let's explore why it's so essential for your small business to apply for loans in the manufacturing industry:
1. Working Capital
After dipping your toes (or diving headfirst) into the manufacturing industry, you might wonder about the best methods to grow your business. Working capital is one thing small businesses can't survive without. Manufacturing loans can help improve cash flow, bringing more working capital to your small business.
So, what is working capital? The answer to that question is really quite simple.
Calculating your company's working capital requires an appraisal of your business's assets minus its liabilities. Liabilities are outstanding debt obligations or other things that small businesses spend money on to keep things running smoothly, such as:
Loans and Financing
Accounts payable
Employee payroll
Expenses
Operating costs
Bonds
Mortgages
Leases and rentals
Legal protections
After all, liabilities are paid each month or year, the remaining money makes up a company's working capital. Business owners often utilize the leftover assets to meet payroll demands, start a big project, hire employees, invest in marketing, expand the business, or buy new supplies and inventory.
2. Inventory
Every manufacturer requires inventory to operate efficiently. Business loans for manufacturers help meet inventory requirements. Your company may keep several essential items and supplies on hand, such as:
Raw materials
Ingredients
Packaging and shipping supplies
Seasonal/holiday inventory
Having a healthy inventory helps put your business ahead. For example, you can invest in seasonal stock around the holidays or maintain smooth shipping operations with business funding for manufacturers.
3. Equipment Purchases
For businesses in the manufacturing industry, functioning without proper equipment and machinery is pretty much impossible. But, let's face it, manufacturing equipment can be costly for a startup company.
Most small business owners think they must choose between leasing and buying equipment to meet the demands of daily operations in the manufacturing business. Luckily, leasing and buying manufacturing equipment isn't the only option.
Manufacturing business loans help meet the need for heavy machinery, allowing you to purchase new and used equipment, repair existing machinery, and fix smaller tools.
Some common kinds of equipment required for running a manufacturing business include:
Packaging equipment
Molding and die-casting machines
Cutting machinery (laser cutters, die-cut machines, etc.)
Drilling, milling, and grinding equipment
Industrial printers and computerized systems
Production lines and production machinery
Lamination machines
Metal-working tools
Handheld power tools
And more!
Equipment loans are an attractive option for any small manufacturing business. One great feature of this business loan is that your company gets to keep the equipment after meeting the full repayment terms in the agreed-upon period.
4. Unexpected Cash Flow Issues
Sometimes your small business can't avoid a few bumps in the road. Unpaid invoices, investments in new projects or products, and other significant costs can create a cash shortage for small businesses.
Cash flow problems can put your company behind the competition. Business loans for manufacturers make it much easier to deal with daunting cash flow problems before they extrapolate. With a manufacturing loan, your business can meet the demands of purchases, payroll, projects, expansion, and more.
5. Hiring and Payroll
Business owners can't expect high-quality employees to stick around if payroll issues continue to persist. Manufacturing loans help small businesses in this industry meet payroll demands for existing employees. This type of business funding can also help small businesses find and secure top candidates for open positions.
6. Business Expansion
Business expansion is vital in the manufacturing industry. As your company grows, it'll likely need more space for inventory storage, shipping operations, and manufacturing.
Many manufacturing businesses start in small buildings but have outgrown their initial startup locations over time. Small business loans aid expansion and renovation, so your manufacturing business can fit into a facility that meets the demands of daily operations and annual growth expectations.
Although loans for manufacturing companies are an excellent product for newer businesses in the industry, it's also a great business financing tool for more established entities. These loans give small businesses the working capital required to renovate existing locations or expand into new ones.
7. Marketing and Advertising
The manufacturing industry is specialized, requiring specific, intentional marketing and advertising campaigns to grow your client base. Keeping your company's name in front of potential customers is crucial, beating out your competitors. Loans for manufacturers can be put towards print advertising, commercials, billboards, or additional digital marketing efforts.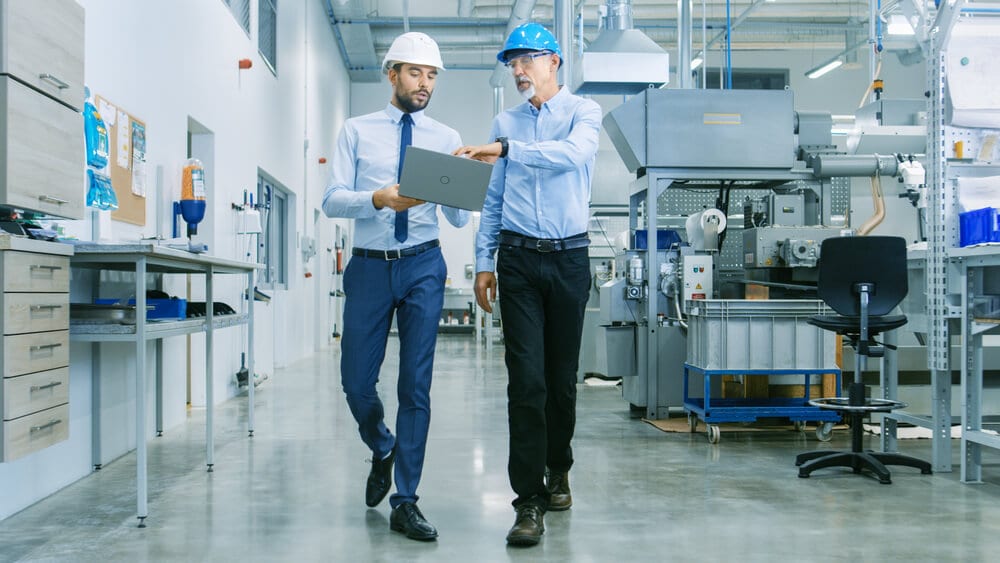 The Best Business Loans for Manufacturers and Manufacturing Companies
Even with a significant amount of initial investments and a steady stream of sales, manufacturing companies can burn through a lot of their money in minimal amounts of time. Traditional lending outlets like banks and credit unions can tie up small business owners in unfruitful financing obligations.
Instead, business owners in the manufacturing industry should seek alternative lending products to help propel the company forward instead of keeping it held down with daunting repayment terms.
Below, we look at the best business funding options from online lenders like AdvancePoint Capital for manufacturing companies:
Term Loans
Manufacturers might select a term loan to meet the demands of daily operations and long-term goals. Small business owners can take advantage of two unique term loan options:
Short-Term Business Loans
Short-term loans are a popular option for companies that need fast cash. Typically, that includes smaller startup operations trying to get on their feet.
Short-term loans offer a fixed amount of money with set terms and factor costs. Payments are made directly from a business bank account based on the terms and agreed-upon payback rate. Most short-term loans have a repayment period lasting less than 18 months.
Breakdown of Short-Term Loans:
Fast, same-day funding
All credit profiles considered
Limited paperwork
Easy application and quick approval
Limited repayment period (18 months or less on average)
Monthly or weekly payments
Long-Term Business Loans
Another term loan option for manufacturing business owners is a long-term loan. Unlike short-term loans, this financing option has an extended repayment period lasting at least two years or more.
Long-term loans provide a lump sum of cash upfront, with costs based on principal and interest rates. Many small business owners select long-term loans to help finance significant investments such as expansion and renovation.
Breakdown of Long-Term Loans:
Low-interest rates and origination costs
Repayment terms from 2 to 5 years
Monthly payments
All credit profiles considered, good to excellent preferred
Greater loan amounts available
Each term loan option comes with its own positives and negatives. For example, businesses that need access to working capital immediately might gravitate towards short-term loans, while more established companies can opt for long-term loans.
Long-term loans have stricter eligibility requirements than their short-term counterpart. As a result, small business owners struggling to improve their credit scores might choose a short-term lending option instead.
Invoice Financing
Invoice financing or factoring is another great solution for small businesses struggling to meet short-term cash flow needs. This financial transaction allows businesses to receive an advance on client invoices before the expected payment date.
Invoice factoring companies typically take advances off receivable invoices 30 or 60 days before customers actually pay them off. Thus, invoice financing is a fantastic option when a company requires quick access to funds.
Highlights of Invoice Financing:
Low fees - typically no more than 2% of the invoice
No monthly payments
Credit requirements are based on customers, not the business
Easy application
Fast access to working capital
Purchase Order Financing
Purchase order financing is perfect for manufacturers who often complete large wholesale orders. However, when customers place a significant order with a small business, it can be challenging to afford the supplies required to meet demands. That's where purchase order financing can come into play for manufacturers.
Instead of struggling with the challenges of covering costs for supplies themselves, many manufacturers choose purchase order financing to solve recurrent cash flow issues. Lenders will provide direct payment to suppliers, so your company can quickly fulfill orders.
After an order is complete, your customer pays a purchase order financing company directly rather than sending the proceeds to you. Then, the purchase order financing company returns the remaining balance to your business.
Purchase order financing can be highly advantageous for companies that take on large projects or customer orders, like:
Manufacturers
Wholesalers
Resellers
Distributors
Import/export businesses
Purchase orders can be continuous or a singular transaction. This financing option allows businesses to pay for the costs of supplies and other essential items without using available capital, allowing companies to take on more orders. Purchase order financing is a flexible financing product for startups or companies tight on cash.
Highlights of Purchase Order Financing for Manufacturers:
Transaction is immediate
Low origination fees
No credit evaluation
Minimal costs
Quick application
One-time or continuous transactions
No commitments
Equipment Loans for Manufacturing Businesses
Equipment is at the core of running a quality business in this industry. As a result, equipment financing is a popular tool to help meet the demands of daily operations.
These affordable loans are typically structured so that the equipment acts as collateral. After the terms of this financing option are met, the machinery becomes the property of the manufacturing business. Repayment periods can last anywhere from one to seven years, helping keep cash in company reserves.
Equipment loans aren't only used to obtain heavy manufacturing machinery. Business owners also utilize funds from equipment financing for repairs, regular maintenance, and purchasing smaller tools or trucks and other vehicles.
So, funding from equipment loans can improve product quality, reduce labor costs, and strengthen a business's overall structure.
Grow Your Operations With AdvancePoint Capital
Manufacturing is a booming industry with many moving parts. So whether you're a well-established business or a budding enterprise, funding is essential for success.
Securing loans or financing from conventional outlets like banks and credit unions can be tricky. Online lenders and alternative lending marketplaces give business owners — even business owners with bad credit — an opportunity to receive the capital required to keep growing and taking on new projects.
Promote your business, buy new equipment, expand operations, and complete other essential tasks typical in this industry. Contact AdvancePoint Capital today to explore a marketplace of valuable business loans for manufacturers.