How you manage your business can boil down to one thing: cash flow. In fact, managing your cash flow can help determine your business's success. Invoice finance is a great way to attain the money you need to pay suppliers and keep your company running without waiting for your clients to pay their outstanding invoices.
Waiting for overdue contracts and invoices to be paid can stifle your professional prospects. Therefore, it's essential to utilize invoice financing to help your business flourish. Not only will this financing option help you get paid faster, but it will also help you build your company's credit.

Read on to learn more about this financing method and how it can give you quick access to the cash required to keep your company thriving.
Why Choose Invoice Financing?
Invoice financing works wonders helping connect companies with essential funds while they wait for customers' invoice payments. Invoice financing enables business owners to reclaim control over their finances by allowing them to receive compensation from whichever unpaid invoices they choose.
Many financing companies specializing in this funding method, like AdvancePoint Capital, will lend you up to 95% of the total value of the outstanding debt in several days compared to weeks. Once customers directly pay the finance company, you will receive the remaining funds minus some service and processing fees.
Unfortunately, customers may take time to settle their debts, leaving your business anxiously waiting for unpaid bills to cover necessary fees and expenses. A late payment can reduce your working capital to cover business costs. Thankfully, several ways exist to deal with outstanding invoices and solve cash flow problems.
1. Invoice Discounting
Invoice discounting is a method of invoice financing. While customers directly pay the lending providers with invoice factoring, invoice discounting allows customers to remain unaware that you're using a discounting provider. The best part of invoice discounting is that you get paid quickly. This can be essential for small businesses needing to meet quotas while waiting for customers to pay.
Another excellent benefit of invoice discounting is that it is usually cheaper and easier to apply for than banks or other private loans. One of the reasons for this is that it's directly tied into a more predictable revenue stream, allowing business owners to prepare and plan for budgeting better.
The money you obtain through this process could float your company through slow seasons, allow you to buy more raw materials or machinery, empower you to invest for the future, or even permit you to hire additional seasonal employees.
How the Process Works
Invoice discounting provides a series of short-term loans that are secured through your accounts receivable. The process is relatively straightforward and easy to understand. Take a look:
Send invoices to customers after selling products or services.
An invoice discounting facility lends the value of the invoices minus a small processing fee.
You receive payments from your customers. Remember, you are still the credit controller and must chase down late payments.
Repay the loan from the discounting facility plus a 1%-3% coverage fee.
As you can see, the application is straightforward and offers a less extensive processing timeframe compared to applying for and signing an agreement with a traditional lending institution. While the details vary slightly for the different types of invoice financing, you can still gain significant benefits by choosing this investment opportunity.
Differences Between Invoice Discounting and Invoice Factoring
While both payment methods fall under the umbrella term of invoice financing, invoice discounting works slightly differently than invoice factoring. Invoice discounting places the responsibility on you to wait for customer payments on outstanding bills and repay the loan to the lender. Therefore, working with your lender to determine the risk factor for each client you choose is essential.
If you'd prefer the factoring payment terms, you can still get access to the funds you desire without having to halt services for your customers. Learn more about what questions to ask about invoice factoring if you choose that route.
Industries That Benefit From Invoice Financing
Any company that works with outstanding payments or accounts receivable is eligible for this financing option. AdvancePoint Capital has extensive experience assisting various industries with this funding method, such as:
Regardless of your industry, you can still benefit from invoice discounting or factoring to help access cash flow from outstanding invoices.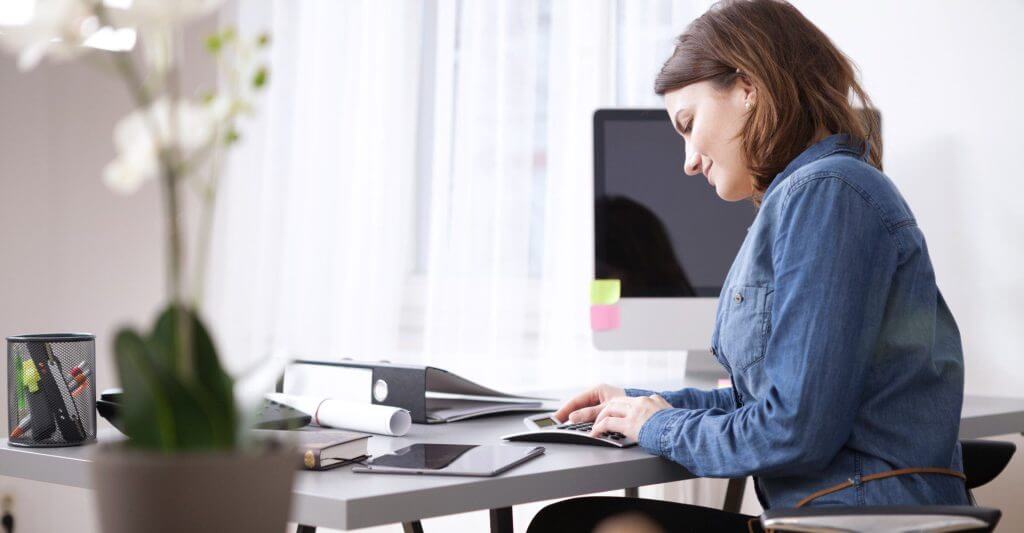 Ways Invoice Financing Helps Businesses Thrive
Whether you need fast access to cash or an easy way to build your credit score, your company can benefit from invoice financing. Explore four different ways this finance method can help your business flourish:
1. Improve Cash Flow
If you're a company that relies on advanced contract payment to cover day-to-day expenses, it can feel cumbersome to be so dependent on your customers. You need fast access to cash to cover your costs, from adding new equipment to paying staff and suppliers. Depending on the services you offer, you must ensure your company has enough money to supplement necessary business expenses.
Working with invoices can mean you potentially don't get paid for 60, 90, or even 120 days. It's easy for bills to accumulate over that extended period, restricting your ability to get cash when needed. When you work with this finance method, you can receive payment for customers' unpaid invoices in no time.
While some companies may limit the number of contracts you can factor in, AdvancePoint Capital allows your business to factor in any number of invoices needed as long as your customer has a reliable credit history. We are happy to expedite payments through invoice discounting or factoring to get you the cash you require to keep your business running smoothly.
2. Cover Expenses
There are so many day-to-day expenses that businesses need to cover, from office supplies, paying manufacturing costs and everything in between. Invoice financing opens the door for easy access to extra working capital, which can help you:
Keep up with payroll
Take on new customers
Embrace investment opportunities
Hire additional seasonal help
Make necessary renovations
Pay suppliers on time
Quick access to money can make or break a business, which is why it's so vital to consult with an invoice finance facility to see if you can get coverage for your entire accounts receivable ledger. This lending method is a wonderful investment opportunity to keep your company running without worrying about late payments.
3. Improve Credit Relations
Outside of waiting for clients to pay their late invoices, there is nothing more frustrating than not acquiring adequate financing due to a poor or low credit score. These restrictions can be even more cumbersome when you eagerly await customer payments.
Thankfully, when you work with an invoice finance facility, you are more likely to qualify for invoice discounting for many reasons:
Approval is based on the client's credit score
You can choose how many unpaid invoices to use
Faster confirmation than traditional bank loans
Less risk than classic lending structures
When customers pay their debts, you can repay the invoice discounting loan to your invoice finance lender. This process allows you to sell off your unpaid debt to lenders, receive money from late payments, maintain credit control, and continue your services to new clients.
4. Flexible Financing Options
An added advantage of selling invoices to get financing is that companies are still eligible for additional financing resources. Since invoice factoring isn't a loan against a company, it frees business owners to make other financing options if necessary.
There are endless ways to get the funding you need to cover fees and expenses. Some lenders even offer discounts to minority and women-owned businesses. Browse through some alternative financing options:
To learn more about your financing options from AdvancePoint Capital, click here.
Benefits of Invoice Financing
Your company should take advantage of invoice factoring for plenty of good reasons. Any company with accounts receivable can participate in business factoring, especially if their customers aren't paying on time. Additional benefits of business invoice factoring include:
Accessible to nearly every industry
Small businesses are eligible
No debt to repay
Enhanced purchasing power
Access to unlimited capital
Aids in building business credit
Retain your equity
Fast and easy
Detailed management receivable reports
Instead of waiting to be approved for a bank loan to supplement a payment advance, you can use an invoice finance facility. Get faster access to money from your unpaid invoices with either invoice discounting or factoring assistance.
At AdvancePoint Capital, we can walk you through payment terms, help balance your business's sales ledger and provide access to crucial cash flow on any qualified business invoice.

Utilize Invoice Financing to Help Your Business Flourish
Businesses need access to cash flow to purchase additional equipment, pay employees, and cover all company-wide essentials to stay on top of the competition. If you're tired of waiting for customers to pay their outstanding invoices, negatively impacting your bottom line, consider using invoice discounting to quickly acquire the funds you need.
Along with invoice factoring, there are so many ways invoice financing can benefit companies, both big and small. Not only will you attain money from your unpaid invoices, but you will also be able to maintain credit control to build your business's credit. Access to this working capital helps you continue your services without missing a beat.
If you're worried about what customers might say, invoice discounting allows for more privacy. Since business owners are still responsible for chasing late payments, clients remain unaware that you also use these services to acquire your funds to cover expenses.
Businesses can feel unforgiving since there is an ever-present need to stay current and topple the competition. Don't feel held back by a lack of currency and delayed invoices. Get a free quote from AdvancePoint Capital today to see how invoice financing will help your business flourish.