Borrowing money is never simple. In fact, there are many aspects of money lending that are severely misunderstood, leading countless borrowers down a path they aren't prepared for.
When someone approaches a lender, there is a promise that the amount borrowed will be repaid in full, in addition to an agreed-upon percentage of interest. Before this repayment process is complete, a borrower is taking on debt.
While the term debt has fairly negative connotations, it's a regular part of a business that nearly every successful startup enterprise must go through. In order to finance business endeavors, growth, or even working capital — some debt may be needed in order to keep operations running smoothly. Your balance sheet may have some debt, but that doesn't necessarily make it an unhealthy balance sheet.
Now, the length of debt may differ from company to company — and may be problematic if it's unable to be paid. However, business owners shouldn't see the word "debt" as a big scary omen unless they've dug themselves into a hole.
Banks are considered the most traditional source of debt financing, offering a wide variety of loans and funding solutions. However, they are not the only debt financing option. Private business loans, along with the growing online small business lending marketplace — are sound alternatives to obtaining funding. These offer a sound option for identifying the best business loans.
Some notable statistics illustrate how companies manage financial issues and just how common business debt is. These numbers come from last year's Small Business Credit Survey.
45% of businesses took out additional debt
32% of businesses cut staff, hours, or downsized
28% made a late payment or did not pay
Existing Debt and Credit
Similar to how individuals may rack up too much debt, businesses can also be impacted by overwhelming borrowing behavior. Part of being a successful business owner means understanding how to shoulder the debt. There is certainly a Goldilocks zone — where the right amount of debt sows the right amount of success.
Small businesses and startups pose the highest risk to lenders — as the Small Business Administration (SBA) estimates that half of all small businesses fail within their first five years. Therefore, traditional lenders, such as banks, may be hesitant to finance green business owners.
But why do small businesses fail? Well, recent studies have shown that 82% of small businesses fail due to cash flow shortages. Small businesses may be considered "small," but they make up a significant portion of the job force. The most recent poll suggests very small businesses, even those with 20 or fewer employees, created roughly 1.9 million jobs — and that number is only growing.
As a part of the small business ecosystem, debt has become inevitable for some businesses, but that doesn't necessarily mean they're failing. The debt and credit conversation has always been a part of the equation, but it's often misunderstood when it comes to business loans and financing solutions.
So, how does debt differ from credit? Well, it's actually fairly simple.
Debt refers to the actual amount that you currently owe a creditor.
Credit refers to your ability to take on debt (and pay it back).
Debt is the current state of your financials and borrowing. It's all about the financial circumstances you are currently in — so if you owe $20,000 (including potential interest) — you have a debt of $20,000.
Now, credit is how lenders are able to identify whether or not you're a reliable borrower. The numbers associated with your credit score come from the FICO scoring system and assigns each person a number on an 850-point scale. The higher your score, the better your credit-worthiness is. There are many factors that can affect your score, such as:
Payment history
Debt-to-limit ratio
Length of credit history
Account inquiries
Account types

Source: https://www.myfico.com/credit-education/whats-in-your-credit-score
The largest contributor to your credit score is your payment history and usage. Your credit score will have a significant impact on whether or not you're eligible for certain business loan options.
So, it's not difficult to see how your existing debt may affect your ability to obtain the business loan you need. Existing debt is nothing to be afraid of, and it's nothing to be ashamed of either. Small businesses and startups rely on financing opportunities — which means that some debt is typically required to open doors, fund day to day operations, or grow.
However, it's how these debts are managed that determines whether or not they may hinder future loan eligibility.
A Deeper Look at Credit
So now that we've established how existing debt relates to credit and how credit-worthiness relates to a business's ability to obtain a loan — let's explore how your existing borrowing behavior may impact your credit score.
If you decide to dip some toes into your credit report, you'll discover a wide range of information that lenders will have access to. Primarily, a lender will identify your repayments, missed payments, and additional borrowing to get an idea of your worth as a borrower.
How a lender evaluates your borrower history depends on the type of loans you've obtained or are currently involved in. For fixed credit repayments that accompany most loans — lenders are looking for a constant reducing total that shows you're able to make payments on time.
However, there are more flexible loan options such as business credit cards, purchase order financing, or a merchant cash advance that may be evaluated differently. Some of these loan products are evaluated through a balance-to-limit ratio — which is used when a borrower has revolving credit debts.
So, how does this balance-to-limit ratio work? Well, essentially, the more you spend and the closer you inch near your credit, the higher your balance-to-limit ratio will be. However, making repayments and reducing your overall balance can reduce this ratio. While many lenders may not look at this ratio, some certainly do. It's always good to have credit available that you're not using, in order to show sustainability outside of borrowing.
On the flip side, there is your debt-to-income ratio. This ratio is fairly self-explanatory and refers to the amount of debt you've incurred in relation to monthly income. Some lenders will look at this ratio, and include unused and available credit as a part of it.
Regardless, traditional lenders like banks are going to take an in-depth look at your credit history. Now, there are ways to get around the harsh, time-consuming, and difficult lending process that typically accompanies bank financing. There are online lenders that will provide funding, even if your credit history and existing debt are less than stellar. These bad credit business loans offer alternative routes to the cash flow issues your business may have.
Delinquency and Default
Unfortunately, we can't talk about loan eligibility and debt without covering loan delinquency and possible default. Delinquent payments, regardless of the reason, can rack up not only late fees — but dealing with constant calls can be a headache. Many lenders have varying late fees and timeframes for which these fees may start rolling in. Here's a breakdown of some top lenders.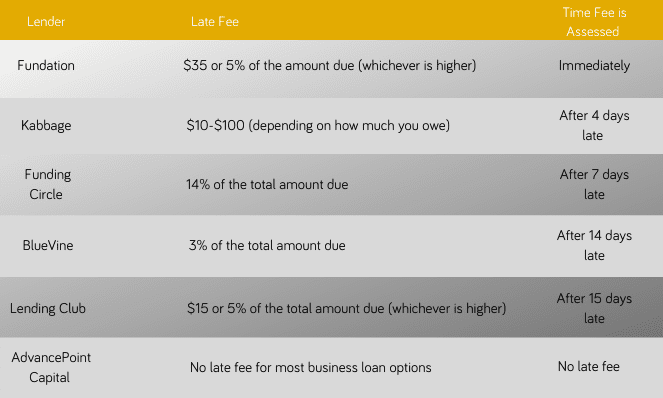 Now, when a borrower does not repay their business loan as outlined in the terms, it may go into default. A defaulted loan can severely impact your credit score and drastically affect your future loan eligibility.
Lenders will continuously contact you regarding delinquent or default loans, and it's always better to be communicative throughout the process. The silent treatment is not your friend in these situations.
Bad Credit Business Loans
For business owners who are struggling with existing debt that may be impacting their credit score — finding a business loan can be difficult. Luckily, there are bad credit business loans from the online lending marketplace that businesses can take advantage of today.
Businesses rely on these loans and funding opportunities for working capital or other business needs. The numbers from the Federal Reserve Banks show:
55% of businesses use a loan or line of credit on a regular basis
52% of businesses use a credit card on a regular basis
13% of businesses used traded credit
9% of businesses used leasing opportunities
6% of businesses took advantage of a merchant cash advance
When your credit history is hindering loan eligibility, having backup options is essential.
So, what exactly is a "bad credit business loan?"
Well, for business owners with a spotty credit history — there are alternative funding options that use factors other than credit to evaluate risk. Here are some of the best options for bad credit business loans today.
Short Term Business Loans
One way lenders mitigate the risks associated with lending to borrowers with poor credit is by shortening the length of repayment — along with the amount of the loan. Short term business loans do both. This loan product provides a fixed amount or "lump sum" upfront, with a fixed payback amount over a fixed period of time. Usually, this period of time is roughly 6-18 months. A short term business loan requires less documentation., is easy to apply for, and very forgiving credit requirements.
Learn more about short term business loans today.
Business Line of Credit
We mentioned revolving lines of credit previously in this post, and a business line of credit is a prime example. This funding product allows business owners to draw money whenever they need it most up to a certain credit limit. However, it should be mentioned that of all the "bad credit business loans," this option is the most difficult to obtain. While it does accept fair to subprime credit histories, whose with poor scores may find it difficult to acquire.
Learn more about a business line of credit today.
Invoice Financing
Otherwise known as invoice factoring or accounts receivable financing, invoice financing is a creative funding option that allows business owners the ability to leverage outstanding invoices for quick cash flow. Now, the reason that this makes it into our "bad credit business loan" category is the way in which the credit check is handled. Because the outstanding invoice acts as the collateral, the client that hasn't paid is credit evaluated. So, you don't have to worry if your credit is less than stellar because it won't even be looked at with invoice financing.
Learn more about invoice financing today.
Cash Advance
While an advance is not technically a loan, it is a type of financing that many startups and small business owners may need. Now, there are two types of cash advance options available to those struggling with credit.
A merchant cash advance (MCA) refers to a type of funding opportunity where a lender advances a lump sum of money upfront to a borrower. This funding is repaid by leveraging a fixed percentage of future credit card sale batches that are automatically taken out until the advance is paid back in full.
Learn more about merchant cash advances today.
A business cash advance resembles the same structure as an MCA. However, the repayment model is slightly altered. Instead of taking a fixed percentage of future credit card sales — a business cash advance will deduct a percentage of future overall sales.
Learn more about a business cash advance today.
How Personal Credit Score Impacts Loan Eligibility
While bad credit business loans offer a lot of flexibility when it comes to your credit score, it's still beneficial to know how your score may impact future funding decisions. Here's a breakdown: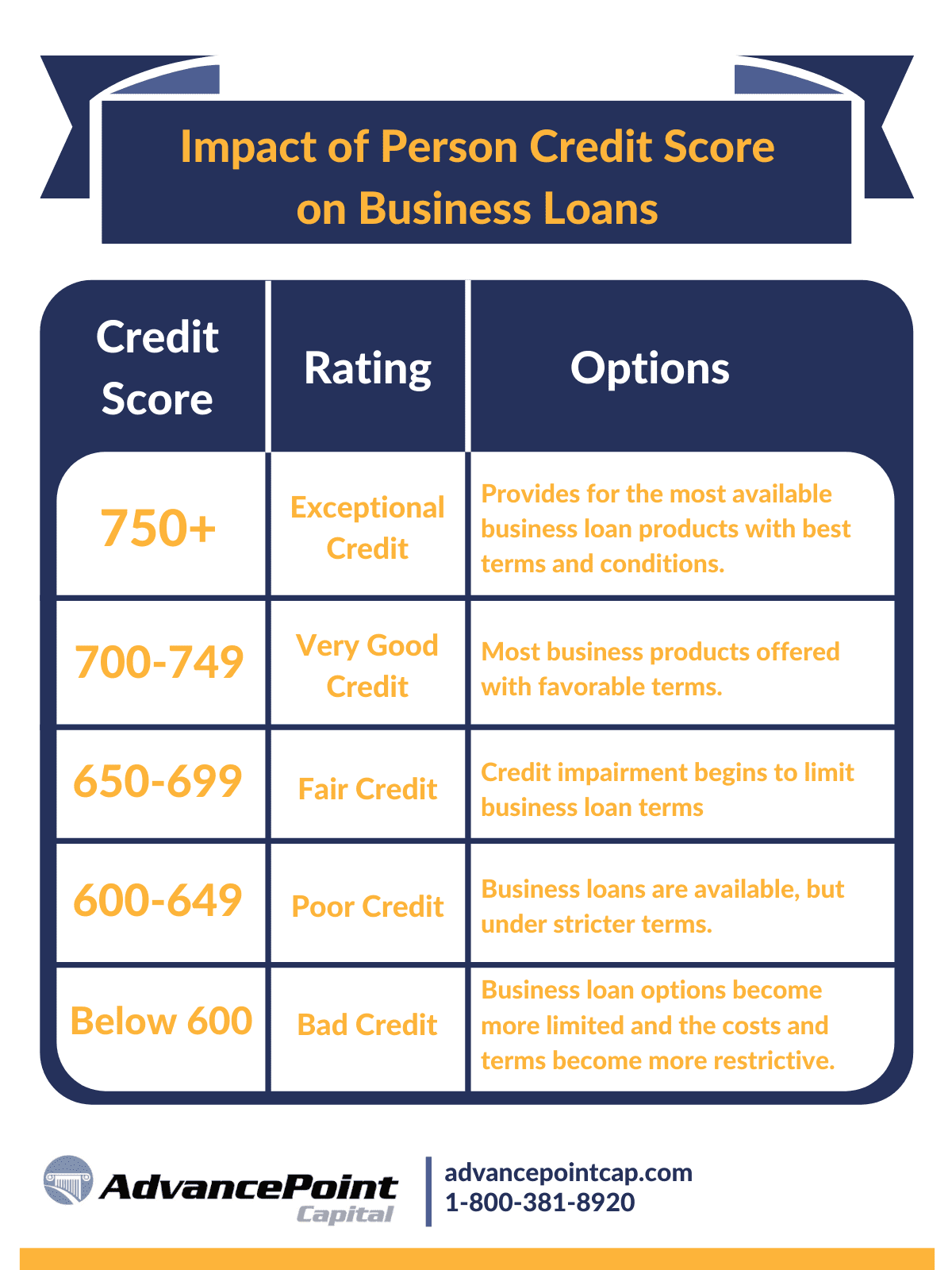 SBA Loans
While loans from the Small Business Administration are not for the credit impaired, they do offer an incredible opportunity for business owners to take advantage of if their finances are in order.
The SBA offers loans that are made with public funds, and around 90% of these funds are secured. Through partnerships with banks and creditors, they're able to create low-cost loans and financing for small businesses.
We've covered the 5 Steps to an Easy SBA Loan before, so if you're interested in learning more we suggest taking a look at our article. However, here are some of the key points.
There are several SBA loans available, including:
SBA 7(a)
CDC/504
Disaster loans
CAPLine
SBA Microloan
Every one of these loans has unique benefits and uses. It's important to know which SBA loan works best for your operation and future goals before diving into the application process because it tends to be far less forgiving than alternative financing solutions.
The average SBA loan sizes can be seen below.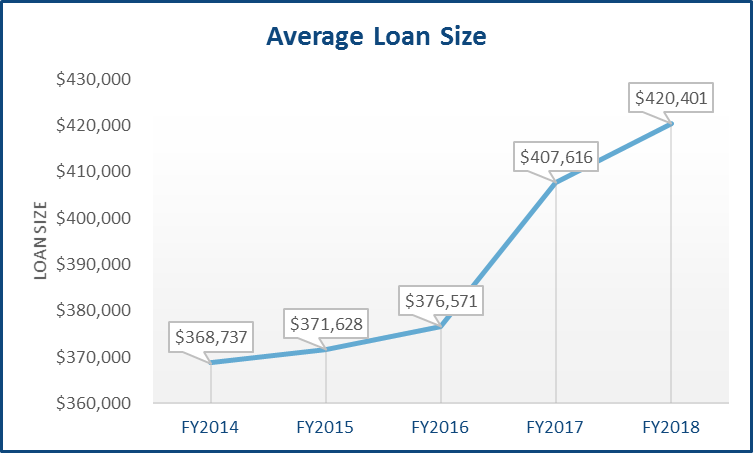 Source: SBA FY2018 Year-End Report
Find Your Business Loan Today
Here at AdvancePoint Capital, we offer a diverse range of loan products and financing opportunities for businesses of all shapes and sizes. As a premier online financing marketplace, we're able to provide funding solutions that have far less stringent requirements than traditional institutions such as banks.
We offer a fast, convenient, and straightforward way to get the cash flow you need for your business. Get a quote today and get started.