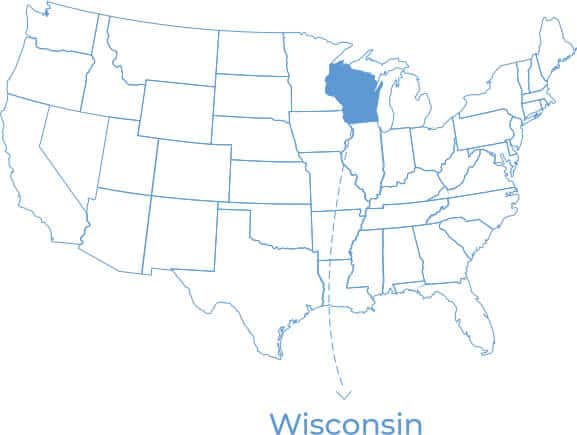 Among the 50 US states, Wisconsin is known for its beautiful scenery, dairy farms, and manufacturing heritage. The state's economy has become more diversified in recent years though. Today, agriculture and manufacturing are still important, but the service sector has grown to be the largest part of the economy.
This combination of old and new industries makes Wisconsin a great place to start or grow a business. If you're thinking of starting a business in Wisconsin, you'll likely need some financial assistance. That's where Advancepoint Capital comes in. We offer fast business loans in Wisconsin for small businesses.
We understand that starting a business can be a daunting task. That's why we're here to help. We'll work with you to find the best loan option for your business. We have a variety of loans available, so we're sure to have one that's right for you. Give us a call today and let us help you get started on your Wisconsin business adventure!
Acquiring A Small Business Loan in Wisconsin
Small business loans can be a great way to get the financial assistance you need to start or grow your Wisconsin business. But how do you qualify for a small business loan? And what are the best options for small business loans in Wisconsin?
AdvancePoint Capital's team of small business lending experts is here to help you navigate the world of small business loans. We'll work with you to find the best loan option for your business. We can help you get approval for a loan in as little as 24 hours.
9 Best Funding Solutions for Wisconsin Small Businesses (December 2023)

Small Business Loans in
Wisconsin
We offer a variety of business financing solutions with our marketplace of products and terms. Most pre-qualifications are same day to 24 hours

SBA Loans in Wisconsin
We offer a variety of SBA loans to Wisconsin businesses. Sba loans are well known for their great rates and terms, but qualifications and requirements can be a challenge. Let us guide you through the SBA loan process.

Merchant Cash Advance
Wisconsin business owners who rely on credit card processing for there sales often turn to merchant cash advance. This product uses the credit card processing for an advance repaid out of future credit card sales. This process offers flexibility in repayment un like a term loan. VCommonly used when a traditional loan is not an option. Quick approval process and funding with all credit considered.

Business Cash Advance
This is a revenue based business funding for Wisonson businesses who can't get approved at a bank for a traditional loan. Repaid by a percentage of future sales. All credit is considered with only a 1 page application and bank statements required for pre-approval.

Business Line of Credit
A business line of credit is a revolving line that allows Wisconsin business owners to draw money at any time during the duration of the line, up to a credit limit. You are only required to pay interest on the current outstanding balance allowing for no prepayment penalty to save money.

Equipment Financing
Equipment leasing or loan solutions are available to Wisconsin business owners who rely on equipment for there business and need to defer the high cost with affordable payments and terms.

Invoice Financing
Advancepoint offers invoice factoring solutions to businesses across Wisconsin. Invoice factoring allows a Wisonson business who invoices clients to get an advance at time of issuance avoiding the time it takes for that client to pay the invoice over normal terms 15,30,45, 60 and beyond.

Short Term Small Business Loans
Short term business loans, defined as 3 to 24 months to repay, are best used for working capital needs that require a fast approval and simple loan application process.

Long Term Business Loans
Long term business loans are for established Wisconsin businesses with a proven track record looking to expand and have a large project that needs to be financed with long term financing to achieve affordable payments.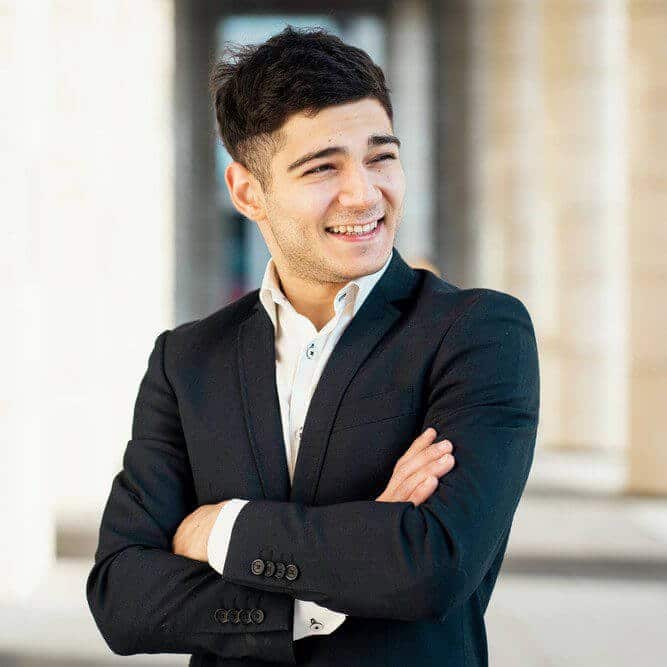 Common Uses of Securing Business Loans in Wisconsin
Working Capital Loans
Equipment Purchase and Repair
Access Capital for Inventory
Business Plan Expansion
Cash Flow Shortages
Access Capital for Emergencies
Advertising / Marketing
Recruitment of Employees and Training Resources
Government Programs, Additional Support, and Grants in Wisconsin
Why AdvancePoint Capital?
With years of experience, we have been offering financing solutions to businesses in Wisconsin. The trust we have earned is reflected in the outstanding reviews and positive feedback provided by small business owners in Wisconsin. Our team comprises experienced business funding specialists who are well-versed in catering to the unique needs of businesses in Wisconsin. We provide free quotes without any obligation or upfront costs. Additionally, we offer a diverse range of business loan products tailored specifically for businesses in Wisconsin.
Apply for Wisconsin Small Business Loans Today!

It can be a challenging task when it comes to obtaining a financing solution or seeking financial advice in Wisconsin. However, at AdvancePoint Capital, we have streamlined the process to make applying for a business loan quick and effortless. By simply filling out our online form and application page, you can be on your way to securing a business loan in Wisconsin in just a few hours.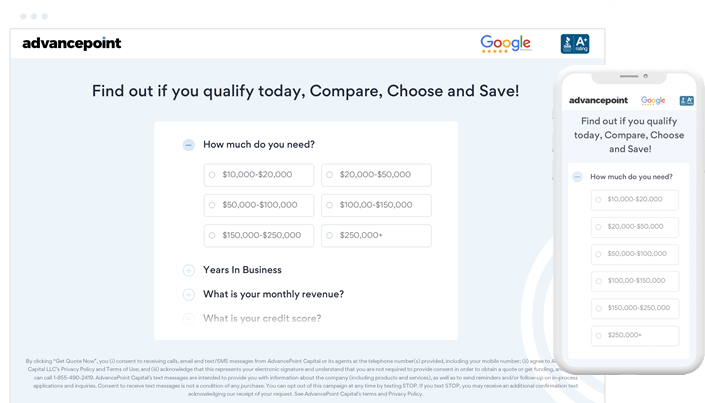 Get Started Today
AdvancePoint Capital makes the loan application process a simple, straightforward experience.
Frequently Asked Questions