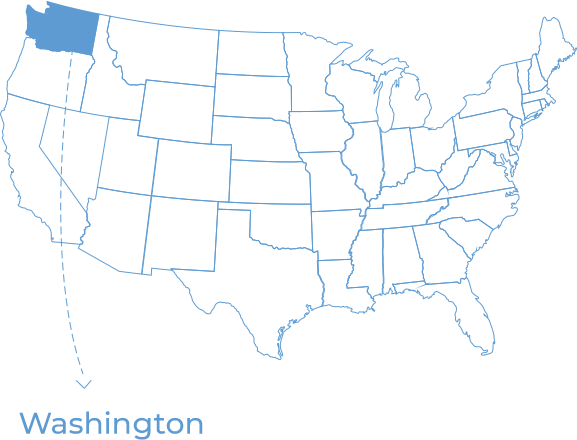 Washington is a beautiful state in the Pacific Northwest, with stunning mountain ranges and pristine forests. It's also home to a thriving business community, with major companies like Microsoft and Boeing headquartered here.
But Washington is more than just a place for businesses to thrive. It's also a great place to live, with plenty of opportunities for recreation and relaxation. Whether you're looking for an urban environment or a rural retreat, Washington has something to offer everyone.
If you're a small business owner in Washington, you know that it can be tough to get the funding you need to grow and expand. That's where Advancepoint Capital comes in. We provide fast business loans for small businesses in Washington, so you can get the cash you need to take your business to the next level. Plus, we have a wide range of business loan products in Washington, so we can tailor a loan package that meets your specific needs. So if you're looking for a reliable and trustworthy lender, contact us today!
Securing A Small Business Loan in Washington State
Obtaining a small business loan in Washington is a relatively easy process. However, it's important to remember that each lender has different requirements and processes.
At Advancepoint Capital, we work with a large network of lenders, so we can help you find the right loan for your business. We understand that each business is unique, so we'll take the time to understand your needs and match you with a lender that can provide the best terms.
9 Best Funding Options for Washington Small Businesses (December 2023)

Small Business Loans
We help your business grow and prosper through our marketplace which includes business loans, merchant cash advances, business lines of credit, and other alternative small business loans.

SBA Loans
An SBA loan is partially guaranteed by the Small Business Administration, a federal government entity. We help guide you through the application process so it's painless.

Merchant Cash Advance
A merchant cash advance (MCA), is a revenue based alternative funding option that relies on the cash flow and revenue of the business to issue approval and funding. An advance lump sum is provided to business owner upon purchase of future sales at a discount. Repayment is made by a percentage of their credit card processing batches offering flexibility in repayment.

Business Cash Advance
Business cash advance (BCA) is a type of financing that allows a business to borrow money against its future sales deposits for a lump sum now. Easier for funding products to get approved for than traditional loans.

Business Line of Credit
Business credit lines are revolving credit that lets you draw funds as needed and only have to pay interest on the outstanding balance based on simple interest. The business line is flexible with its draw up, draw down features so business owners can use on short-term notice.

Equipment Financing
Advancepoint specializes in approving and funding equipment leases and loans for small businesses. Simple and quick application process.

Invoice Financing
Invoice factoring enables your business to access cash in exchange for invoices you issue to clients. The finance company will purchase invoices at time of issuance from issuer at discounted price and advance the issuer money upfront before invoice has been collected. Because it's a purchase the invoice finance company assumes the collection responsibility from issuer.

Short Term Small Business Loans
Short-term loans are quick solutions with terms that range from 6 to 24 months. Shorter application process than traditional loans.

Long-Term Business Loans
Long-term financing is available for those established businesses that are looking to expand and need to spread those costs out over years with affordable payments. The application requires good credit and substantial documentation to achieve approval. We can be your guide to make it easy.
Additional Resources and Technical Assistance in Washington State
Apply for Business Loans in Washington Today!
Applying for a business loan can be difficult and frustrating. At Advancepoint Capital, we make the process easy with a streamlined application process that plugs right into our lender network so we can help you find the best business financing products. Simply fill out the online request, and one of our business finance specialists will contact you to assist you in your application process.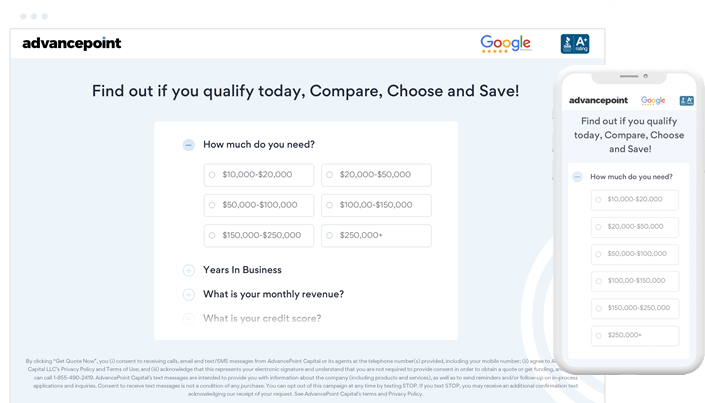 Get Started Today
AdvancePoint Capital makes the loan application process a simple, straightforward experience.
Frequently Asked Questions