The application process of getting a small business loan can be a daunting task. The questions start rolling in your head as a business owner: What business funding options are available to me? How do I qualify? What are the best rates for a small business loan? Who do I work with to get a small business loan? What do I do if I can't get approved at a traditional bank for a small business loan? What documents do I need to get approved for a small business loan?
At the end of the day, getting loans for a small business is not as challenging and overwhelming as you think, but small businesses do need to do some homework first and conduct the proper research.
5 Steps on How to Get a Loan for Small Business
The following 5 steps to getting a small business loan will guide small businesses through an orderly process in answering all of your questions and provide you a road map to discover what is available, how to prepare, apply, and determine which small business financing option is best for you.
Step 1: Why Do You Need to Apply for a Small Business Loan?
Any search for a small business loan should always start with the question, Why? The need will definitely play a part in the decision when choosing a loan option. If it's a large order of machinery or equipment or a business expansion that will require a lot of capital, a long term solution will be necessary. If its cash flow or working capital needs, then a shorter-term loan may be more suitable for that type of need. Determine the "why" and "how much" before taking any additional steps.
Step 2: What Are Your Qualifications/Credit Eligibility Requirements?
6 Common Areas Business Lenders/Funder's Review Within the Loan Application in Making Underwriting and Approval Decisions
Industry/Time in Business: The industry small businesses are in and the length of time of operation may dictate what loan products you will be eligible for.
Credit Score Requirements: The Personal credit score of the business owners involved plays a significant role in the decision-making process. The most common question about credit is "What credit score is needed for a small business loan?" Some loans require an excellent personal credit score, while others except good to fair credit scores. In some cases, loans allow for bad or subprime personal credit. The better your personal credit, the more loan options you will be able to choose from.
Business credit scores are derived in different ways. Business credit looks at things such as how you pay your business debts, vendor credit, B2B transactions, and business taxes. Judgments, liens, and litigation can also play a role in an underwriting loan decision.
Cash Flow: How you manage your small business cash flow places a vital role in your ability to acquire financing. Lenders will look at all business bank accounts from the last 3 to 6 months and evaluate a variety of factors in determining the small business's ability to manage the cash flow of the business. The business bank operating account is evaluated for many factors that include:
# of deposits per month
Total monthly deposits
Annual revenue
What types of deposits and withdraws are being made
Average daily balance
Minimum daily balance
Any late fees, overdrafts, and non-sufficient funds
Debt-To-Income Ratio: Lenders will look at the revenue versus any other business financing payments that are currently being made to see if the business can take on more debt.
Assets: Some business loan products will need to see cash reserves or physical assets like real estate, equipment, or other business assets to secure the financing.
Financial Statements: Long-term business loans and some business lines of credit, as well as larger business loan amounts, will require the review of financial statements to determine eligibility. Common financial statements that may be reviewed include:
Business income tax returns (sometimes personal tax returns as well)
Year to date profit and loss
Year to date balance sheet
Accounts receivable ledger
Accounts payable ledger
Business plan
If you can improve your situation in any one of the above six areas, you may want to do some repair before applying for a business loan. You don't need to give up your search if you have issues in any of the above categories if you need money now, but understand that these factors will impact products, terms, and rates offered.
Step 3: What Financing Options Are Available for Small Businesses: The 10 Best Small Business Financing Options for Small Businesses
Long-Term Business Loans 
Long-term, small business loans are small business loans with a duration of greater than two years. Businesses are offered a fixed loan amount upfront and charged principal and interest. Unlike a business line of credit, a business owner cannot draw money as you go with a long-term loan. Typically, long-term loans are for business expansion and growth or to finance large, long-term projects. This business funding option is used for long-term projects and needs at least $500,000 in annual revenue.
Product Overview
Rates: Interest rates starting at 5.50% or treasury index plus 1% to 2.5%
Repayment: 2 to 10 years
Fees: Origination fees range from 0% to 3%
Payment: Monthly or bi-Weekly
Credit Score: Good to excellent preferred, all types considered
Business Line of Credit
A Business line of credit is an open, revolving line. This type of funding allows business owners to draw funds when needed on-demand or make purchases—a business line charges a principal and interest rate. Business lines of credit do have a credit limit that cannot be exceeded without approval. They are not open-ended forever and require renewal either semi-annually or annually to be extended. This business funding is primarily used for small purchases and working capital. No minimum annual revenue needed to apply.
Product Overview
Rates: 5.50% Interest rates or treasury index plus 1% to 2.5%
Repayment: Open revolving line
Fees: Origination fees ranging from 0% to 3%
Payment: Monthly, bi-weekly or weekly
Credit Score: Good to excellent preferred, all types considered
Small Business Credit Cards
Business credit cards are open, revolving credit lines that charge a principal and interest rate with a limit. A card is issued that can be used for making payments or purchases. Business owners utilize business credit cards in conjunction with other financing products. The primary use of this financial product is for the purchase of small items or working capital
Product Overview
Rates: Introductory rates starting at 0% up to 28.99% principal & interest
Repayment: Open revolving line with a limit
Fees: $0 to $500 annual fees
Payment: Flexible monthly
Credit Score: Must have good to excellent credit and deep history
Short-Term, Small Business Loans
Short-term business loans are typically repaid with 6 to 18 months. This type of loan features a lump sum offered up front with a fixed payback amount calculated using a factor rate over a short term of time. Rates are not principal and interest but cost more than traditional loans. Most businesses choose short-term small business loans when they do not qualify for traditional business funding.
Short-term, small business loans charge more for costs and are shorter-term. The payments are more frequent to compensate for the greater risks business lenders take in offering this product. Short-term, small business loans are popular with small businesses because of the reduced documentation requirements and credit tolerances that are laxer than traditional small business loans. The annual revenue requirement is typically $175,000.
Product Overview
Rates: Factor rates range from 1.09% up to 1.45%
Repayment: 6 to 18 months in duration (typically 12 months or less)
Fees: 0% to 5% origination fees
Payments: Weekly, bi-weekly and in some cases daily
Credit Score: All types considered
Business Cash Advance
Business Cash Advances (BCA) are also known as a Purchase of Future Sales Agreement. They advance future sales at a discount to a business. The business is responsible for paying back a fixed amount, which is greater than the amount that was advanced. This difference between the advance amount and the payback amount is called the "factor rate or cost." This is not principal and interest costs. The advance is repaid by taking a fixed percentage of future overall deposits called the specified percentage. The payments are collected by an ACH fixed daily or weekly based on the specified percentage of future sales.
At the end of every month, reconciliation can occur. If the fixed payments taken are more than the set future percentage of sales, a business owner can request a refund back to the business for overpayment so that the set specified percentage of sales collected for the business matches the revenue volumes. Repayment continues until the amount is paid back in full. There is no term limit with advances as the fixed payback percentage changes due to fluctuating revenue.
Product Overview
Rate: Factor rates range from 1.09% up to 1.45%
Repayment: No term limits. Payments continue until paid in full based on specified percentage collection method and are dependent on future revenues
Fees: Origination fees that range 0% to 5%
Payment: Weekly or daily
Credit Score: All types considered
Merchant Cash Advances
A Merchant Cash Advance (MCA) is also known as a Purchase of Future Sales Agreement that operates very similarly to BCA's. The biggest difference is the repayment process, which is connected to future credit card revenues instead of overall sales. MCA's take a set percentage of future credit card sales at the time of batch of credit cards until the advance is paid back in full. Business owners find this valuable when they have fluctuating revenues and don't want to be locked into a fixed payment that could negatively impact capital or margins of profit if revenues decline or fluctuate. 
Product Overview
Rate: Factor rates that range from 1.09% up to 1.45% 
Repayment: No term limits (payoff depends on future credit card sales)
Fees: Origination fees range from 0% to 3%
Payment: Set percentage of future credit card revenues
Credit Score: All types considered 
Equipment Loans (Financing)
Businesses that use equipment to operate their business often turn to equipment financing for the purchase of equipment. You must have very good to excellent credit, but limited paperwork is necessary to get approved. 
Product Overview
Rate: Factor rate ranging from 1.09% up to 1.45%
Repayment: 2 to 7 years
Fees: Origination fees range from 0% to 3% 
Payment: Weekly or daily 
Credit Score: All types considered
Small Business Administration (SBA) Loans
The Small Business Administration (SBA) provides programs, guidelines, and loan guarantees to approved lenders for businesses. The Small Business Administration's mission is to help Americans start, build, and grow their businesses successfully. The Small Business Administration (SBA) is not a lender and does not loan to small businesses directly. The Small Business Administration (SBA) provides a guarantee that gives the approved lender the ability to take on the risk of business lending under Small Business Administration (SBA) terms that they would not ordinarily do so on their own. 
Product Overview
Rate: Interest rates starting at 5.50%, treasury index plus 1% to 2.5%  
Repayment Loan Terms: 3 to 25 years 
Fees: Origination fees 0% to 3%
Payment: Fixed monthly
Credit Score: Good to excellent preferred, but all credit scores considered. 
Small Business Administration (SBA) Loan Programs 
SBA Standard 7 (a) loan program. SBA loan 7(a) is the SBA's primary program and is designed to provide financial assistance to small businesses. The terms and conditions, like the guaranty percentage and loan amount, may vary by the type of loans and businesses.
SBA Loan Program 504. The SBA 504 loan is a powerful economic development loan program that will provide small businesses another avenue for business funding while promoting business growth and job creation. The use of proceeds from SBA 504 Loans must be used for fixed assets such as construction, commercial real estate, land or land improvements (and certain soft costs), or can also be used to refinance existing debt.
SBA Disaster Loans. Economic Injury Disaster Loans (EIDL) are a type of SBA loan that not only provides assistance after natural disasters like tornadoes, wildfires, or floods but when President Trump declared Covid-19 a nationwide emergency on March 13th, small businesses were able to access this program for emergency financing.
SBA Paycheck Protection Program (PPP) Loan (Coronavirus Relief Efforts). The Small Business Administration (SBA) has established the SBA Paycheck Protection Program loan. This SBA loan provides loans to small businesses affected by the COVID-19 crisis that need financial help.
Invoice Financing
Invoice financing advances the outstanding balance to a business owner to increase the speed of cash flow to the business. This solution provides cash quickly and there is no need to wait for outstanding invoices to be collected and received by the client with invoice financing in place. Invoice financing has affordable costs ranging from 1% to 2.5% fee off of the face value of the invoice advanced.
Product Overview
Rate: None
Repayment: No term limits 
Fees: 1% to 3% fee based on the invoice. Monthly Service fees may apply depending on the volume of invoices factored.
Credit Score: Credit scores of the clients need to be favorable NOT the business owner advancing off invoices.
Purchase Order Financing
Purchase order financing offers businesses the ability to raise capital to pay suppliers upfront for verified purchase orders. Purchase order loans will finance an entire order or a portion of it, depending on the purchase order funder. When the supplier is ready to ship the order, the purchase order financing company collects payment directly from the customer. The purchase order funder will subtract their fees and then send the balance of the invoice to your business. 
Product Overview
Rate: None 
Repayment: No term limits 
Fees: 1% to 3% fee for each purchase order. Monthly service fees depending on volume may also apply.
Credit Score: All parties need favorable business credit history, but all credit scores considered
Step 4: Choosing Who To Work With: Picking the Right Business Loan Originator to Help You With the Loan Application Process
The following is a list of the different types of business loan originators that offer business loan services
Traditional banks (Bank of America, Wells Fargo, Chase, etc.)

Credit Unions

Online Lenders (Fintech) or Online

Business Originating Marketplace's

Business Loan Broker's

Long-Term Business Lenders

Equipment Financing Companies

Invoice Factoring Companies

Private Business Lenders

Hard Money Business Lenders

Commercial Real Estate Lenders 
Every financial institution differs in what products and services they offer, so it's important to ask what type of business finance products they offer upfront to see if they can provide you the best options available in the business finance marketplace.
How to Choose the Best Business Loan Originator
Evaluate the expertise of the business finance originator's product knowledge

Determine if they offer many financing options    

Ask how quick and efficient is the application process         

Check Reviews with third-party companies that don't work directly with the business like the Better Business Bureau and Google. Trust Pilot is not reliable because they work directly with businesses and are compensated for their services.    

Make sure all offers come with disclosures or term sheets with all terms and conditions provided. Request a copy of the business loan agreement before signing anything.
The 12 Warning Signs to Look Out for When Dealing With a Business Loan Originator
Company Website.

Check the broker or lenders website and look for whether the site looks current and informative. How does it stack up to other bank sites you use? Is there a section for legal information, privacy policy, location, and phone numbers for the various departments that can help you with more information or post-funding issues?

Physical Address.

Search the business address on google maps for a picture of the location. Check to see if it's a true business address or if it's a shared office space, co-work office, residential address, UPS Store, or mailbox center. Obviously, you would want to be working with a company that has an established business location.

Company History.

Check time in business with third-party sources like the Better Business Bureau. If the business is less than 3 years old, you may want to ask for a resume of the person or company you are dealing with to see if they have good experience.

No Independent Reviews.

Check for independent reviews from Google or the Better Business Bureau to see how they handled the application process with other small businesses. Do not rely on companies like Trust Pilot, who work directly with business owners for a monthly service fee and have a controlled review business model. They do not have proper independence when considering customer reviews.

Access/Communications.

Does a live person always answer the phone? Is there a general number that you can talk to a customer service representative other than the person you are working with at the company? Always ask for direct numbers and the general company phone number. Check for service and response levels such as returning voicemails and email response times. If they take more than an hour to respond, that should raise warning flags

Better Business Bureau.

Is the business loan company a member of the BBB? Are they in good standing? Do they have any customer reviews?

Any Federal, State, or Local Actions.

Have they complied with all fair-lending laws? Are there any negative actions from federal, state, or local governments? Any customer lawsuits? Any employee lawsuits or actions?

No Clear Fee Disclosure or Term Sheet.

All business loan originators should have disclosures such as a "Term Sheet" or "Smart Box Disclosure" that details all conditions, costs, and fees. Do not rely on offers that are in the body of an email like they were just giving you a general idea. The business loan originator must have disclosures that can be emailed to you.
Samples of "Smart Box Disclosures"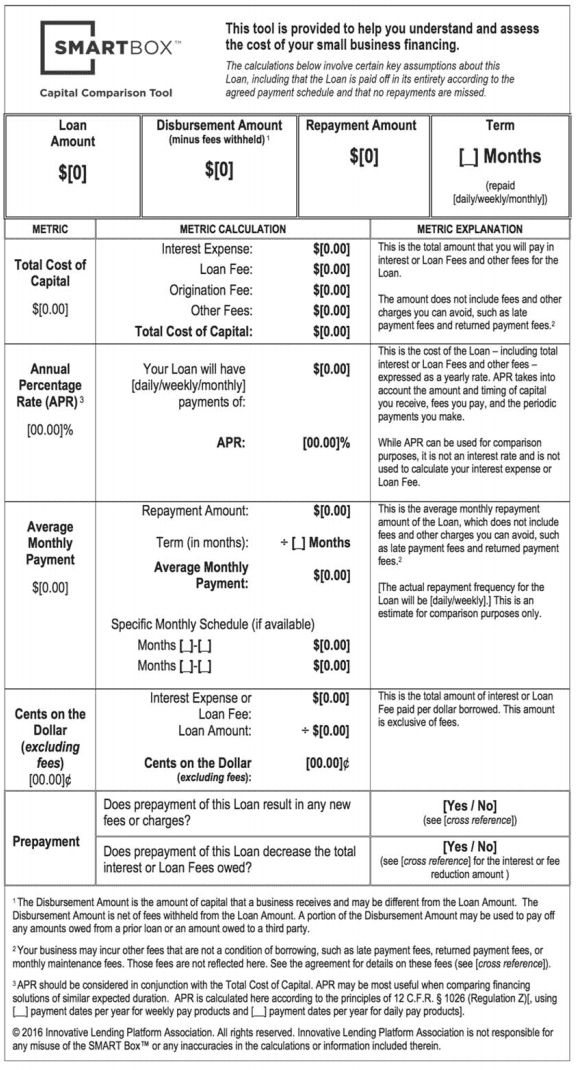 Source: https://innovativelending.org/wp-content/uploads/2019/09/term_smartbox.pdf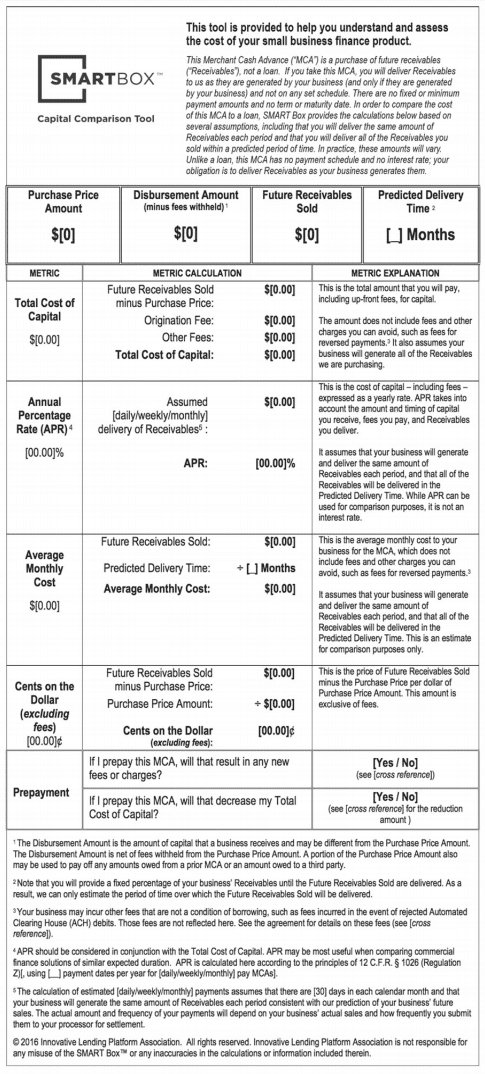 Source: https://innovativelending.org/wp-content/uploads/2019/09/mca_smartbox.pdf
Credit Report Disclosure.

Does the business loan originator offer a free copy of the credit report so you can see your personal credit they are evaluating? There are many business loan originators that will downplay your credit to convince you that you don't deserve a better business funding product than the one they are offering. If the lender or broker provides a free credit report at the time of offer, this is a great sign that the company or broker is transparent and trustworthy.

Time to Consider Offers and Quotes.

Are they giving you enough time to consider the offer? Are they pushy and giving you an unreasonable amount of time to consider the offer? Most offers and approvals should be good for at least 1 week before any secondary credit review would be needed.

Style and Presentation.

Listen to your business loan originator. Evaluate his speaking skills and see if his or her approach is educational, informative, consultive, and not aggressive or fast-talking. Does the originator listen and answer your questions fully? Does the originator use language like "guarantee", and "no credit check"? If so, run the other way!

Deceptive Marketing Practices.

Are you receiving cold calls related to getting business loans? THIS IS A BIG RED FLAG! Never work with a lender or broker who would use this marking technique unless you have an existing relationship with them. Stay away from these boiler room tactics. Receiving offers in the mail can be an acceptable way for business lenders to market their services but beware of deceptive mail pieces that over-promise or use words like "guarantee", "95% approval rate", "no credit check", "no paperwork needed" or over emphasize getting money fast.
Step 5: How to Apply for a Business Loan Online: The Application Process
Once you have chosen your business loan originator and narrowed down what business finance products you want to apply for, it's time to apply and get your offers. The business finance product selection will dictate what documents are required. Ask your business loan originator what specifically will be needed. It's safe to say an application will need to be filled out and signed by all owners participating in the loan application.
Documents requested can range from a one-page application and bank statements to additional items like financial statements, proof of ownership of the business, personal identification, or other documentation to explain certain questions that may arise in the underwriting process.
Step 6: How to Choose the Best Option. Making the Right Decision
Ok, so you now have some offers. Remember a mail offer or other solicitation is not an offer. Always get a term sheet, commitment letter, or letter of intent and not just some quote in the body of an email when receiving offers. These documents will list all terms such as amount, term (length of repayment), rate, costs, payments, and any fees associated with the financing.
If the offer fulfills the reason why you are financing your business and completes your need, or is the best available for your business based on your qualifications, then the only thing left to consider is whether you are comfortable with how the payments will impact your bottom line.
Take a moment to evaluate the cost versus benefit of getting financing for your business at this time. If you are nervous about the ability to repay or that it will negatively impact your business, then reconsider moving forward, but if you are comfortable with your answers to the above information, then accept and move forward with your business finance solution.
The Pros and Cons of Online Small Business Loans
Pros
Can solve a problem with your business

Can help make your business grow or expand and increase profits

Can make the business easier to operate or improve efficiencies

Can increase customer base with marketing or advertising
Cons
Adds additional debt to the business balance sheet

Payments that can impact expenses and cut into margins of profit
Frequently Asked Questions
Where Do I Find a Small Business Loan Originator? 
It is not difficult to find or obtain business funding. A simple google search for "Business Loan Broker" or a specific product you are looking for like "small business loan", "long-term business loan" will do the trick and provide many options. Another option is any recent mail offerings that you may have received and saved. 
Should I Pay Any Fees Upfront Fees to a Small Business Loan Originator?
You DO NOT need to pay upfront fees to get most business loan products. Keep in mind, business funders and/or business lenders will charge fees that are deducted from proceeds at the time of funding. Always check the terms and conditions of all business financing you are considering.
What Are Small Business Loan Rates in 2020?
The rates and origination fees can vary widely between business loan offers. The key is to shop and compare so you know you are getting a competitive offer.
Can I Qualify for a Small Business Loan If I Have Bad Credit?
Yes, you can get approved for business funding if the business owner's personal credit is considered bad credit. Be aware that options will be affected by your credit risk and what can be offered to you.
If I Am a Start-Up Business, Can I Get a Small Business Loan?
Yes and No. It depends if the business loan broker is connected with SBA loan offerings or private business loan investors. If they are, then yes, they may be able to help you secure a "Start-Up" business loan.
Can Small Business Owners Trust a Business Loan Originator With Their Personal and Business Information? 
If you do a proper check, then you have taken the necessary precautions to consider your data safe and secure. Remember there are no guarantees, so always use credit monitoring services and take the security steps to always protect your personal data and information.
The Bottom Line: Advice and Tips About Applying for a Business Loan for My Small Business
Whether it's a Business Loan Broker, Direct Business Lender, or a Business Finance Marketplace Platform, it's important to ask questions and do your research about the business loan originator you are choosing.
 As a business owner, always ask yourself the key questions when getting a business loan for your business. What types of business financing products are offered? Does the Business Loan Originator have the experience and knowledge to assist me in finding the best product for my needs? Does the business loan originator not only have great customer service on the origination of my loan but also on the processing, funding, and servicing of my loan on the back end? 
Always start by asking Why do I need the money? How am I going to put it to good use for the business? Have I been given all business financing options in the marketplace? Am I getting competitive rates, costs, and terms for my situation and credit profile? Have I done my cost verse benefit analysis for borrowing money for the business?
Always check your proposals and agreements for terms and conditions which should include the cost of money (interest rate or factor rate), all closing or funding fees, term duration, payment frequency, personal or business guarantees, and any collateral requirements. If you ask the tough questions of yourself, you will be better armed to make great decisions.
How to Apply for a Business Loan Using Advancepoint Capital's Marketplace
Applying for a loan with AdvancePoint Capital is as simple as 1, 2, 3. Let AdvancePoint Capital help you get the business finance option that fits your needs. Start with this online form, then fill out the short application page, wait a few hours for your approval, and then get your money!
The fast, convenient, and straightforward way to get approved and get the money you need for your business – now! Get your quote today by filling out our simple form. 
Latest posts by Jacques Famy Jr
(see all)