With over a million people, San Jose is California's third most populous city. San Jose is the largest city in Northern California, both by population and area, making it the cultural, financial, and political epicenter of Silicon Valley, the home of America's high tech industry.San Jose and the surrounding metropolitan area have a ton going for them from an economic perspective. Unfortunately, small businesses in the area still face challenges obtaining business loans from traditional lending sources such as banks or credit unions. Typically, these lenders have stringent guidelines, strict credit requirements, mountains of paperwork, and limited loan offerings for local small businesses.
That's where AdvancePoint can come in to help your business. We have the financing options available that other financial institutions just do not offer.
How to Get a Small Business Loan in San Jose, CA?
AdvancePoint is an excellent resource with a lending marketplace full of various alternative business loans and lending partners for small businesses.
The 9 Best Small Business Loan Options for San Jose, CA Small Businesses
1. Long-Term Small Business Loans in San Jose
Lenders define long term small business loans as a loan with a duration greater than two years. Businesses are offered a fixed amount of upfront and charged principal & interest. Unlike a business line of credit, a business owner cannot draw money as you go with long term loans. Typically, long term loans are an excellent resource for business expansion, growth, or help finance large projects.
Product Overview
Interest Rates: Starting at 5.50% or treasury index plus 1% to 2.5%
Terms: 2 to 10 years
Fees: Origination fees range from 0% to 3% (depends on risk and lender)
Loan Payments: Monthly or bi-weekly
Paperwork: Loan application, bank statements, and other financial statements and personal information required
2. Business Line of Credit
A business line of credit is an open revolving line. This type of funding allows businesses to draw funds when needed on-demand or make purchases—a business line charges a principal & interest rate. Business lines of credit do have a limit that cannot be exceeded without a lender's approval and is not open-ended forever, requiring renewal by lenders either semi-annually or annually to be extended.
Product Overview
Interest Rates: Starting at 5.50% or treasury index plus 1% to 2.5%
Terms: Open revolving line of credit
Fees: Origination fees ranging from 0% to 3% (depends on risk and lender)
Payment: Monthly, bi-weekly, or weekly
Paperwork: Application, bank statements, and other financial statements required
3. Short Term Small Business Loans
A lender will define a short term business loans as loans typically repaid within 6 to 18 months. These loans feature a lump sum offered upfront with a fixed payback amount calculated using a factor over a short term of time. Rates are not principal & interest but a "factor rate" that costs more than traditional loans. Most small businesses choose short term when they do not qualify for traditional business loans.
Short term loans charge more for costs and are shorter in the duration of repayment, and the payments are more frequent to compensate for the higher risks business lenders take in offering this product. These loans are a popular resource for small businesses because of the reduced documentation requirements and underwriting tolerances that are laxer than traditional loans. This type of loan is great for gaining working capital.
Product Overview
Interest Rates: Factor rates range from 1.09% up to 1.45%
Terms: 6 to 18 months in duration (typically 12 months or less)
Fees: 0% to 5% origination fees (depends on lender and risk)
Payments: Weekly, bi-weekly, and in some cases, daily Monday-Friday
Paperwork: Loan application and financial statements (straightforward and fast application process)
4. Business Cash Advance
Business Cash Advances (BCA) is also known as the Purchase of Future Sales Agreement that advances future sales at a discount to a business. The business is responsible for paying back a fixed payback amount known as a specified amount, which is higher than the amount that was advanced to the company. This difference between the advance amount and the payback amount is called the "factor rate or cost," which is a fixed cost; this is not principal & interest costs.
The advance is repaid by taking a fixed percentage of future overall deposits called the specified percentage. The payments are collected by an ACH fixed daily or weekly payment deducted from a business account based on the specified percentage of future sales. At the end of every month, reconciliation can occur. If the fixed payments taken out of the bank account monthly are more than the set future percentage of monthly sales, small business owners can request a refund back to the business for overpayment so that the set specified percentage of sales collected for the business matches the revenue volumes.
Repayment continues until the payback amount is paid back in full. There is no time limit with advances as the fixed payback percentage ever changes due to fluctuating revenue. You do not need to provide a business plan. The most popular use for a business cash advance is working capital to help your business.
Product Overview
Rates: Ranges from 1.09% up to 1.45%
Terms: No time limits. Payments continue until paid in full based on specified percentage collection method and are dependent on future revenues.
Fees: Origination fees that range 0% to 5%
Payment: Weekly or daily Monday-Friday fixed ACH
Paperwork: Application and financial statements
5. Merchant Cash Advance
A merchant cash advance is also known as a purchase of future sales agreement. This lending option operates very similarly to BCAs, but the most significant difference is the repayment, which connects to future credit card revenues instead of overall sales. MCAs take a set percentage of future credit card sales at the time of batch of credit cards until the advance is paid back in full. Businesses find this valuable when revenue fluctuates and they don't want to lock into a fixed payment. Fixed payments can negatively impact cash flow or margins of profit if revenues decline or fluctuate.
Product Overview
Rates: Range from 1.09% up to 1.45%
Terms: No time limits (payoff depends on future credit card sales)
Fees: Origination fees range from 0% to 3%
Payment: Set fixed percentage of future credit card revenues
Paperwork: Application and financial statements
6. Equipment Loans and Equipment Financing
San Jose area businesses that use equipment for daily operations often turn to equipment financing lenders to purchase machinery using the equipment as collateral. Small business owners must have very good to excellent ratings, but the good news is little paperwork is necessary to get approved.
Product Overview
Rate: Range from 1.09% up to 1.45%
Terms: 2 to 7 years
Fees: Origination fees range from 0% to 3%
Payments: Weekly or daily (Monday-Friday) fixed ACH
Paperwork: Application and invoice
7. Small Business Administration (SBA) Loans in California
The Small Business Administration (SBA) is a Federal government agency that provides programs, guidelines, and loan guarantees to approved SBA Lenders to issue loans to small businesses. The SBA's mission is to help American enterprises to start, build, and grow their businesses successfully. The SBA is not a lender but does provide a guarantee that gives the approved lenders the ability to take on the risk of business lending and credit decisions under Small Business Administration (SBA) terms. This protection encourages lenders to approve loans they would not ordinarily take on their own and has rights reserved for any recourse needs. Small Business Administration (SBA) loans are highly sought after by San Jose small businesses, and there are many government-approved lenders to choose from. It can be common for an SBA loan to require a business plan. SBA application processes can be lengthy, but with the help of an experienced business finance specialist to help your business through the application process, the application package can be a smooth and efficient experience.
Product Overview
Interest Rates: Starting at 5.50%, Treasury index plus 1% to 2.5%
Term: 3 to 25 years
Fees: Origination fees 0% to 3%
Payments: Fixed monthly
SBA Lending Programs
Small Business Administration Website Resource: How does a business qualify for an SBA loan?
SBA Standard 7 (a) loan program for San Jose, CA- SBA loan 7(a) is the SBA's primary program is designed to provide financial assistance to small business with a good track record. The terms and conditions, like the guaranty percentage and loan amount, may vary by product. Real estate may be used as collateral but is not required.
SBA Loan Program 504 for San Jose, CA- The SBA 504 Loan is a powerful economic development loan program that will provide small businesses another avenue for business financing while promoting economic development and job creation. Proceeds from SBA 504 Loans must be used for fixed assets such as construction, owner-occupied commercial real estate, mixed-use real estate, and or land improvements (and certain soft costs), or can also be used to refinance existing debt.
SBA Disaster Program and Loans for San Jose, CA- Economic Injury Disaster Loans (EIDL)- This SBA loan not only provides assistance after natural disasters like tornadoes, wildfires, or floods but when President Trump declared COVID -19 a nationwide health emergency based on the recommendation of the CDC on March 13th, congress provided small businesses access to this program for emergency financing.
(New) SBA Paycheck Protection Program (PPP) loan for San Jose, CA- The SBA has established the SBA Paycheck Protection Program loan. This SBA loan provides loans to small businesses community affected by the COVID-19 crisis and needs financial help. Under the right conditions, this loan program offers forgiveness.
U.S. Small Business Administration
Start, Grow, and Expand your Business
View the San Jose Small Business Resource Guide for information and assistance in growing your local business, exploring funding options, and contracting in California.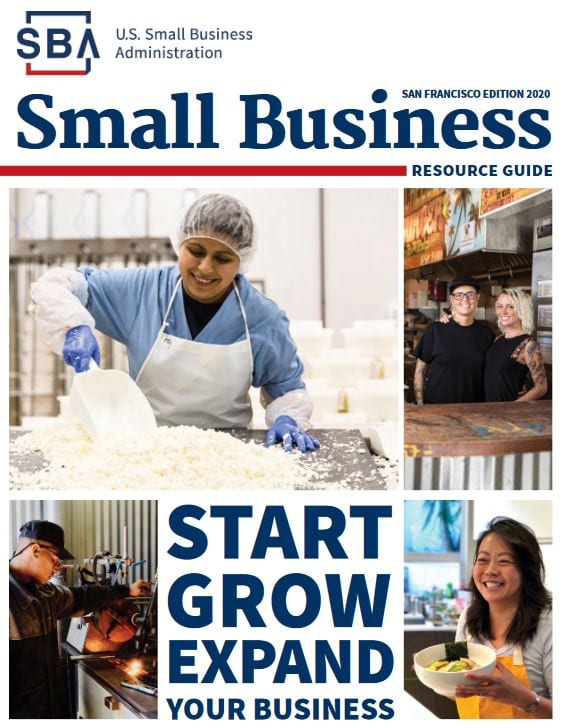 8. Invoice Financing
Invoice financing advances the outstanding balance to a business owner to increase cash flow speed to the business. This solution provides cash quickly, and there is no need to wait for outstanding invoices to be collected and received by the client with invoice financing in place. Invoice financing has affordable costs ranging from 1% to 2.5% fee off of the face value of the invoice advanced. This is not a loan. Business owner credit history is not a factor.
Product Overview
Rates: None
Terms: Not a traditional loan
Fees: 1% to 3% fee based on the invoice. Monthly Service fees may apply depending on the volume of invoices factored
Paperwork: Application and invoices
9. Purchase Order Financing
Purchase order financing offers businesses the ability to raise capital to pay suppliers upfront for verified purchase orders. Purchase order loans will finance an entire order or a portion of it, depending on the purchase order funder. When the supplier is ready to ship the order, the purchase order financing company collects payment directly from the customer. The purchase order funder will subtract their fees and then send the invoice's balance to your business. This is not a loan.
Product Overview
Interest Rates: None
Terms: Not a traditional loan
Fees: 1% to 3% fee for each purchase order. Monthly service fees depending on volume may also apply
Paperwork: Application and invoices
The fast, convenient, and straightforward way to get the money you need for your San Jose business – now! Get a quote for your business today by filling out our simple form.
Why Do San Jose Small Business Owners Need Financing?
The list of the most common needs for small businesses to use business financing:
Working capital loans
Equipment purchase and equipment repair
Capital for inventory
Business expansion
Capital for special projects
Cash flow shortages
Website development and website maintenance
Emergencies
Advertising and marketing to acquire customers
Jobs creation (employees)
Employee training resources and expenses
Frequently Asked Questions
Are business loans difficult to obtain in San Jose, CA? How do I get pre-approved for a business loan?
It is not difficult to obtain business funding in San Jose. There are many lenders and funder's that service the San Jose metropolitan area. Choose your business finance specialist and loans wisely.
Can applicants qualify for a small business loan if they have bad credit? What credit score is needed to get a business loan?
There are many business lending options available for owners with bad credit when looking for money. Financing choices will vary depending on the risks associated with this type of funding and impact terms, pricing, and costs.
Which bank is best for business loans? Can I apply for business loans using an online website? Is it trustworthy?
The internet can be an invaluable resource when searching for business funding. In 2020, most businesses now search on the internet for business lending websites to glean additional information, find reviews on a funder, and in many cases, inquire about getting more details and apply for a quote on a business finance company website. This allows businesses to shop, compare, and potentially save significantly.
Are websites trustworthy? Well, about as trustworthy as visiting any business. You are not evaluating the website as much as you are the company and people you speak and communicate with. The website is merely the port of entry as if you were walking into businesses on main street, without leaving the comfort of your home—both in person and on websites, it's the same. The businesses you deal with must earn your trust by treating you well and offering outstanding products or services.
Can I get start-up business capital in San Jose, California?
Getting a start-up business loan can be extremely difficult and challenging. SBA loans are the most traditional option, but they are challenging to get approved for. A business owner's search will need to include non-traditional means to raise money like private sources or investors.
Initiatives, Programs, and Grants in San Jose, CA: Additional Resources, Support, and Information
America's Small Business Development Center (SBDC) Northern California Network— The Small Business Development Center (SBDC) is a nonprofit organization that provides expert no-cost advising, low-cost workshops, and small business training to guide small businesses to success and accomplishment. The SBDC serves the Greater San Jose Area, which includes Santa Clara and South San Mateo Counties, is hosted by the Hispanic Chamber of Commerce, and is part of the Northern California SBDC network. We work hands-on with entrepreneurs and business owners to address challenges, seize opportunities, and grow our client's bottom line.
City of San Jose SBA Disaster Assistance Loans— The City of San Jose will be assisting small businesses in learning more about and applying for loans through the technical assistance of Business Owner Space partners http://www.businessownerspace.com/. City offering loan info, help Businesses, and not-for-profit organizations in San Jose will probably experience business problems resulting from dealing with COVID-19.
Silicon Valley Strong— The City of San José has allocated $3.8 million of CARES Act Federally Funded Coronavirus Relief Funds to provide grants of up to $15,000 to small businesses located in San José. https://siliconvalleystrong.org/go-virtual/smallbiz/ The grants can be used for unpaid or pending rent from March 1, 2020, through December 30, 2020.
BusinessOwnersSpace.com— START, GROW & SUSTAIN YOUR ONE-STOP RESOURCE FOR BUSINESS
KIVA— Kiva San Jose & the Peninsula is helping to solve this complex problem by democratizing financial systems, as well as providing access to capital and community support to small businesses.
Advice, Tips, and the Pros and Cons
When looking for funding for your business, you should always begin the process with the purpose and use of the funds you are trying to acquire. Do you know the obstacles that exist when getting approved (risk issues, business bank account cash flow, time in business, financial statement)?
Business lending is significantly different than consumer financing. Underwriting for business lending is much more risk-averse than consumer lending, so you need to take your time in looking through all the options that are available by lenders.
AdvancePoint Capital has the experience and successfully helped San Jose businesses search for lending solutions easily and painlessly loan process without wasting time or, more importantly, your hard-earned money. Our customer service is legendary, and you will not regret using AdvancePoint Capital as a resource.
As we always say, compare, shop, and you will always save money!
How to Apply for Business Loans in San Jose, CA
Get started by applying for a business loan with AdvancePoint Capital, which offers a simple, easy, and streamlined application process with decisions in hours, not days. Get started with this online form (don't forget your email), fill out the short application page, wait a few hours for your approval, and then get your funding! Or you can call our toll-free phone number and speak to a loan agent. See the benefits of working with AdvancePoint and take the first steps in the loan process so that you can make informed decisions.
The quick, convenient, and straightforward way to get the funding you need for your business – now! Contact AdvancePoint Capital and get your quote today by filling out our simple form or contact us by phone at 800-381-8920.
The quick, convenient, and straightforward way to get the funding you need for your business – now!
Contact AdvancePoint Capital and Get your Quote Today by filling out our simple form.