What are Same Day Small Business Loans: The Definition of a "Same-Day" Business Loan
According to The Cambridge Dictionary, "same-day" business financing is the term used to describe a service provided on the same day that it is ordered (i.e., same-day delivery, service, or sales). The goal is to get funding fast, not tomorrow or in a couple of days, but today.
So, let's face it: you need a fast business loan. As a small business owner, you know that the unexpected is bound to happen, and when it does, sometimes you need a quick business loan with same-day funding because you can't afford to wait. This is called a same-day business loan.
Small business owners typically look and apply for same-day business loans at some point or another. You probably want a small business financing tool that you can apply, receive approval for, and access the money all within the same day. However, this is not always an easy feat, as many business loan options can take days or even weeks to acquire. When you need funding fast, you must work with a business loan company or online lender with experience in fast business loan products that can deliver same-day funding results.
This guide will explore what same-day funding options are available when small business owners like you need quick business loans! We will break down the types of funding options out there, how they are structured, the funding requirements, the best uses for your situation, the benefits of funding, and the best terms and rates to get funding fast.
Types of Same-Day Small Business Loans in the Marketplace: What Are My Options for Same-Day Funding?
Short Term Business Loans
Short-term loans are term loans that provide a lump sum of money that is repaid over 6 to 18 months. When approved, you get a fixed amount and a fixed amount you have to pay back. The difference between short-term loans and long-term loans other than the obvious repayment structure is the cost and the fact that it is a fast business loan.
Short-term loans come with a fixed payment auto deducted from your business bank account monthly, bi-weekly, weekly, or in some cases, daily. Paperwork and credit requirements are much more lenient than banks or traditional term loans. If you need cash fast, this loan option can be an excellent solution for working capital or purchasing inventory. Short-term business loans are considered same-day business loans.
Loan Amount: $5,000 to $500,000
Interest Rates: Starting at 4.99%
Repayment Terms: 3 months to 18 months
Payment Schedule: Weekly
Collateral: UCC Filing
Personal Guarantee: Sometimes yes, sometimes no
Paperwork: Application, bank statements, sometimes financial statements
Processing Time: Same-day funding
Benefits of a Short-Term Loan:
Personal credit score accepted from excellent to fair
Lower monthly or annual revenue requirements than those of traditional business loans
The fast and straightforward process with same-day or next-day funding
Business Lines of Credit
A business line of credit works like a credit card in that it is a revolving line of credit. It allows you to draw money out and then repay at any time. You only ever pay principal and interest on your outstanding balance too.
Credit lines have a credit limit and are usually renewed annually but can be continuously extended depending on the lender. Both banks and alternative lenders can provide business lines of credit. The credit score of the small business borrower needs to be good. This funding product is typically used to purchase inventory, working capital, or other same-day business loan requirements.
Loan Amount: $5,000 to $500,000
Interest Rates: Starting at 4.99%
Repayment Terms: 6 to 12 months
Payment Schedule: Weekly, bi-weekly, and monthly
Collateral: UCC Filing
Personal Guarantee: Required
Paperwork: Online application, bank statements, financial statements
Processing Time: Same-day funding, up to 24 hours
Benefits of a Line of Credit:
Ability to draw money at any time (revolving line of credit)
Allows borrowers to spend the money, repay it, and spend it again
Principal and interest rates starting at 4.99%
Lower costs and fees than most other funding products
Equipment Loans
Equipment is a must for many industries. The equipment and machinery needed to operate a business can be a costly expense for small business owners. Equipment loans usually come in the form of leasing or term loans. The equipment is used as collateral, and decisions are also made based on the business owner's credit and the health of the business financials. The credit score of the business owner needs to be good or better to obtain an equipment loan.
Loan Amount: Loans starting at $10,000 up to $250,000
Interest Rates: Starting at 8.99%
Repayment Terms: 2 to 5 years
Payment Schedule: Monthly
Collateral: UCC Filing
Personal Guarantee: Required
Application Process: Online application, invoice, business bank statements, financial statements
Processing Time: Instant approval process and funding to same-day funding
Benefits of Equipment financing:
Simple 1-page application
Limited financial paperwork
Repayment terms from 2 to 5 years
Monthly payments
Low annual revenue requirements for small businesses
Same-day funding
Merchant Cash Advance (MCA)
Merchant cash advances (also known as future receivables purchase and sale agreements) provide an upfront lump sum of money to small businesses in exchange for a fixed percentage of the businesses' future sales. Repayment is typically made daily or weekly.
With a merchant cash advance, an ACH payment is auto-deducted from a business's bank account, or the percentage is taken out of future credit card sales until the payback obligation is met. Terms are expressed as a future sale, so you are given a fixed amount and then responsible for paying back a greater amount through a fixed percentage of future sales. The difference between the amount given and the amount paid back to complete the agreement is your flat cost of money for the cash advance.
The estimated time to repay is typically 6 to 18 months, but there are no term limits as the cash advance repayment is based on future sales. This type of financing is not a term loan but a cash advance.
Advance Amount: $5,000 to $500,000
Factor Rates: 1.12% to 1.45%
Repayment Timeframes: Three months to 18 months but no time limit required
Payment Schedule: Daily, weekly
Collateral: UCC Filing
Personal Guarantee: None, Business Performance Guarantee
Paperwork: Application, bank statements, credit card processing statements (if applicable)
Processing Time: Same day funding to 24 hours
Benefits of Merchant Cash Advances:
Flexible repayment terms attached to future sales
Provides funds to business owners with excellent to sub-prime credit
Payments fluctuate to future sales controlling the margin of profit
Business Credit Cards
When thinking of same-day business loans, business owners often overlook business credit cards. Business credit cards work similarly to personal credit cards. They are a revolving line of credit with a credit limit with a minimum monthly payment requirement typically lower than a loan. You are issued a plastic card with an account number that can be used online and in person for any purchases or other funding types. You only pay interest based on the current principal. Great for cash flow needs.
Credit Limits: $500 up to $125,000
Interest Rates: Introductory interest rate at 0% up to 29%
Repayment Terms: Revolving line of credit
Payment Schedule: Monthly
Collateral: None
Credit: Minimum credit score required
Personal Guarantee: Yes
Application Process: Online application, sometimes income proof
Underwriting Process: Instant funding in as little as 2 to 3 hours, same business day available
Benefits of Credit Cards:
It can be used 24 hours a day, seven days a week
No limitations on the use of funds
Flexible monthly minimum payments
Principal and interest rates
Invoice Financing
Invoice financing, also known as "invoice factoring" or "accounts receivable financing," allows business owners to finance purchase orders or outstanding invoices. An Invoice finance company will advance a set amount of the unpaid invoice to the business owner and collect directly from the client or customer on the invoice the unpaid portion for an additional fee giving the business owner the money for that invoice in advance of the terms of the invoice. Invoice financing is not a loan but an invoice advance.
Invoice Limits: Up to 10 million
Paperwork: Online application, invoices, accounts receivable
Process: Same day funding
Benefits of Credit Cards:
Invoice advances on demand
No limitations on the use of funds
No Personal Credit Score Required for application
Fees are only 1% to 5% of the invoice, no interest rate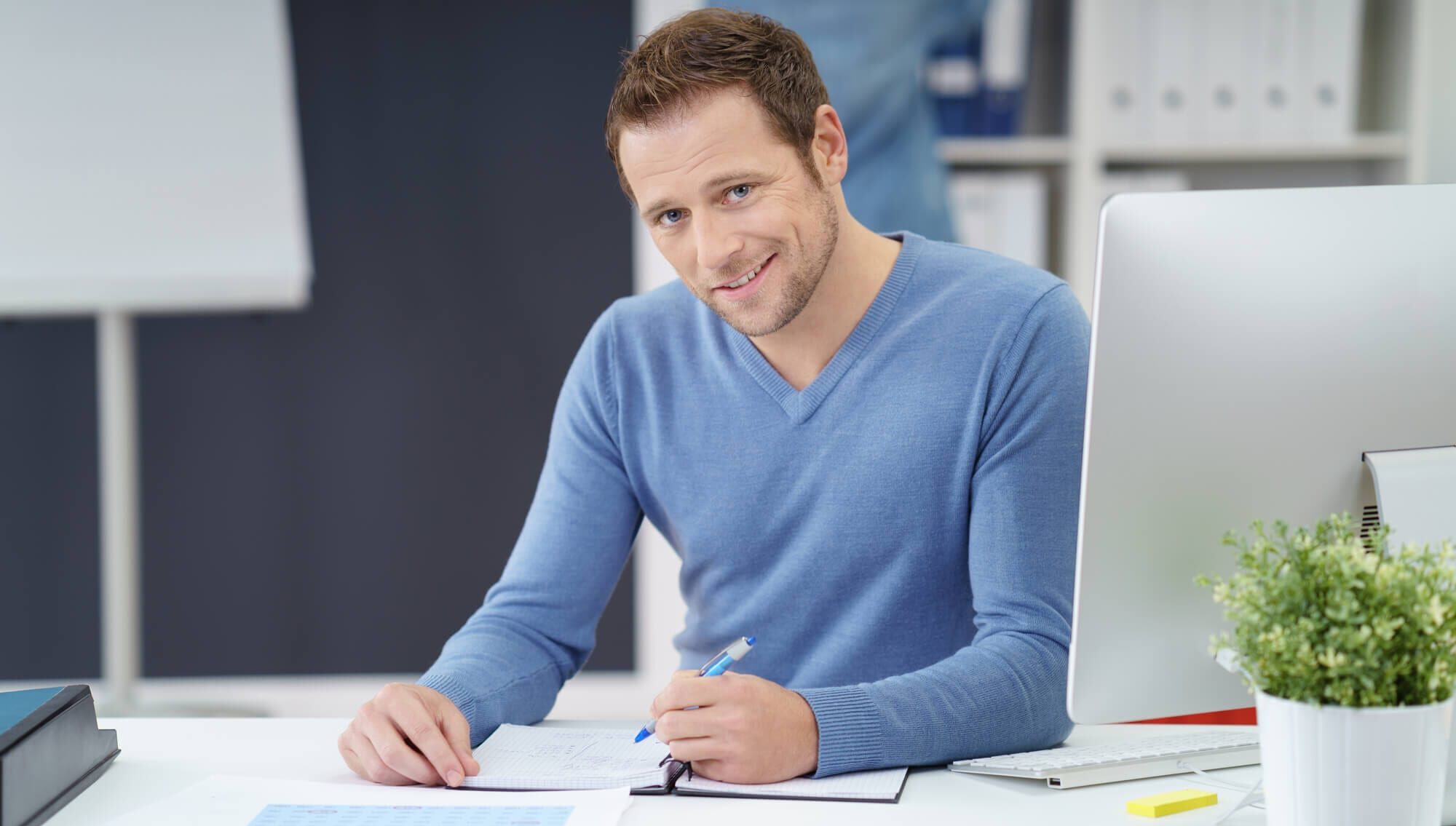 Applying for Same-Day Business Loans? Tips to Prepare for a Speedy Business Loan Application
Check Your Credit Report and Credit Scores – First, understand your personal credit report and credit scores so you can communicate better with your business funding originator.
Check Your Financials – Look at your financials, business bank statements, tax returns, recent profit and loss statements, and cash flow statements to gauge your business's financial health. Know your numbers. Whether annual revenue or the most recent monthly sales deposits in your business account, financial management is a must.
Consider the Use of Same-Day Business Loans – Clearly identify the need and the "how much" before speaking with a funding advisor.
Compare Business Funding Qualification Requirements – Determine the loans that you are most likely to gain approval for. Make sure your business funding advisor has access to all available products to meet your specific needs.
Online Application Information for Business Loans – Have all necessary information at your disposal to complete any online loan applications, such as personal credit score, business FEIN (Federal Employment Identification Number), and business start date and time in business.
The 5 Most Common Reasons Why Businesses Need Same Day Business Loans
1. Cash Flow Needs
There are a lot of moving parts when operating a business. Various issues can impact your cash flow, like accounts receivable (billing and collections), payroll, and other business expenses. These issues can create cash flow stress that must be handled, sometimes with loans or cash advances.
Not making payroll or business expenses is not an option, so it's essential to have a credit facility in place to control the ups and downs of the company and stabilize funds with working capital through a variety of loan funding options.
2. Emergencies
Emergencies are defined as "a serious, unexpected, and often dangerous situation requiring immediate action" or "arising from or needed or used in an emergency."
That covers a lot of things, right? Anything from equipment breakdowns, facility repairs, financial theft, collection issues, sudden loss in sales or receivables due to an economic event, a loss of a strategic partnership that affects revenues, and other immediate needs are all covered. These emergencies are excellent reasons to fund.
3. Software and Technology Upgrades
Technology and software are essential to many small businesses if they are to operating smoothly. Everything from customer relations management systems, collections, payroll, medical data collection, equipment integration, and financial software programs will play a vital role in the overall operation. New innovations are always omnipresent, and it's crucial to have the credit facility available to acquire the necessary technology to keep up with best practices and efficiencies.
4. Equipment Repairs & Purchases
Equipment can play a vital role in many types of small businesses, and when equipment goes down, it needs to be repaired or replaced quickly.
5. Business Opportunity
Small businesses come across opportunities sometimes that they have to act fast. Whether it's a great deal to purchase inventory for the small business on closeout or a used piece of equipment that you can acquire dirt cheap if you act fast, same-day business funding may be a must.
Pros and Cons of Same Day Business Loans
Businesses that need same-day funding in a pinch because of an emergency, or those who have failed to secure financing from traditional banks, should consider online lenders for same-day business loan needs. Although applicants can qualify for multiple types of financing, they typically have shorter terms, higher rates, and offer smaller funding amounts than traditional loans.
Pros of Same Day Business Loans
A great emergency loan
Reduced minimum qualifications (fewer hoops to jump through) than those required by traditional business financing
Cons of Same Day Business Loans
Have higher rates and costs than traditional loans
Have short repayment terms
Offer small loan amounts
Should You Consider SBA Loans for a Quick Business Loan?
SBA loans and banks loans are not considered fast funding and are not a same-day option.
The Bottom Line About Same Day Business Loans
An owner must ask themselves some critical questions before financing. Even when you are in a hurry and need a quick fix, stop, and ask: why?
What is the purpose of obtaining a same-day business loan for your small business? Why do you need financing now? Is the need for capital a short-term problem or a long-term problem? Was this a one-time emergency circumstance, or will you require working capital ongoing basis? Will the company always need a credit facility to prevent last-minute needs, or is it just the nature of your practice? What challenges does the business have in getting approved? Common challenges could include:
Credit issues
Bank statement issues
Cash flow problems
Not enough time in the industry
Financial statement issues
You must first consider the questions above and the challenges you face when choosing the funding solution with the most competitive interest rates. The answers to those questions will lead you to your desired loan.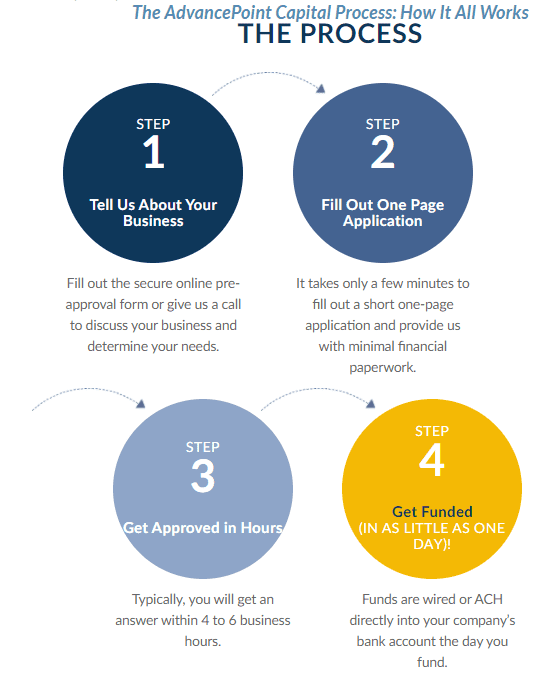 How to Find Same Day Business Loans
AdvancePoint Capital can assist many business owners as they find a new business opportunity in the form of different loan types. Our team of experts can answer any questions and search quickly and painlessly for your funding without wasting time or, more importantly, money.
Working with AdvancePoint Capital's alternative lenders and extensive product line offers your small business as many choices and competitive interest rates as possible. As we always say at AdvancePoint Capital, compare, shop, and you will always save! Get your quote today for fast business funding now!