Get Business Loan for Your Plumbing Business
The plumbing business has seen high demand and grown by leaps and bounds. There is an abundance of work right now for plumbers and plenty of opportunities in the immediate future for any plumbing business. With the added growth in plumbing business comes a greater need for funds to support that growth. That's when plumbing companies start to look for financing.
The contracting business and specifically a plumber are always in need of working capital due to the industry's nature and how plumbing projects get paid. Getting small businesses financing to help run plumbing operations is essential to balance multiple jobs simultaneously.
You often have to purchase supplies and meet payroll and other business expenses while waiting to get paid in the plumbing industry. Traditional bank loans and other conventional lending routes have always posed a challenge in getting funding for the plumbing business. Luckily, that's where AdvancePoint Capital can help.
Unlike banks, AdvancePoint has a variety of loan products for small businesses, including a plumber. Let's look at what type of plumbing business financing is available in our lender marketplace.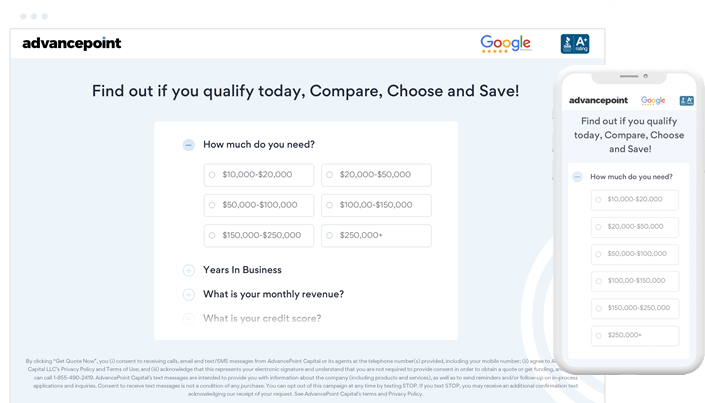 Get Started Today
AdvancePoint Capital makes the loan application process a simple, straightforward experience.
Loans for Plumbing Companies
There are many small business financing options that a plumber can use to their benefit. Plumbing contractors can fulfill a wide range of working capital needs. Finding the right financing that will get you the best return on investment for your daily operations may take some guidance. That's why we put together the eight best business financing options for clients. Each of these financing options offers unique benefits and qualities that may work best for business owners. Take a look at which types are best suited for your business needs.

Long-Term Plumbing Business Loans
Long term business loans are available for plumbing companies who have plans for a large expansion and want to make capital improvements to commercial real estate or perhaps is looking to refinancing business debt.

Short Term Plumbing Business Loans
Short term loans are a great option for plumbing businesses who struggle getting traditional financing. To keep your business running smoothly, short term plumbing business loans offer a working capital solution for the plumbing industry.

Business Line of Credit for Plumbing Companies
Business Lines of credit are great options for businesses who need to draw funds on demand same business day and only want to pay interest on outstanding balances. A line of credit has affordable interest rates the business owners love.

Merchant Cash Advance for Plumbers
Merchant cash advances are not loans but future sales receivable agreements that allow plumbing business to leverage there sales for funds. Repayment is closely linked to future sales. Merchant cash advance allows for poor credit. A great working capital solution for financing that's offered by an alternative lender.

Equipment Financing for Plumbing Businesses
Buying equipment and plumbing tools is a cost of doing business. Plumbing equipment can be financed through equipment loans or leases.

Small Business Administration (SBA) Loans for Plumbing Businesses
The Small Business Administration backs SBA loans. SBA loans are issued by approved SBA lenders who follow SBA guidelines and requirements for an SBA loan. Other SBA loans, like SBA microloans are SBA backed business loans up to $50,000 maximum loan amount that can be used for working capital. SBA microloans are popular because of affordable interest rates. 7(a) SBA loans can go up to $350,000 without significant collateral and are excellent for refinancing debt.

Invoice Factoring / Financing for Plumbing Companies
For plumbers that work on the commercial side of the business and invoice there clients, invoice factoring is a solution hat advances money off of unpaid invoices that are within the term set on the invoice.

Business Credit Cards for Plumbers
Credit cards are a great addition in the tool box of business financing options. Credit cards are difficult to get if you have bad credit.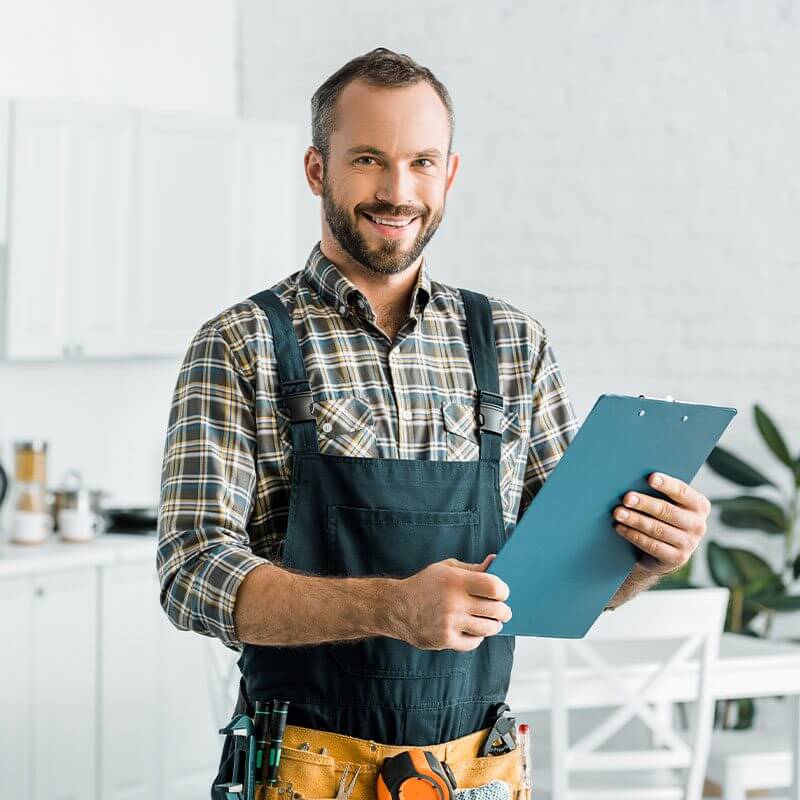 Benefits of Plumbing Business Loans
Cash Flow/Working Capital Loan
One of the significant challenges of a plumber is managing the cash flow of receivables. Most projects that a plumbing company takes on have completion dates and time frames that can fluctuate with delays in the overall projects, which is out of a plumbers control, causing incoming revenue unpredictability. Couple that with day-to-day expenses like building materials and other business debt creates issues to have enough funds in the bank account. Business financing or financing for plumbing repairs can solve this problem.
A plumbing job can be unpredictable by nature. Financing is a way to solve those problems by filling immediate issues like customer payment delays, supply and equipment purchases, payroll, marketing and general operating expenses that commonly occur in the plumbing world. If you own a plumbing company, you know how important these loans can be to the operations and making everyone happy. Plumbing business loans and other financing options give plumbing businesses the freedom and funding power to take on new opportunities to grow their plumbing businesses.
Owning Your Own Equipment
Equipment financing allows contractors to own their equipment an plumbing tools, saving money long term on renting equipment for jobs there working on, making higher profit margins on work for their plumbing businesses.
Whether it's a small operation or a large one, owning equipment plays a significant role in savings and cost-effectiveness. Regardless of your time in business, considering equipment loans is always an excellent long-term investment that can make a real impact over time for any plumbing contractor business.
Hire Employees and Managing a Growing Team
It starts with great people in the plumbing industry. Hiring a great team is the lifeblood of a plumbing company. Recruiting can cost funds because the workflow is not as steady as other businesses. Salaries, signing bonuses, and training staff on new technologies can burden businesses without contractor loans in place to sure up any funding issues. A plumbing company loan is a great way to grow and utilize funding for onboarding people. Plumbing business loans offer a ton of stability in cash flow during the hiring and growth process.
Making Payroll
For a plumbing business, the technicians can make or break a plumbing business. It is essential that technicians who are on the front lines of your business are always compensated on time. Missing payroll is not an option.
Get started today. We can provide access to a wide range of plumbing business loans and lines of credit options that you can take advantage of when needing funds fast. Finding the right funding solution can be difficult, but here at AdvancePoint Capital, we make it easy to get the funds you need.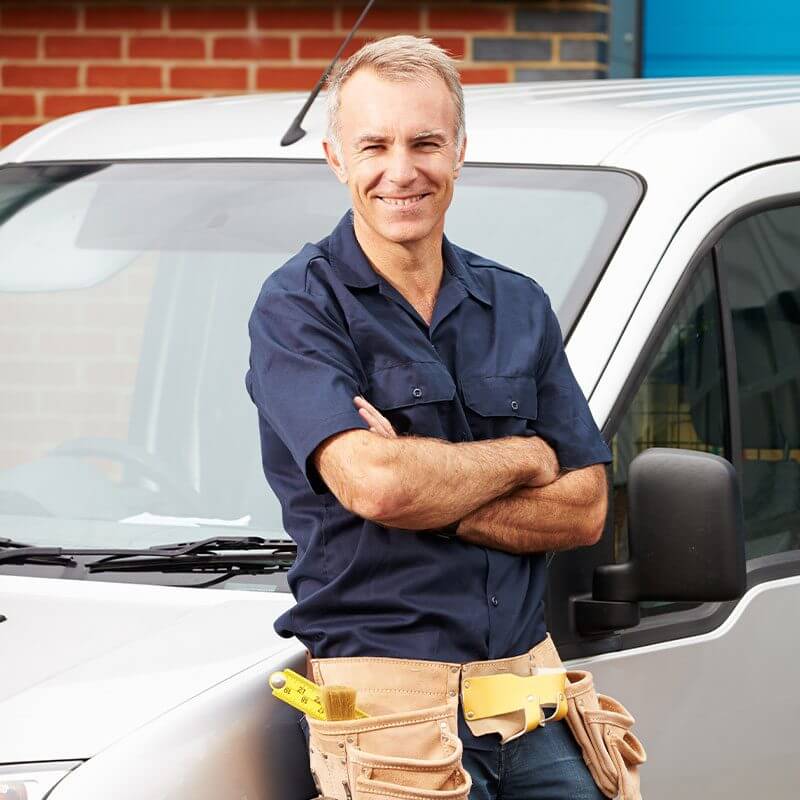 Why Choose AdvancePoint?
We've helped countless companies in the plumbing industry find a loan option that works best for their business. Our simple diverse range of business loans and financing opportunities gives our plumbing companies the freedom and flexibility to find a solution that works for them. With AdvancePoint Capital, you'll get the benefit of industry professionals with experience in the plumbing industry. We make it easy to get you offers with a fast approval process to meet your business needs.
Experience within the plumbing industry – We have been financing plumbing companies and offering plumbing business loans for years.
Trust – Excellent reviews and feedback from plumbers.
Loan Specialist – An experienced team of financing experts who know the plumbing industry and provide solid business advice.
Free to find out – No cost, no commitment quotes for plumbing business loans.
Products – A Variety of Business Loans – We don't just offer what we have; we deliver what's available in the marketplace with an extensive network of third-party lenders.
Service – Excellent customer service and responsiveness with a high approval rate with credit decisions in just a few hours for most products.
Getting a business loan when you are in the plumbing business can be intimidating, but it does not have to be that way. At AdvancePoint Capital, we can find a small business financing solution that works with your plumbing business instead of against it. Go to our website to find a simple form to fill out and apply, then find out what your loan terms would be. Give our service a try today!
*Advancepoint Capital has no government affiliation. We are not the SBA. Consult an accountant for questions about what products are tax-deductible. AdvancePoint Capital does not have an affiliate partner program*
The fast, convenient and straightforward way to get the capital you need for your plumbing company – now!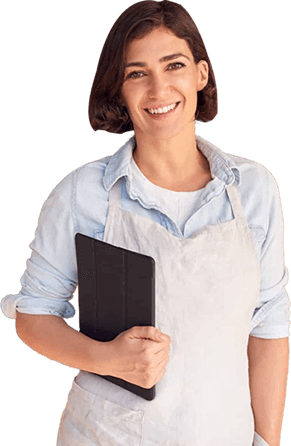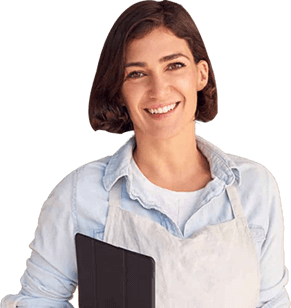 Frequently Asked Questions