Find the Best Financing for Your Nail Salon
When seeking financing options for your nail salon, it's crucial to explore various avenues to find the best fit for your specific needs. Traditional options such as business loans from banks or credit unions can provide substantial funds for larger investments, such as salon renovations or purchasing high-quality equipment. These loans often come with competitive interest rates and extended repayment terms, making them an attractive choice for long-term financing. To increase your chances of approval, ensure that you have a well-developed business plan that outlines your salon's financial projections and growth strategies.
What is a Nail Salon Business Loan?
Rates, terms and features of business financing for nail salons can come in a variety of different products from a term loans to business lines to other unique products like merchant cash advance. Your qualifications and business needs will determine which product is best for you and your nail and beauty salon.
How does Nail Salon Business financing work?
Your business funding needs dictate the benefits of business financing and how it can benefit the nail and beauty salon. Whether it be equipment financing to purchase vital equipment or a working capital loan to help balance out the cash flow finding the best business loans is always connected to the "why" you need the business funding in the first place.
How to chose a Business Loan for your Nail Salon Business
Carefully evaluate the terms, interest rates, repayment schedules, and eligibility requirements of each financing option. Seek advice from financial professionals or small business advisors like Advancepoint Capital who can guide you through the process and help you make an informed decision based on your salon's unique circumstances.
AdvancePoint Capital has over 10 years of experience funding the beauty industry. Our lender network gives you access to a diverse range of business financing products to choose from that you can't find at your bank. Our streamlined process can typically get you options to consider within a day.
Whatever your nail financing needs are— we have the best business funding options from our alternative lender's network of lending partners. Contact a business loan specialist and see the difference in our consulting services.
Business Loan Options for Nail Salons

Long-Term Small Business Loans
A long-term loan is a good option when looking to make major renovations or expand your business and needs long-term financing to spread the costs over the years so the payments are affordable.

Short Term Small Business Loans
Short-term loans are a great working capital solution when traditional financing is not available due to the business owner's qualifications. Short-term loans typically 6 to 18 months to repay. Short-term loans are considered working capital loans.

Business Lines of Credit
Small business owners choose a business line of credit because the terms are flexible. An unsecured credit line is a revolving line up to a credit limit. Business owners can draw funds at any time up to the limit and payoff early to save on interest, as you pay interest only on the outstanding balance. Interest rates are attractive for a credit line. Great product for working capital and inventory financing.

Small Business Administration-SBA Loans
SBA loans are backed by the Small Business Administration which sets the guidelines, underwriting criteria, and loan guarantee for SBA-approved lenders who originate and service the SBA loans. SBA loans are highly desirable by small business owners because of their low-interest rates and affordable terms with reasonable origination fees. The SBA loan application process is challenging but worth the effort. SBA loans require some guidance from an experienced loan specialist.

Merchant Cash Advances
Merchant cash advances are not loans, but future sales receivable agreements. This product is popular for businesses that can't get approved by traditional financing either for credit or other considerations. Annual revenue is considered in terms of how much you can get advanced. Nail Salon cash advance is a great option if you have credit challenges such as a low credit score or bad credit.

Equipment Financing
Equipment loans allow business owners to purchase equipment using the collateral of the equipment to get favorable equipment financing terms over 3 to 5 years at affordable payments. Equipment loans do require good credit and proof of affordability.

Business Credit Cards
Credit cards are a great addition to the financing arsenal of a business. A business credit card is used to pay business expenses, make purchases, purchase inventory, and pay bills. Good credit scores are required for approval.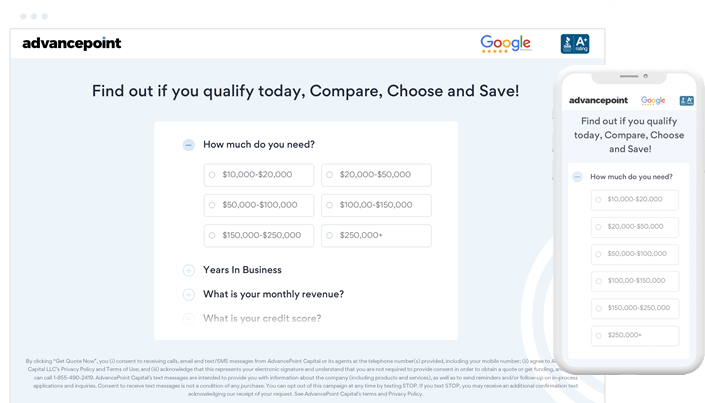 Get Started Today
AdvancePoint Capital makes the loan application process a simple, straightforward experience.
SBA Loans for Nail Salon Businesses
SBA loans are guaranteed by the Small Business Administration and support small business lending by offering programs originated and serviced by SBA approved lenders. These are basically government backed loans with very attractive rates and terms.
SBA 7 (a) loan is the most popular business loan because it can be used for a variety of reasons including; an expansion or renovation of a beauty salon, new construction, purchasing a building or land, basic working capital, purchase of large equipment, refinancing debt or starting a business.
SBA 7 (a) loan Details
Maximum Loan Amount $10,000,000
Interest rates start at prime + a margin of 2.25% up to 4.75%
Terms ranging from 5 to 10 years (real estate transactions terms up to 25 years)
SBA 7 (a) loan Benefits and Advantages
Longer terms with better amortization
Affordable low monthly payments
Desirable interest rates
Terms that are fixed with no balloon feature
SBA 7 (a) loan Document Requirements
Detailed SBA loan application
Business bank statements
Personal financial statement
Business & personal tax returns
Debt summary
Collateral documents
Business plan and/or use of funds documentation
Business licenses
Additional documents may be request to support credit worthiness
*Additional SBA loans that are popular with nail salons include SBA express loans and SBA microloans.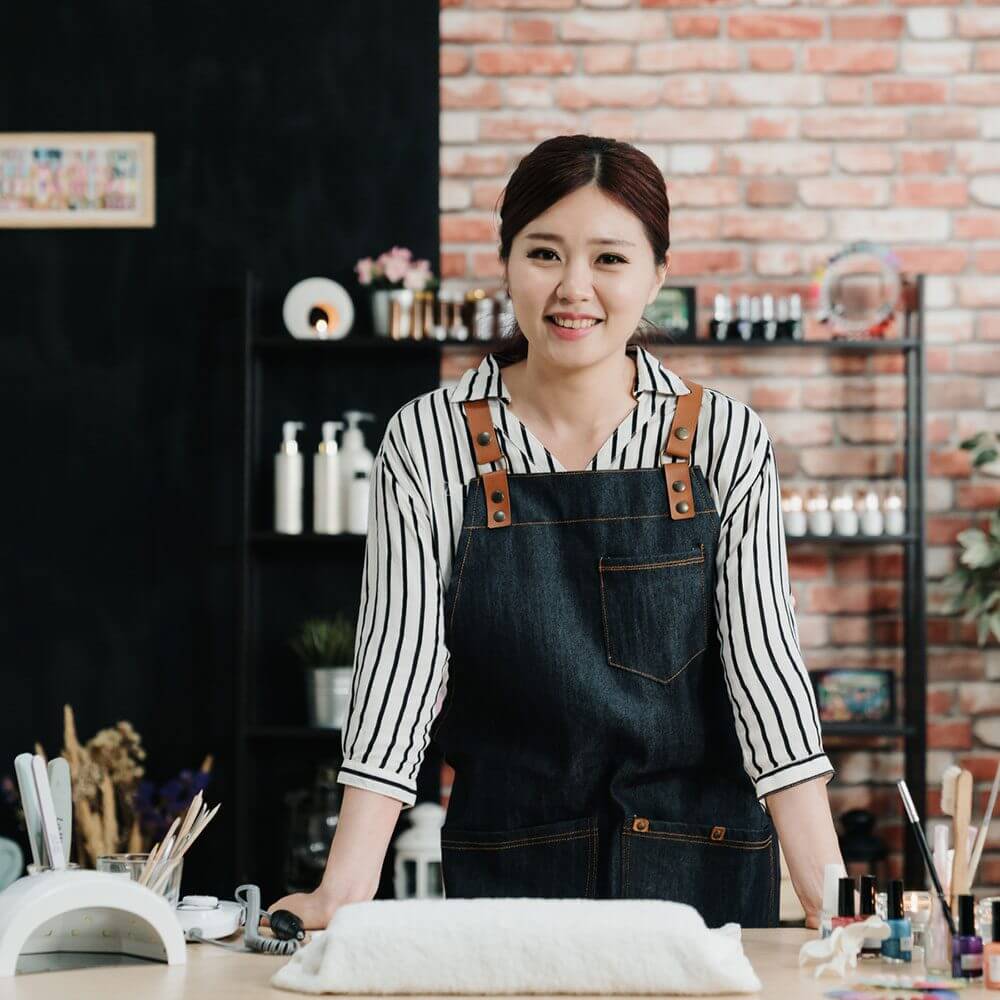 Common Uses and Benefits of Nail Salon Small Business Loan
Cash Flow/Working Capital Loans
Working capital helps businesses manage the day to day expenses associated with operating a nail salon such as purchases and paying expenses. Nail salon financing for working capital provides a backstop when cash flow is low.
Business Expansion/Renovations
A nail salons space is an important part of the customer experience. Having the room to service clients effectively and to make there experience and enjoyable one is essential for customer acquisition and retention. Taking on a business expansion and/or renovation can be capital intensive and in most cases nail salon financing is going to be necessary.
Advertising
The nail salon industry is competitive. Advertising is a must to maintain a presence and increase brand awareness. Investing in advertising can help the salon reach a wider audience, differentiate itself from competitors, and ultimately drive more foot traffic and revenue. Nail salon financing can cover the high cost of advertising online with Google, social media engagement, mailers, print ads and other strategies.
Point of Sale Systems, Software, and Technology Upgrades
A point of sale system (POS) manages the appointments and processes sales so that management at the nail salon can track sales performance, control inventory and improve efficiencies. The cost to invest in some of the best POS systems can be high. Financing the equipment is a great way to protect your cash reserves.
Supplies
Having adequate supplies and a variety of nail polish for sale is always important. Purchasing a large inventory can be costly. Nail salon financing can solve this problem without having to dip into capital reserves and put your finances in Jeopardy.
Pros and Cons of getting a Business Loan for my Nail Salon Business
Pro's
Equipment purchases- The ability to acquire expensive and necessary salon equipment through equipment leasing or equipment loans at affordable terms
Commercial real estate purchases- Business loans can facilitate the purchase of commercial real estate for the beauty salon.
Protects cash reserves- Daily operations and purchases and expenses can deplete cash reserves without access to business funding.
Con's
Debt- Business funding can saddle the business with too much debt.
Cost of Capital- Sometimes the cost of business loans for beauty salons can out way the gain.
Poor loan performance- You can damage credit if you go delinquent on the debt
How to qualify for a Business Loan for a Nail Salon
The following areas are important to maintain to qualify for the best beauty salon loans;
Credit- Both personal and business credit impact your ability to qualify for business funding. Building quality credit is important otherwise your options may be limited. There are small business loans for bad credit but you will pay dearly in interest rate and terms.
Cash flow- Managing cash flow of your nail and beauty salon through the business bank account is very important. Lenders evaluate the beauty salon owners monthly revenue consistency, number of deposits, average daily balances and any NSF's or overdrafts which are all factored in the ability to repay a business loan payment.
Financial statements- Maintaining your financial records and book keeping such as tax returns, profit & loss, balance sheets, accounts payable, account receivable is important for some business funding products like SBA loans or large loan amounts.
How to apply for Nail Salon Business Loans
The best way to apply for nail salon financing is by the following steps in the application process ;
Start by engaging with a business funding originators to discuss your qualifications.
Discover what products you may potentially qualify and what the terms may look like.
Apply for business financing by completing an application and providing the necessary documentation required for approval.
Once offers are received, consider the product, features, interest rates and terms and conditions. Always compare offers carefully by looking at the pros and cons of each offer, its affordability and see which best fits your needs.
Accept terms and request agreement and required stipulations to fund.
Accept the funds and make sure to make timely payments
Frequently Asked Questions