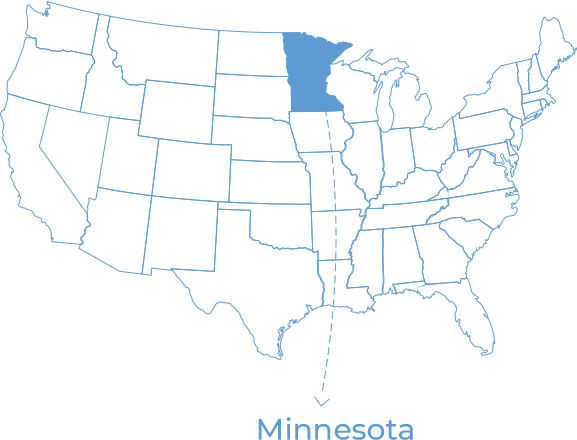 Did you know that Minnesota is home to over 5,000 lakes? That's more than any other state in the US! The state is also home to 10,000 miles of rivers and streams. With all that water around, it's no surprise that fishing is a popular pastime in Minnesota. In fact, the state has more anglers per capita than any other state in the country.
This unique state is also home to a thriving business community. Small businesses make up the majority of businesses in Minnesota, and they play a vital role in the state's economy.
Working with banks and/or credit unions when trying to acquire a business loan or line of credit can be challenging if you're a small business owner in Minnesota. But have no fear, as there are many alternative lenders that have a variety of products and terms that a bank does not offer. Advancepoint has a marketplace of lenders and various products that may suit your needs. We make getting business loans in Minnesota possible.
How To Get A Small Business Loan in Minnesota?
There are a few different ways to get a small business loan in Minnesota. The first step is to understand what type of loan you need and what you can qualify for. There are several types of loans available, each with its own set of qualifications. You'll also need to have a solid business plan and financial statement to show lenders.
Even if you're not sure what type of loan you need, we can help. We'll take a look at your business and help you determine the best way to get funding. We've helped countless businesses in Minnesota get the funding they need to grow and succeed.
9 Best Loan Options for Minnesota Small Businesses (December 2023)

Small Business Loans in Minnesota
Small business loans are term loans with fixed rates, terms, and payments. Loans have terms that range from 6 months to 36 months and have less stringent requirements than long-term loans. This product is very popular with small businesses due to the predictability of fixed payments and higher approval rates.

SBA Loans
The Small Business Administration (SBA) supports small businesses by offering various SBA business loan programs designed to help small businesses with affordable rates and terms other business loans can not offer. The application process is lengthy and requires time and excellent credit worthiness but with the proper help, it's worth the effort.

Merchant Cash Advance
Receivables financing which is based on credit card processing of the business. Merchant cash advance has a quick and easy application process. A great alternative to traditional financing.

Business Cash Advance in
Minnesota
Revenue based financing based on the current monthly deposits of the business. Business cash advance has a quick turnaround with application process.

Business Line of Credit
Revolving line of credit that lets you draw money as needed and only pay interest based on current outstanding balance. No prepayment penalties.

Equipment Financing
Equipment financing is a great way to purchase expensive new equipment with terms that are affordable. Quick application process and approval.

Invoice Financing
Invoice financing is an advance of an issued invoice. Great for businesses looking to improve the rate of cash flow. Simple approval process.

Short Term Small Business Loans
Short term loans are a great alternative when banks say no traditional financing. Fast approval process and considers all credit types.

Long Term Business Loans
Long term business loans are available for those businesses needing business expansion, new initiative or a major renovation project. Long term financing provides affordable terms for costly long term projects.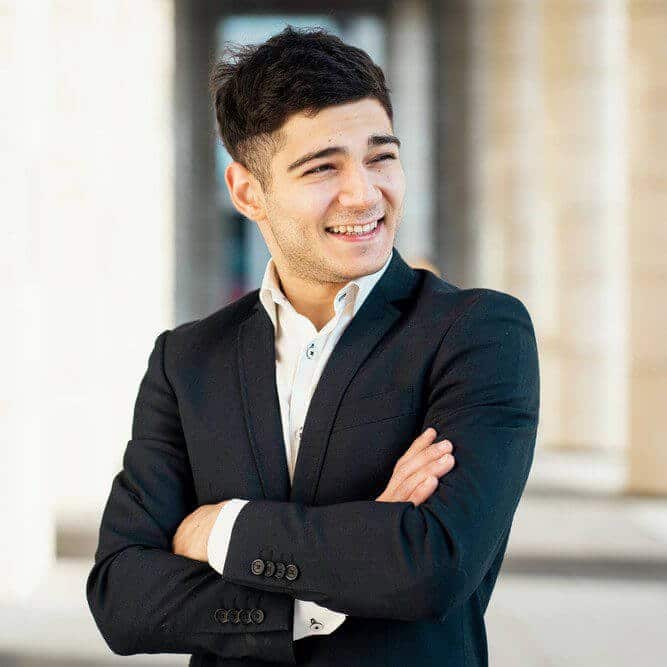 Reasons Your Business Need Financial Assistance
Access to working capital
Equipment purchase and repair
Access capital for inventory
Business plan expansion
Cash flow shortages
Access to capital for emergencies
Advertising, marketing, and customer acquisition resources
Create more jobs, recruit employee, and provide training resources
Initiatives, Government Financing Programs, and Grants in Minnesota
Why AdvancePoint Capital?
With a significant track record in serving businesses in Minnesota, we have amassed extensive experience in providing financing solutions tailored to the region. The trust placed in our services by small business owners is reflected in the excellent reviews and feedback we have received. Our team of seasoned business funding specialists in Minnesota is dedicated to helping you navigate the lending landscape and find the right loan programs for your specific needs. Moreover, we offer no-cost, no-commitment quotes, ensuring you can explore your options without any obligations. Choose from a diverse range of business loan products designed to cater to the unique requirements of businesses operating in Minnesota.
Apply for Minnesota Business Loans Today!
Securing a financing solution or seeking financial advice in Minnesota can present challenges. However, AdvancePoint Capital streamlines the process of applying for a business loan, making it quick and hassle-free. By completing our straightforward online form and application page, you can set yourself on the path to obtaining a business loan in Minnesota within a matter of hours.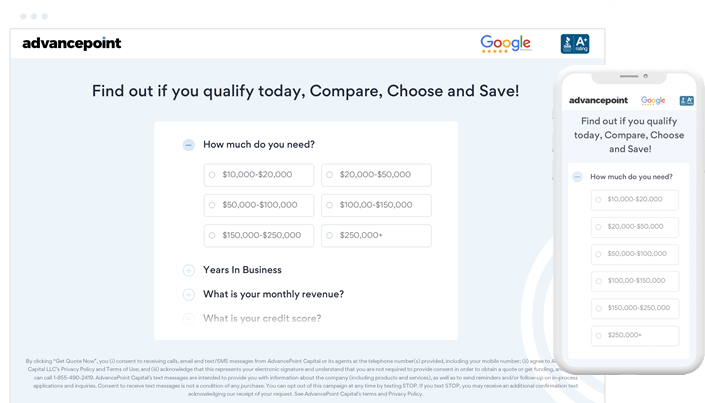 Get Started Today
AdvancePoint Capital makes the loan application process a simple, straightforward experience.
Frequently Asked Questions