AdvancePoint Capital offers alternative financing solutions for business owners throughout Las Vegas, Nevada, and surrounding Clark County areas, providing opportunities for growth and success. Every small business requires some sort of capital to reach significant levels of profitability. We offer a wide variety of loan options and short-term cash flow solutions that companies in Las Vegas, Nevada, use to their advantage.
Whether your company requires working capital, has renovation expenses, expensive equipment, or another endeavor — AdvancePoint Capital has business loans that can help.
There are several traditional funding options, like banks, that many Las Vegas, Nevada small businesses aren't able to obtain funding from. Whether you're dealing with credit issues, limited time in business, or don't want to deal with the time-consuming complications that are often associated with bank loans — we have alternative financing options that you can get fast.
We provide a wide range of ways in which your small business can fund your company's goals and endeavors.
Small Business Term Loans in Las Vegas, Nevada
Businesses in Las Vegas. NV that are seeking a financing solution that resembles a traditional bank loan are ideal candidates for a business term loan. Businesses can obtain a fixed amount of capital upfront — at a fixed cost, along with a fixed term and payment.
$10,000 – $1,000,000

All credit types are considered 

Quick processing time 

1-5 year repayment plan
Short Term Small Business Loans in Las Vegas, Nevada
A short term loan can be an excellent option for business owners in Las Vegas who have less than stellar credit or limited time in business. Acquire the cash flow you require in as little as one day with a short term loan.
$10,000 – $1,000,000

Substandard, mid-prime, to subprime credit scores are considered

Processed in as little as one day 

6-18 month repayment 
Are you currently located in Las Vegas and are having trouble with traditional loan options? We provide alternative lending solutions that help empower small businesses to help you meet your objectives. Get a quote from AdvancePoint Capital today.
Merchant Cash Advance in Las Vegas, Nevada
There are plenty of businesses that rely on revenue from credit card and debit card sales. These businesses can benefit from a merchant cash advance, a flexible financing option where you're able to leverage monthly cash flow to make payments with future sales. 
$10,000 – $1,000,000

Poor credit considered  

Processed in as little as 24 hours  

Flexible repayment options
Equipment Financing for Las Vegas, Nevada
Certain businesses in Las Vegas, Nevada, rely on expensive machinery and equipment for their everyday operations. These businesses can leverage equipment acquisitions as collateral to obtain instant financing. Restaurant operators, manufacturers, healthcare industries, and beyond can take advantage of equipment financing.
$10,000 – $1,000,000

All types of credit considered 

Processed in as little as two days 

1-5 year repayment 
Small Business Administration (SBA) Loans for Las Vegas Small Businesses
The Small Business Administration (SBA) is a Federal government agency that provides programs, guidelines, and loan guarantees to approved lenders for an SBA loan. The Small Business Administration (SBA) offers small businesses a government-backed loan, but the Small Business Administration (SBA) is not a lender and merely provides a guarantee that gives approved lenders ability to take on the risk of business lending with attractive rates and terms that could not normally be afforded to small businesses. Without the Small Business Administration (SBA) present to provide guarantees, the approved lender would not be comfortable lending under the terms outlined by SBA. The Small Business Administration's (SBA) loans are very popular but difficult to acquire due to the requirements, guidelines, and restrictions. AdvancePoint Capital can help guide Las Vegas, Nevada small business through the SBA process in a clear, quick, and efficient manner to have the best likely hood of an SBA approval.
Small Business Administration Loan (SBA) Programs That Can Benefit Small Business in Las Vegas, Nevada
SBA Standard 7 (a) loan program- SBA standard 7(a) loan is the SBA's primary program is designed to provide financial assistance to small businesses. The terms and conditions, like the guaranty percentage and loan amount, may vary by the type of loans to small businesses.
SBA 504 Loan Program- The SBA 504 Loan is a powerful economic development loan program that will offer small businesses another avenue for business financing while promoting business growth and job creation. The use of proceeds from SBA 504 Loans must be used for fixed assets such as construction, real estate, land, or land improvements (and certain soft costs) or can also be used to refinance existing debt.
SBA Disaster Loans– The SBA Economic Injury Disaster Loans (EIDL)-These SBA loans offer assistance after natural disasters like tornadoes, wildfires, or floods, but when Covid-19 crisis was declared a nationwide emergency on March 13th, small businesses were able to access this SBA program for emergency financing.
SBA Paycheck Protection Program (PPP) loan-The Small Business Administration has established the SBA Paycheck Protection Program loan that will offer loans to small businesses affected by the COVID-19 crisis and need financial help.
$10,000 – $1,000,000

All types of credit are considered 

Processed in as little as two days 

Revolving repayment
U.S. Small Business Administration – Las Vegas, Nevada District Office
U.S. Small Business Administration
Start, Grow, Expand Your Business
View the Nevada Small Business Resource Guide for information and assistance in growing your local business, exploring funding options, and contracting.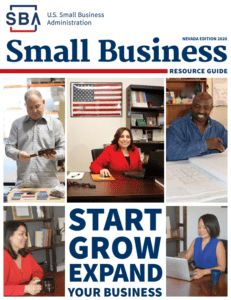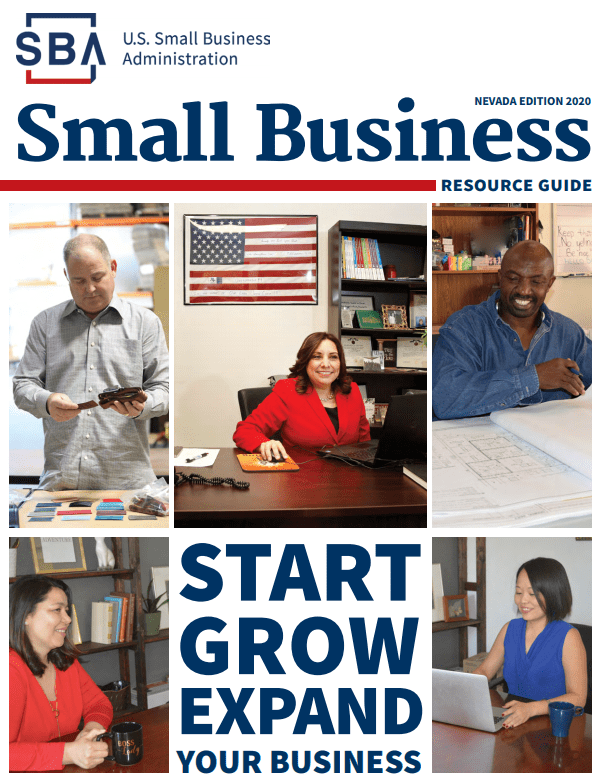 Invoice Financing in Las Vegas, Nevada
Invoice financing allows businesses to leverage their outstanding invoices to receive the capital they need in just one day. Outstanding invoices can severely limit growth opportunities, and invoice financing is a great option for businesses dealing with these issues.
$10,000 to $1,000,000

All credit types considered

Processed in as little as two days

Revolving repayment
Why Does Your Las Vegas, Nevada Business Need a Loan?
Don't jump on the first funding opportunity that you see. Understanding the ins and outs of various financing solutions along with why your business needs a loan can provide a lot of insight into what type of loan you should acquire.
Working capital is always needed for small businesses to succeed. Sometimes, a loan or cash advance may be required to keep everyday operations running. Infrastructure or scaling needs can require significant cash flow needs. Whether it's a new office or renovations — a financing solution that works with you can help expedite growth. Marketing is a necessity for every small business, and additional capital may be needed to reach a target market successfully. Businesses in a saturated market such as Las Vegas, NV will need all of the marketing dollars to stand out. Equipment is an expensive investment, but it's crucial for many industries in Las Vegas, NV. You need your equipment financing solution to work with you as you move forward with your business goals.
Once you have figured out why you need a business loan, there are still other factors worth considering.
How much do you need? 

Understand your business cash flow 

What is your budget?
How To Qualify For a Business Loan Las Vegas, Nevada
Several factors may significantly impact your ability to qualify for a business loan. Specifically, three components can determine whether or not you're able to obtain a  loan. While most of these factors will play a role, some are more or less important, depending on the type of loan you're trying to secure:
Credit score 

How you have been in business 

Financial statements such as business bank statements, profit and loss statements, or business and personal tax returns
Which Loan Is Right for Your Business in Las Vegas, Nevada?
Are you a business owner in Las Vegas and are currently weighing your loan options? Well, unfortunately, there's no one size fits all solution. However, there are many opportunities that businesses can benefit from to manage operations or grow. 
When considering a business loan, you need to make sure to pay close attention to the costs associated with a business funding option and the repayment plans. You don't want your loan to work against you, so it's crucial that you make the right decision. Keeping up with payments will prevent more costly consequences down the road. There's a wide selection of business loan options available, and we can help you find the best fit here at AdvancePoint Capital. 
We have helped countless business owners throughout Las Vegas, Nevada, find an alternative lending solution that fits their needs and helps them to reach their goals. We've made a name for ourselves as a trusted source for business financing products, information, and options. We strive to empower and assist Las Vegas, NV, small business owners with opportunities to achieve their business objectives.
Start With This Online Form
Applying for a loan with AdvancePoint Capital is as simple as a 1, 2, 3 process. Start with this online form; fill out the short application page, wait a few hours for your approval, select, and then fund!
AdvancePoint Capital offers an easy loan experience. Our customers love the fast, streamlined services and high approval rates that come from working with us. All credit scores are considered.
AdvancePoint Capital
The fast, convenient, and straightforward way to get the money you need for your business – now!
Get your Quote Today by filling out our simple form.