Las Vegas is best known for its casinos and its nightlife. The city was founded by ranchers and farmers in 1905, and it has grown steadily ever since. Today, Las Vegas is home to more than 2 million people, and it continues to be a popular destination for tourists from all over the world.
As a business owner in Las Vegas, you're likely aware of the challenges of operating in a highly competitive and costly business environment. With everyone vying for a slice of the pie, it can be not difficult to make headway and succeed.
At Advancepoint Capital, we provide business loans up to $1,000,000 for business owners in Las Vegas. We aim to help you overcome the unique challenges of doing business in the city with flexible repayment terms and competitive interest rates. Whether you need funding to grow your business or to cover unexpected expenses, we can work with you to provide the business loan in Las Vegas you need.
Get A Business Loan in Las Vegas With Ease
No matter what type of business you have, Advancepoint Capital can help you get the funding you need to grow. We offer a variety of small business loans, and we're here to help you find the right one for your needs. We offer loans for all types of businesses, including:
Startups
Restaurants
Retail businesses
Service businesses
Manufacturing businesses
And more!
If you're ready to get started, the first step is to fill out our online application. We'll review your application and get back to you within 24 hours. Once we approve your loan, we'll work with you to get the funding you need.
9 Best Loans for Las Vegas Business Loans (December 2023)

Small Business Loans in
Las Vegas
Find the best loan programs available through one simplified application. Compare interest rates, term lengths, and products with our marketplace.


Merchant Cash Advance
A merchant cash advance is a future sales receivable agreement that allows you to leverage your future credit card processing for cash now. Simple one page application with limited documentation needed.

Business Cash Advance
When traditional financing is not an option, revenue based business cash advance can help. Quick, easy application process as well.

Business Line of Credit
The revolving line of credit is the most flexible way to fund your business. Your funds are available on demand. You can withdraw funds at any time and every draw up to a credit limit. Fast and easy application process.

Equipment Financing
Equipment financing loans and leases help businesses secure the equipment they need to keep their business running at high capacity. Simple application process with same day answers.

Invoice Financing in
Las Vegas
With invoice factoring you can use your invoices that you issue to get and advance for a nominal fee. This product accelerates your accounts receivable so you don't end up in a cash crunch.

Short Term Small Business Loans
Short-term business loans are a great alternative, providing quick access to funds for filling cash flow gaps, working capital or emergency expenses within a business.Simple one page application and statements is all that's required for approval.

Long Term Business Loans
Long-term loans typically have repayment terms of at least three to ten years, which can be especially appealing to business owners looking to expand their business that requires a return on investment over a long period of time.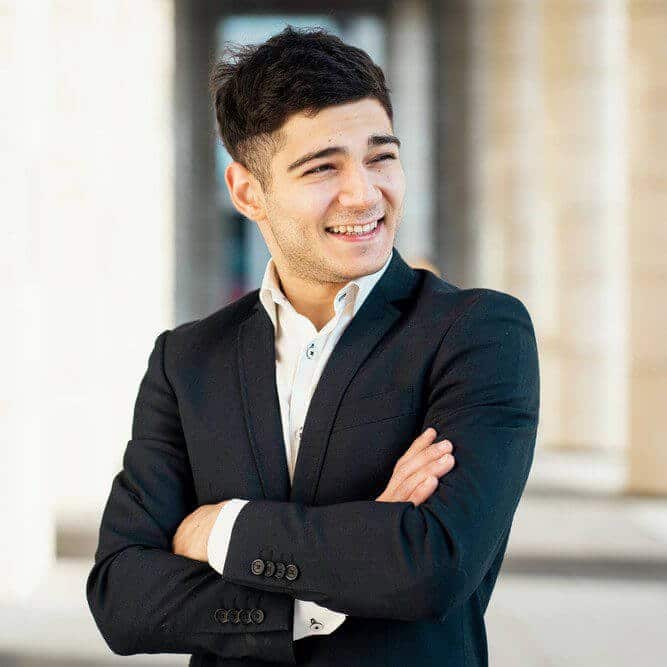 Why Does Your Las Vegas Business Need a Loan?
Running a successful business in Las Vegas can be challenging, especially when unexpected expenses arise. Whether you want to expand your business, purchase new equipment, or stabilize cash flow, a business loan can provide the funding you need to reach your goals. Here are a few reasons why your Las Vegas business may need a loan and how AdvancePoint Capital can help you secure the financing you need.
Working capital is always needed for small businesses to succeed. Sometimes, a loan or cash advance may be required to keep everyday operations running.
Infrastructure or scaling needs can require significant cash flow needs. Whether it's a new office or renovations — a financing solution that works with you can help expedite growth.
Marketing is a necessity for every small business, and additional capital may be needed to reach a target market successfully. Businesses in a saturated market such as Las Vegas, NV will need all of the marketing dollars to stand out.
Equipment is an expensive investment, but it's crucial for many industries in Las Vegas, NV. You need your equipment financing solution to work with you as you move forward with your business goals.
How To Qualify For a Business Loan in Las Vegas, Nevada
Several factors may significantly impact your ability to qualify for a business loan. Specifically, three components can determine whether or not you're able to obtain a loan. While most of these factors will play a role, some are more or less important, depending on the type of loan you're trying to secure:
Credit score
Length of time in business
Financial statements (business bank statements, profit and loss statements, or business and personal tax returns)
Which Business Loan is Right for You?
When considering a business loan, you need to make sure to pay close attention to the costs associated with a business funding option and the repayment plans. You don't want your loan to work against you, so it's crucial that you make the right decision. Keeping up with payments will prevent more costly consequences down the road. There's a wide selection of business loan options available, and we can help you find the best fit here at AdvancePoint Capital.
We have helped countless business owners throughout Las Vegas, Nevada, find an alternative lending solution that fits their needs and helps them to reach their goals. We've made a name for ourselves as a trusted source for business financing products, information, and options. We strive to empower and assist Las Vegas, NV, small business owners with opportunities to achieve their business objectives.
Apply for Business Loans in Las Vegas Today!
Looking for a business loan in Las Vegas can be challenging, but with AdvancePoint Capital, it's easy and fast. Our streamlined application process makes applying for a business loan in Las Vegas simple. All you need to do is fill out our online form, and within a few hours, you can be on your way to securing the financing solution you need. Trust us for your business loan needs in Las Vegas.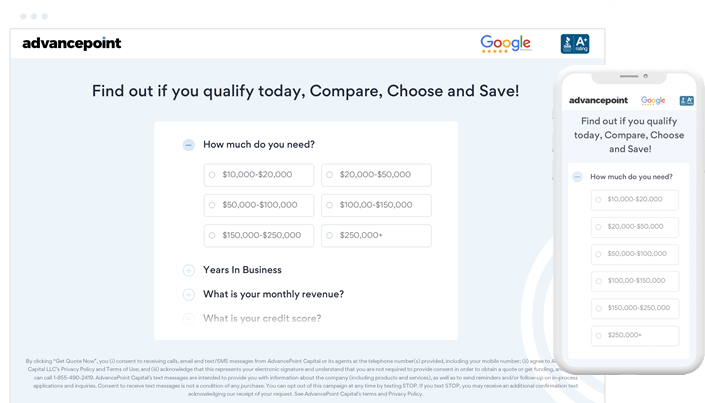 Get Started Today
AdvancePoint Capital makes the loan application process a simple, straightforward experience.
Frequently Asked Questions