Get the Best Landscaping Company Loan Options
As a landscaping business owner, you need loans and financing options that work for your company — not against it. Professional landscaping is about more than just retaining walls and gorgeous plantings; it's about retaining customers through high-quality work. The landscaping business can be capital intensive, especially to scale and grow effectively.
As a small business, you need to be adaptable and proactive with your financing opportunities. Whether it's dealing with seasonal changes, equipment needs, marketing spending, and more, the landscaping industry faces unique challenges such as:
Cash flow
Employee retention
Intensive training
Equipment maintenance and new purchases
Staying up-to-date on regulatory guidelines
Standing out above the competition
When juggling all of these various small business hurdles, the last thing you want is to deal with unforgiving bank loans or worry about jumping through traditional financing hoops.
Here at AdvancePoint Capital, we offer alternative business loans and financing opportunities for landscaping companies that need it most. We've helped countless small businesses through a wide range of loans and business funding products — helping landscaping companies like yours grow and expand operations.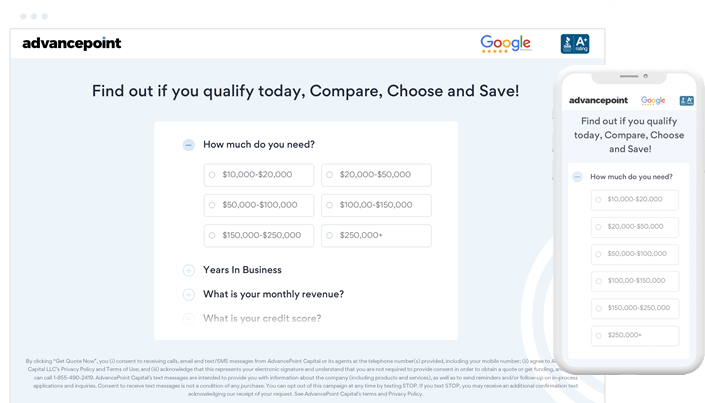 Get Started Today
AdvancePoint Capital makes the loan application process a simple, straightforward experience.
Landscaping Business Loan & Financing Options

Short-Term Business Loans for Landscaping
Short-term loans are a great alternative for quick approval with a fixed term and fixed payment. Higher approval rates than other traditional financing options.

SBA Loans for Landscaping Companies
SBA Loans are loans provided by the U.S. Small Business Administration (SBA) that offer attractive rates and terms. SBA loans require good credit and have a significant amount of paperwork in the approval process.

Landscaping Equipment Financing
Landscaping businesses depend on equipment to operate their businesses. Equipment financing offers the opportunity to purchase new, more advanced equipment to improve efficiencies in operations at affordable terms that won't dramatically impact cash flow.

Merchant Cash Advance for Landscapers
This business funding option of merchant cash advance is a great alternative when banks say no to traditional loans or lines of credit. Allows for all credit types, and limited documentation is required. Great for working capital needs.

Business Line of Credit for Lawn Care
With a business line of credit, landscaping companies can draw money up to a credit limit that can provide money in a pinch on demand.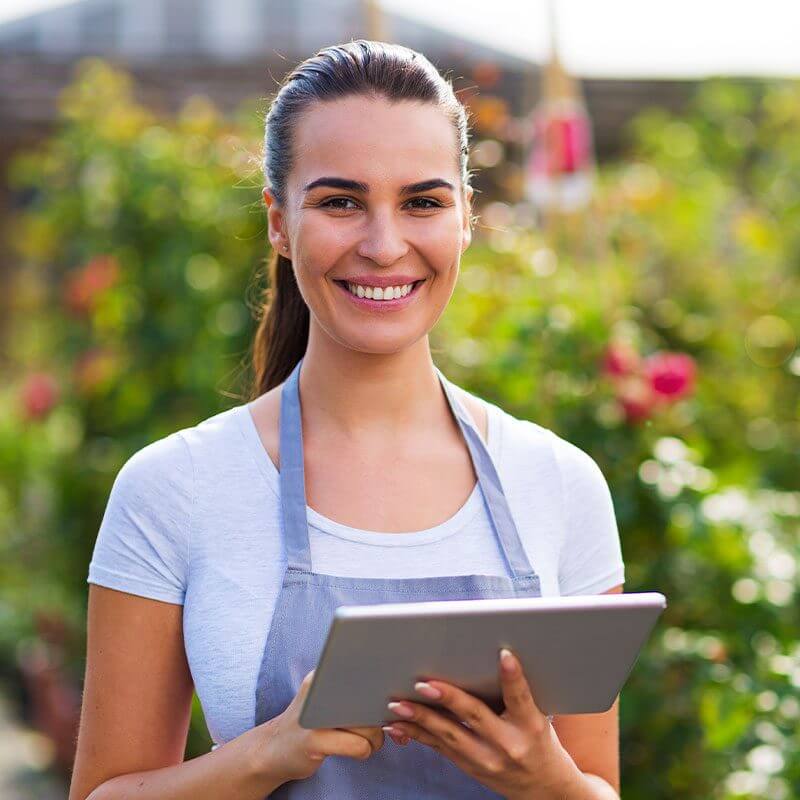 How to Use
Landscaping Business Loans?
Landscaping companies like yours need capital to keep up with daily operations, purchase equipment, handle marketing, and so much more. Let's take a look at how you can take advantage of landscaping business loans from lenders like AdvancePoint Capital today.
Instant Cash Flow
Whether you're in a seasonal dip or need access to emergency funds, we offer a wide range of loan options and advances to use when you're in a pinch. It's crucial to keep up with day-to-day landscaping operations even when cash flow is minimal. We offer a sound route to the capital you need — when you need it most.
New or Upgraded Equipment
From riding lawnmowers and storage equipment to safety gear and digging tools — there's no shortage of equipment in the landscaping ecosystem. That's why you need access to equipment financing options that work for you, not against you. We offer incredible programs for equipment financing that provide you with options and allow you to get access to the cash flow you need today.
Boost Your Marketing
Small businesses like landscaping need online and offline marketing to promote their business and acquire more customers. Be it a new website launch or digital advertising of your company, you need funding to extend your marketing activities.
Apply For Landscaping Business Loans & Equipment Financing
We help companies like yours apply for and obtain landscaping business loans and funding opportunities through years of dedicated experience and successful partnerships. Whether you're looking for equipment financing, term loans, advance options, and beyond — we provide a wide range of small business loans for landscaping companies of all shapes and sizes. Got a bad credit? worry not! we provide landscaping business loans for bad credit at the best possible rates. Most landscaping companies are seasonal, which means there will be times when financial strength is on your side. AdvancePoint Capital makes applying for a small business loan fast and easy. We want to see our customers succeed, which means we'll help you get a quote that empowers your business ventures.