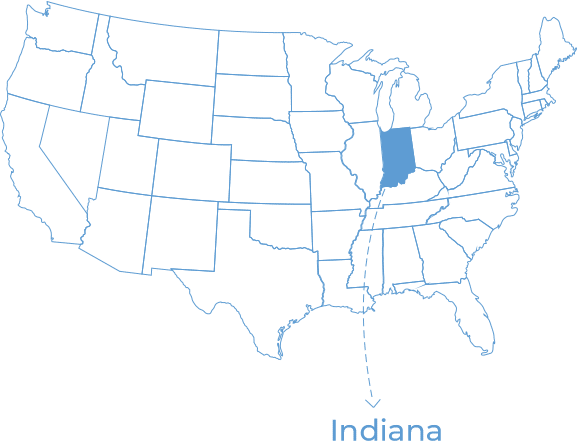 Indianapolis is the capital of the state of Indiana with a population of over 850,000. The city has a diversified economy with sectors such as finance, insurance, healthcare, education, logistics, manufacturing, and IT. Indianapolis was founded in 1821 by an act of the Indiana General Assembly and became known as the "Crossroads of America" due to its central location within the country. However, today, the economy of Indianapolis is largely based on service industries.
In Indianapolis, Indiana there are plenty of opportunities for business. The city is home to a number of Fortune 500 companies and offers a variety of resources for businesses of all sizes. Whether you're looking for funding, networking opportunities or simply want to learn more about the city's business landscape, Indianapolis has something to offer.
Additionally, small businesses are the backbone of Indianapolis's economy, with a vibrant entrepreneurial community that drives innovation and growth. Whether you're looking to start a new business or expand an existing one, small business loans in Indianapolis can provide the financing you need to succeed.
At AdvancePoint Capital, we specialize in helping small businesses in Indianapolis secure the funding they need to grow as company. With a range of loan products and expert guidance from our experienced loan specialists, we can help you find the right financing solution for your business needs.
How To Get A Small Business Loan in Indianapolis?
There are a few different ways to get a small business loan in Indianapolis. One way is to go through a traditional financial institution like a bank. However, this can be a difficult and time-consuming process.
Another option is to work with a small business lender like AdvancePoint Capital. We work with a network of lenders who can provide you with the financing you need to start or grow your business. We also offer a number of advantages that you won't find with a traditional bank loan, such as:
The quick and easy application process
Flexible terms
Competitive rates
No collateral required
So if you're looking for a business loans in Indianapolis, AdvancePoint Capital is the best place to start.
9 Best Loans for Indianapolis Business (December 2023)

Small Business Loans
in Indianapolis
Lending Help to Small Businesses Like Yours. A variety of business loan products to choose from.

Merchant Cash Advance
A merchant cash advance is an advance off of the businesses credit card processing sales that is repaid by a percentage of future processing. Great alternative to small business loans.

Business Cash Advance
A business cash advance is an advance off of the revenue of the business and repaid with a percentage of future sales deposits.

Business Line of Credit
A line of credit operates like a credit card with a draw feature up to a credit limit. Business owners love the flexibility of the product.

Equipment Financing in
Indianapolis
When looking to purchase new equipment, equipment loans and/or leases are a popular option because of terms ranging 2 to 7 years.

Invoice Financing in Indianapolis
For businesses that invoice clients, Invoice financing advances money at time of issuance to a business owner looking to accelerate accounts receivable.

Short Term Small Business Loans
This is a great option when you need fast approval. Short term loans range from 6 to 24 months to repay.

Long Term Business Loans
Long term loans are for established businesses in need of large sums of money for an expansion and/or large acquisition and need long term financing to afford the payments.
How To Get Approval for Business Loans in Indianapolis?
Getting approved for a business loan in Indianapolis requires careful preparation and planning. Start by developing a solid business plan outlining your business goals, strategies, and how you plan to use the loan funds. This will help you determine how much money you need and what loan product is best suited for your business. Next, research different lenders and their loan products. Our experienced funding specialists can help you navigate the loan application process and increase your chances of approval.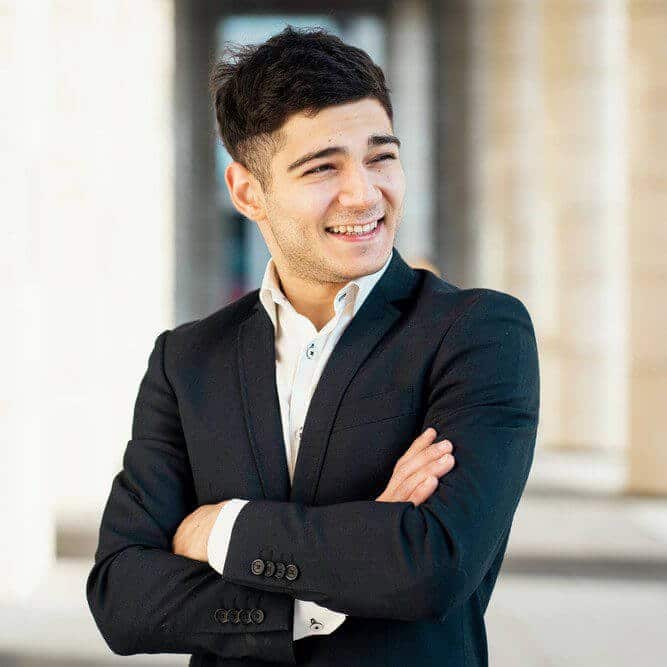 Common Uses of Loan Proceeds in Indianapolis, IN
Day-to-day operations
Support to stabilize low cash flow
Financing for business growth and expansion opportunities
Funds to acquire essential equipment for workflow
Money for implementing marketing strategies to increase customer base
Funds to cover unexpected issues that can arise in any industry
Support for employee recruitment and training resources
Acquiring full ownership of the business
Changing your business model
Small Business Resources and Covid-19 Relief Funds in Indianapolis, IN
Why AdvancePoint Capital?
Experienced Indiana Financing – Providing financing solutions to Indianapolis businesses for years.
Trusted by Indianapolis Businesses - Read excellent reviews and feedback from small business owners in Indianapolis.
Dedicated Loan Specialists – Experienced funding specialists in Indianapolis to help you find the right loan programs.
No Cost, No Commitment Quotes – Get started with us obligation-free. Free quotes with no upfront costs.
Loan Products for Indianapolis Businesses – A range of loan products to cater to small business needs in Indianapolis.
Apply for Indianapolis Business Loans Today!
At AdvancePoint Capital, obtaining a business loan in Indianapolis is hassle-free. We understand that finding a financing solution or financial advice can be challenging, but our simple application process makes it easy. Just fill out our online application page, and within a few hours, you can get the business loan you need in Indianapolis.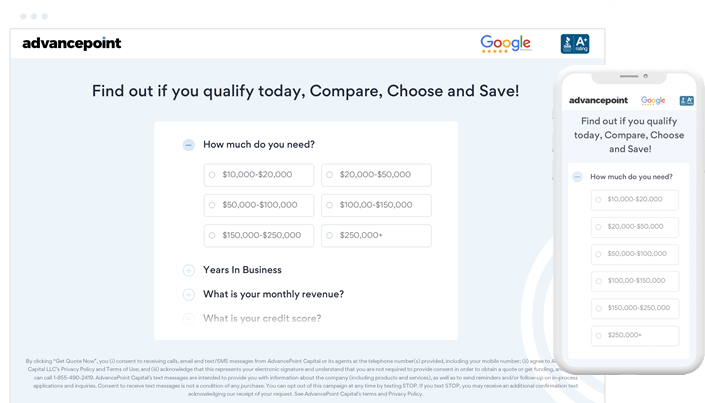 Get Started Today
AdvancePoint Capital makes the loan application process a simple, straightforward experience.
Frequently Asked Questions