Florist Business Funding Options
When looking for the best business loans for your florist shop it starts with identifying the need and then going through the steps in your search. The first step is to understand what you qualify for by reaching out to banks, online lenders or business loan brokers who have experience with originating business loans for florists. There are many business finance products out there with different features, rates, terms and qualifications. Its important for flower shop owners to apply with more than one lender because they are not all created equal and vary in terms of what they offer.
Traditional banks can make it difficult to get florist business loans. Over the past few years, alternative lenders have filled that gap with a variety of products that bank don't have access to.
AdvancePoint Capital can provide that working capital to a flower shop like yours, so you focus on running your business and making it grow. There are many business loans and other financing options we offer in our alternative lender network that business owners can use to their benefit.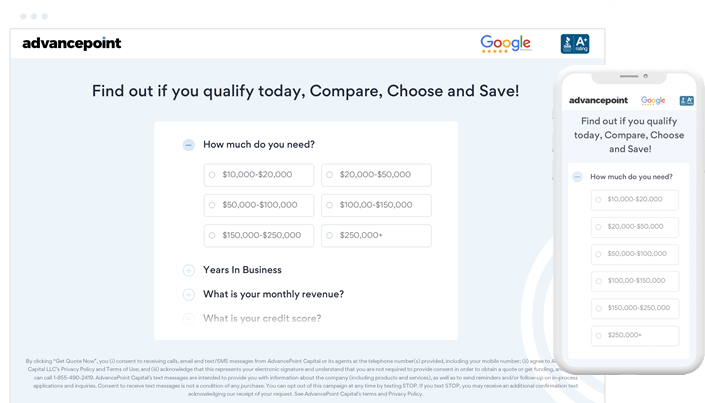 Get Started Today
AdvancePoint Capital makes the loan application process a simple, straightforward experience.
What is a Florist Business Loan?
Florist business loans can come in many forms such as business loans, business line of credit, equipment financing, SBA loans and other alternatives as well. The need for capital and your qualifications will dictate what products and terms you will be offered and there respective rates and costs.
How does a Flower Shop Business Loan Work?
The first step is to determine your need for capital for your florist business, then search for products that best meet's the need at affordable terms. Its important to examine the features and qualifications of each business funding product. It's not always about what is the best rate or lowest cost. The features and terms may be the driving force in your choice as well. Your qualifications are a major factor as to what options you can chose from. Consider all business funding products available in the market place to see what best suits your needs.
Flower Shop Business Financing Options
Finding the right small business funding that works best for your business may take some guidance. That's why we put together the eight best small business loan options for funding in the florist business. Each of these floral business funding options offers unique benefits and qualities that may work for your flower business to help your business blossom. Let's take a look!

Long-Term Small Business Loans for Flower Shops
Long-term loans are a great option when a business is planning a large expansion and requires a loan that spreads the cost over years and not months so that under current revenues the business can afford the payments.
Extended terms that range typically from 5 to 10 years
Affordable rates, terms and payments
A comprehensive application and significant documentation required

Small Business Line of Credit for Flower Shops
A business line of credit can come in handy for a florist business as it's a credit line that a business owner can draw funds on demand up to a credit limit like a credit card. Great for quick purchases of inventory and working capital.
Flexible draw up and drawn down feature
Simple interest starting at 1% per month
Quick simple application process

Short-Term Small Business Loan for Florists
Short-term business loans are a fast option with less paperwork and more flexible with more tolerance to bad credit issues than traditional bank loans. This is a go-to product for working capital needs.
Fixed rates, terms and payments
Streamlined same day application to funding
Attractive rates

Flower Shop Equipment Financing
Large refrigerators for floral arrangements can be a costly, but necessary expense for a florist business. With equipment loans, the costs of purchasing new equipment can be spread over years at affordable monthly payments.
Leverages collateral for business funding
Monthly payments
Structured as a loan or a lease over 2 to 5 years

Small Business Administration (SBA) Loans for Flower Shops
SBA loans have great rates and affordable terms, but require a lot of paperwork and a longer approval process than most other business financing options. Good credit is required and bad credit is not accepted. It's worth the effort if you have the time and qualifications. Let us guide you through the process.
Government back business financing
Excellent rates starting at prime + 2.25%
Terms that range from 5 to 10 years (exceptions to 25 years with real estate)

Business Cash Advance for Florists
Business cash advances are not loans but a form of receivables financing. The advance amount is based on annual sales. The repayment period is based fixed set percentage of future sales bank deposits until paid back in full. A great option that can provide the necessary working capital to solve your problem.
Fast Funding as soon as same day
Approvals based on revenue and not profit & loss
All credit considered from Excellent to bad credit down to 500 FICO

Merchant Cash Advance for Flower Shops
Merchant cash advances (MCAs) are an advance on future sales agreements and are not loans. MCA's Repaid by taking a percentage of future credit card processing until paid back so repayment is flexible to sales. The repayment process is a very popular product with flower shop owners due to fluctuating sales and seasonality in the industry giving the owner a breather in repayment during slower times.
Considered a receivables funding solution
Application to funding in as little as 1 day
Factor rates that range from 1.13% to 1.48% depending on qualifications

Business Credit Cards for Florists
A popular option on top of florist business loans in the florist business is credit cards. A great and easy option for last-minute purchases, expenses, and working capital.
Simple credit card issued for purchases and paying bills
Revolving line
Simple interest
Pro's and Con's to Business Loans for Flower Shops
Always carefully consider the benefits and dangers of financing your business before making any decisions and accepting terms.
Pro's
Provides capital necessary for daily operational needs
Preserves cash reserves in business bank account
Build business credit for future financing opportunities
Con's
Adds debit on the business and impacts balance sheet
Increases monthly expenses with a debt payment
Can damage credit if you are unable to make payments or even worse have a default
Alternatives to business loans for Flower Shops
Personal loans- Sometimes business owners chose personal loans as an alternative to business loans because the terms can be more favorable and if they have debt on the business already it's a great additional alternative.
Credit Cards- It's very common for business owners to use credit cards as a substitute to traditional business loans or as a supplemental option.
Ownership Funding- There are times when owners will lend to the business there personal funds to avoid putting additional business debt from business lenders/funders.
Raising Outside Capital- For large projects or business opportunities, raising capital may be an appropriate choice or the only option.
Benefits of Financing for Flower Shops:
Why Flower Shop Loans?
Working Capital/Cash Flow
The florist business can be complex. Florist shop owners need to balance customers, inventory purchases, and employee payroll, which impacts cash flow and the need for working capital. Florist business loans can level the playing field.
Inventory
Inventory financing for flowers. When holidays or special occasions come along like Wedding Season, Valentine's Day, Mother's Day, or special events for loved ones that require exotic floral arrangements, large quantities of inventory are sometimes needed for the florist business that cash flow alone can't support purchasing without flower shop loans.
Renovations/Facility Maintenance
Renovations and facility maintenance can be a costly venture. If your looking to expand the size and scope of your florist shop by remodeling or expanding, construction costs can be prohibitive without business funding.
Marketing and Advertising
The florist business is competitive and requires advertising to maintain an online presence to improve brand awareness. A florist shop needs to invest in the website and advertise with various online sources like Google, Yelp, and Trip Advisor. Your social media presence with Facebook, Instagram, and Tik-Tok is also important to engage with customers. Advertising can be costly and financing may be a necessity.
Making Payroll
Florists are the essence of a flower shop. At certain times of the year cash flow can be tight and a florist shop can't afford to not meet payroll obligations or they risk impacting morale or worse, loose key employees. It's important to have flower shop financing in place to protect against cash flow short falls.
Apply For Your AdvancePoint Loan Today!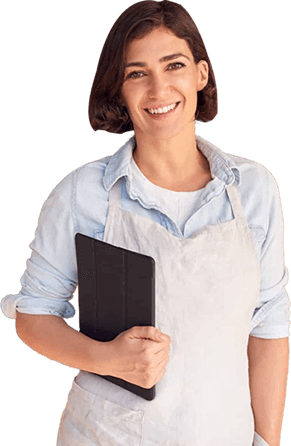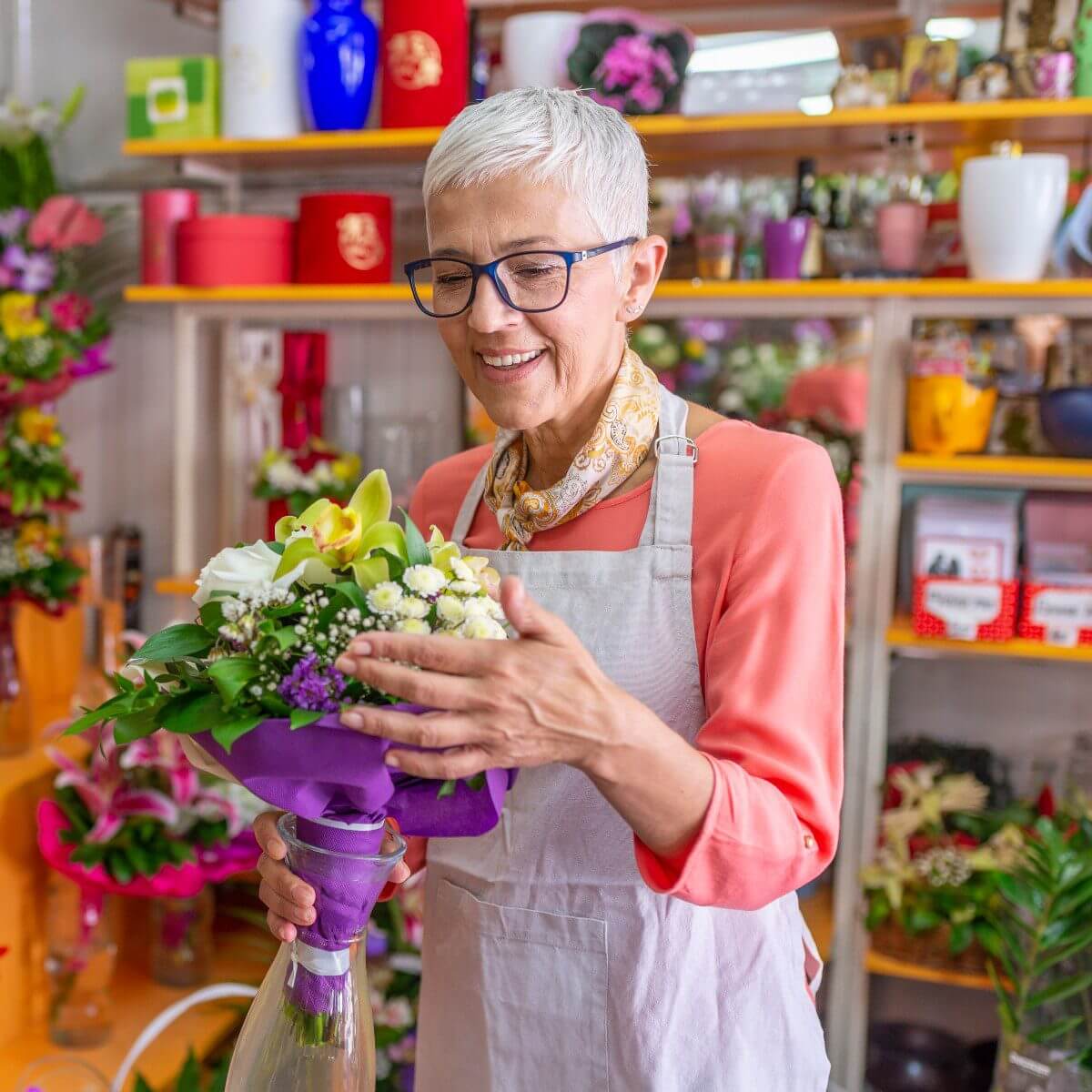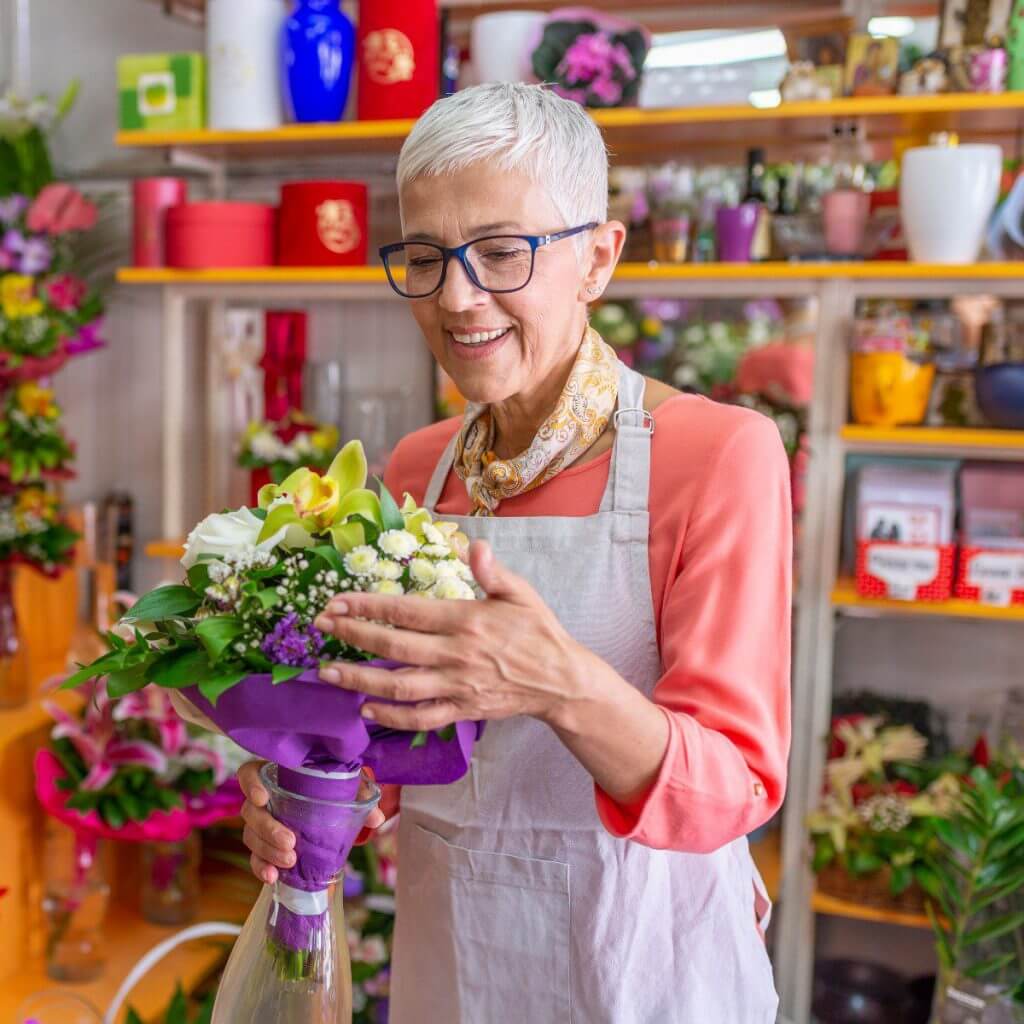 Why AdvancePoint Capital?
We have experience with the flower shop industry. We've helped countless flower shop business owners find to best business financing option that work best for their business.
Why are we better than the traditional bank? Our lender network of Traditional lenders and alternative lenders has a wide range of florist business loans and other financing opportunities giving the florist the empowerment to find the right florist business loans that works for their flower shop regardless of the need.
At AdvancePoint Capital, you'll benefit by being assigned a business finance specialist who is an industry professional, with experience and deep knowledge of our marketplace of lenders and funders. Our application process is simple, straightforward and adavncepoint is a trusted name in the small business loan industry. We make it easy to get business loans for florists.
Experience – We have been funding the florist business for over 10 years.
Trust – Advancepoint is accredited with the BBB with an A+ rating. Check out our excellent Google reviews and feedback from florists
Loan Specialists – Experienced and knowledgeable small business funding specialists who know the flower shop industry and have dealt with flower stores for years.
Quotes – We offer no cost, no commitment quotes for florist loans.
Products – A variety of flower shop loans through our lender network. Our marketplace has business funding options not seen at most banks.
Florist business financing can be intimidating to business owners, but it doesn't have to be. Financial documentation may seem daunting if you're dealing with a bank or lender — but with AdvancePoint Capital, we can find florist business loans that will provide the best impact on your business. When banks say no, we say yes to business funding.
Frequently Asked Questions
Apply for Florist Business Loan Today!
Follow these simple steps to apply for flower shop loans
Collect important information for Application: such as FEIN number, registration date of the business, landlord info and bank information so that your prepared to fill out a loan application
Organize your business documents: Collect important documents such as the business bank statements, tax returns, profit & loss, balance sheet, A/R and A/P reports and any other relevant paperwork that is requested of a lender to prove credit worthiness of your florist business.
Allow Advancepoint to Research lenders: Advancepoint Capital has a network of business lenders with a variety of flower shop financing options to offer. We have experience working with florist businesses and can craft options that will full fill your needs.
AdvancePoint Capital can assist you even if you have trouble at getting approved at banks. We turn problems into solutions.