Are you in need of construction equipment for your manufacturing company, but unsure how you'll be able to afford it? Have no fear. Many manufacturing companies secure their construction equipment through various loan options designed for purchasing or leasing needed equipment. Whether you're searching for machinery you need to buy or need to replace, the loan and lease options explored in this article will get you started in the right direction. Though the cost for commercial machines can be high, utilizing a lender to lease or buy heavy equipment is the right way to go.
Construction Equipment Needs for Manufacturing Companies
Manufacturing and other commercial companies need heavy equipment to perform daily operations and earn their revenue. Using an equipment loan to procure these valuable pieces of heavy equipment is a great idea because when your business is able to perform at its best, you will be profitable. Here are just a few examples of the kinds of equipment that can be purchased with business equipment financing:
Computers, fax machines, copiers
Industrial kitchen equipment
Manufacturing equipment
Vehicle fleets
Heavy equipment
Medical tools and machines
Manufacturing, packaging, and shipping equipment
Loan Eligibility Factors
Before diving into the different types of funding available for construction equipment, let's discuss loan eligibility factors. It's always wise to know what will be required when you try to secure financing for your business. Depending on what kind of funding your manufacturing company is after, there are going to be a set of requirements to meet from the equipment lenders to qualify for funding.
Here are a few eligibility factors to consider:
Credit score: Nearly all types of funding will require a credit score, whether that's personal or a business credit score. The higher your score, the better. However, funding can still be secured even if you don't have an excellent credit score.
Time in business: The more seasoned your business is, the better you will look to lenders. If your construction company is new, you can still secure funding. It's best to have a thorough business plan to show borrowers if you're new in the industry.
Collateral: When you utilize construction equipment financing, the piece you buy will act as collateral. However, other types of loans might need you to put up real estate or other heavy equipment when signing.
Ability to make payments: All borrowers want to see that you can make timely payments. If you can demonstrate this, you'll be on your way to securing financing.
You might also be required to provide a business plan when you apply for equipment financing, especially if you are a new construction business. Some vital components to include in your business plan are:
A summary or snapshot of your business
A detailed description of your business
A market analysis
How your business is organized, including management structure
Marketing and sales plans
Balance sheet
The products or services you provide
How you will use the funding
Projection of business financials
Expected revenue growth: monthly, quarterly, and yearly
Purchasing Heavy Equipment
Business owners know that no matter what type of heavy equipment you're purchasing, it's a huge investment. Large purchases become a little less scary when you can break the payment down into monthly payments, so that the purchase doesn't completely wipe out your business savings. Thankfully, there are a variety of financing options, the most popular being construction equipment financing.
Manufacturing companies who need business equipment can rely on construction equipment financing, or one of the other funding options included in this article, to purchase the equipment their business needs. Machinery and other heavy equipment are necessary for construction operation, but business owners don't want to be in a position where they can't pay for the machinery they need. With equipment leasing and the flexible options that this financing offers, companies can get the machinery they need without breaking into their cash flow or savings.
Equipment Financing Explained
Equipment financing is one of the most popular financing options for businesses looking to purchase heavy equipment. Of course, if your business has the funds, you can purchase the new heavy equipment outright. However, many construction companies don't have that kind of capital. Thankfully, equipment financing options let you use the new equipment as collateral for an equipment loan.
With heavy equipment financing, you receive the working capital needed to rent or purchase your construction equipment. Credit score isn't a huge deal because there is little risk to the lender. The business is purchasing and using the heavy equipment as collateral.
Monthly payments are made with interest and principal included over a fixed loan term. Interest rates are set up front by the lender in this type of lease agreement. Once the payment has been fulfilled, your construction business will own the equipment. This gives you more freedom and cash flow to use for your business.
Benefits of Equipment Financing
Any commercial or construction business can see that equipment financing is one of the best ways to secure large or heavy equipment needed for daily operations. There are some great benefits to equipment financing, including:
Up to 100% of the financing needed for new equipment cost or necessary equipment repairs.
Terms are attractive because costs are based on principal and interest rates, or factor rates, not company revenue or other factors.
Loan approval from an online lender in as little as two days or sooner for smaller loan amounts under $10,000.
Competitive terms with financing up to 60 months for many commercial loan options.
Equipment Financing vs. Equipment Leasing
When you're considering how to acquire the equipment your construction company needs, you can consider both equipment financing and another option, equipment leasing. Leasing has payback schedules of about 60 months, and the machinery is usually returned to the owner after loan terms are complete. Leasing qualifications are much less rigorous, however equipment financing can be a better option in the long term.
When your construction company decides to utilize equipment financing, your business invests in the equipment. Then, after making so many payments over a set period of time, you own the equipment outright. For this reason, equipment financing is better than equipment leases if you're considering the long-term, because the equipment will then become a valuable asset to your business.
However, don't discredit equipment leases. If your business needs a more flexible option or has to replace the equipment in the near future, then leasing can be the best option. There are two types of equipment leasing arrangements to consider:
Capital lease: The most common leasing arrangement, in which you buy the construction equipment at the end of the term.
Operating lease: You return the borrowed piece of equipment at the end of the agreement, then lease or purchase new equipment – best for tools with high turnover or necessary updates.
Weighing the Pros and Cons of Equipment Financing
Now that you know a little more about equipment financing for construction equipment, let's take a look at the pros and cons of this financing arrangement. When commercial businesses decide to go with this type of finance plan, they can expect flexibility, fast funds, and improved credit (especially for those dealing with bad credit). But, there are also some cons, as with any type of finance.
Equipment Financing Pros:
You can obtain the funds you need, fast. Once you qualify, your business will have access to the necessary money to buy essential construction tools and machines.
The terms are more flexible than traditional loan options.
Making payments on time will have a positive impact on your credit score.
Equipment Financing Cons:
If you have a bad credit score, the lender may require a blanket lien, which gives other businesses assets if you miss a payment. Or, a personal guarantee might be in place, meaning you are personally liable for missed payments.
Sometimes the length of the equipment loan term surpasses the life of the machine.
If you can't make payments, your business might end up in financial trouble.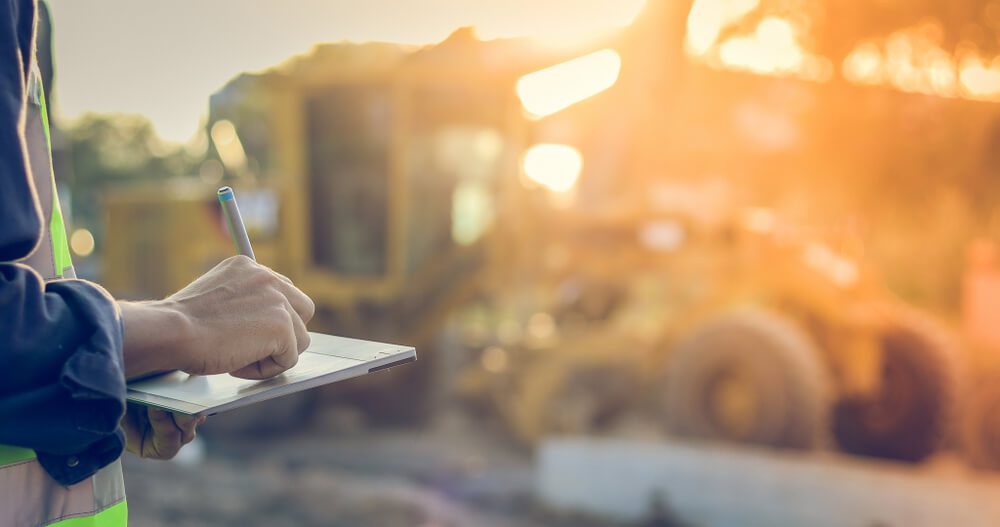 Additional Construction Equipment Loan Options
Equipment financing isn't the only way to qualify for financing for your next piece of heavy equipment or gain the necessary capital to purchase it. New equipment can also be bought with funds from a small business loan, or other type of financing. Many online lenders offer various funding options that your manufacturing business can choose from when considering how to purchase the equipment you need. More options are explored below.
Short-Term Loans
If equipment financing isn't the best option for your business, then you could consider a short-term business loan. This type of finance plan involves a lump sum of money given to a business, then paid back over a designated period of time. Short-term loans can be used to purchase commercial equipment, or for whatever your business needs are at the time. No matter what type of equipment you're looking to buy, short-term loans can help you make the purchase.
Long-Term Loans
A long-term business loan can be valuable for construction companies. The borrower provides a lump sum of money to a business upfront, then businesses can use the cash for whatever they need. In this case, to make necessary equipment purchases. Loan amounts are large, so longer payment plans are necessary in order to make them affordable.
SBA Loans
The Small Business Administration (SBA) offers a number of loans, but the requirements are often very specific. The SBA is not actually the borrower, but a government agency that provides loan program guarantees of up to 85% of the amount provided through SBA-approved borrowers.
These loans offer low-rate and long-term financing solutions for businesses. SBA loans can be used to buy equipment. The three main programs are the 7(a) Loan Program, the Small Business Microloan Program, and the CDC/504 Loan Program.
Business Cash Advance
Another option for securing business equipment is through a business cash advance. This type of financing option, also called a purchase of future sales agreement, allows businesses to sell a portion of their future sales. The business owners then have to pay back the fixed payback amount at a fixed cost. Repayment continues until the payback amount is paid back in full. This type of financing is a way to get money fast in order to buy needed construction equipment.
Securing Business Equipment
No matter if you use equipment financing or small business loans, the process for securing construction equipment will be similar. The most important thing to consider once you qualify for equipment financing or another type of finance is if you can make the payment on the equipment. The cost of construction equipment is high, which is why finding the money (and good interest rates) to buy the machinery you need is top of mind for manufacturing companies.
Thankfully, with so many traditional and alternative loan options to qualify for, your business will be able to buy the heavy equipment it needs with the help of a lender. Considering a business loan or equipment loan is vital to ensuring your manufacturing company can continue to operate smoothly.
With a partner like AdvancePoint Capital, you can qualify for the financing you need, no matter the time in business, type of equipment you need, or credit history. Heavy equipment and other business equipment are vital for daily operations, and lenders know that which is why they offer great interest rates for construction equipment financing. Contact AdvancePoint Capital today to start exploring alternative funding options for your heavy equipment needs.