For many business owners in the State of Colorado, access to capital and resources for their business is a necessity. To receive the funding, they need to keep their business objectives on track; companies need alternative loan solutions they can trust. AdvancePoint Capital offers business loans and short-term cash flow options that keep operations afloat.
Despite the State of Colorado's economic strengths, small business entrepreneurs still face many challenges getting a small business bank loan from traditional banks or credit unions in 2020. They have stringent guidelines, requirements, mountains of paperwork, and limited business loans to offer. It's challenging to get anything from a bank or lender. That's where AdvancePoint Capital's business finance specialists and customer service can help meet small businesses' needs for capital.
How Do I Get Approved for a Small Business Loan in Colorado?
AdvancePoint is an excellent resource with a business marketplace menu full of alternative funding options for small businesses. Experience our customer service and unleash all of the resources we have at our disposal, so you can access updates to the best products, rates, and terms that meet your needs.
The 8 Best Small Business Loan Options for Colorado Businesses
1. Long Term Small Business Loan in Colorado
Lenders define long term business loans as a loan with a duration of greater than two years. Businesses are offered a fixed amount upfront, then charged principal and interest. Unlike a business line, a business owner cannot draw money at any time if they choose a long term loan. Typically, these loans are an exceptional resource for expansion and growth.
Product Overview
Interest Rates: Starting at 5.50% or treasury index plus 1% to 2.5%
Term: 2 to 10 years
Fees: Origination fees range from 0% to 3% (depends on risk and lender)
Loan Payments: Monthly or bi-weekly
Credit Requirements: Good to excellent credit score required
2. Business Line of Credit for Small Businesses in Colorado
A business line of credit is an open line. This type of funding allows businesses to draw funds on-demand—a business line charges a principal and an interest rate. Business lines of credit have a limit that cannot be exceeded without a lender's approval and is not open-ended forever. It requires renewal to be extended by lenders either semi-annually or annually. Entrepreneurs choose a line instead of a loan for the working capital, affordable rates, and flexible terms.
Product Overview
Interest Rates: Starting at 5.50% or treasury index plus 1% to 2.5%
Term: Open revolving line
Fees: Origination fees ranging from 0% to 3%
Payment: Monthly, bi-weekly or weekly
Credit Requirements: Fair to excellent credit score required
3. Short Term Business Loan for Small Business Owners in Colorado
Short term business loans are defined as loans that are typically repaid within 6 to 18 months. These loans feature a lump sum offered up front with a fixed payback amount calculated using a factor over a short term of time. Rates are not principal and interest but a "factor rate" that costs more than traditional loans. Most businesses choose short term business loans when they do not qualify for conventional business loans. Short-term loans charge more for costs, and the duration of repayment is shorter. The payments are more frequent to compensate for the higher risks business lenders take by offering this product. These loans are a popular resource for small businesses because of the reduced documentation requirements and more relaxed tolerances than traditional loans. Working capital is the primary reason to acquire funding resources for short term business loans.
Product Overview
Rates: Factor rates range from 1.09% up to 1.45%, or simple interest starts at 1% per month
Term: 6 to 18 months in duration (typically 12 months or less)
Fees: 0% to 5% origination fees
Payments: Weekly, bi-weekly, and in some cases daily Monday-Friday
Credit Requirements: All credit types considered
Loan Process: Application, Bank Statements
4. Business Cash Advance for Small Businesses in Colorado
Business Cash Advances (BCA), also known as the Purchase of Future Sales Agreement, advances future sales at a business discount. The business is responsible for paying back a fixed price known as a specified amount, which is higher than the amount advanced to the company. This difference between the advance amount and the payback amount is called the "factor rate or cost," which is fixed. These are not principal and interest costs. The advance is repaid by taking a fixed percentage of future overall deposits called the specified rate. The payments are collected by an ACH-set daily or weekly sum deducted from a business account based on the specified percentage of future sales. At the end of every month, reconciliation can occur. Suppose the fixed payments taken out of the bank account monthly are more than the set future percentage of monthly sales. In that case, small business owners can request a refund to the business for overpayment so that the set specified percentage of sales collected for the company matches the revenue volumes. Repayment continues until the payback amount is paid in full. There is no time limit with advances as the fixed payback percentage is ever-changing due to fluctuating revenue. This product is a fast way to get funds and is popular with businesses that can not get a bank loan.
Product Overview
Rates: Ranges from 1.09% up to 1.45%
Term: This is not a loan, so there are no time limits. Payments continue until paid in full based on specified percentage collection method and are dependent on future revenues
Fees: Origination fees that range from 0% to 5%
Payment: Weekly or daily Monday-Friday Fixed ACH
Credit Requirements: All types of credit considered
Application Requirements: Application, bank Statements
5. Merchant Cash Advance for Small Businesses in Colorado
A Merchant Cash Advance (MCA), also known as a Purchase of Future Sales Agreement, operates very similar to BCA's. The most significant difference is the repayment process, which is connected to future credit card revenues instead of overall sales. MCA's take a set percentage of future card sales at the time of batch until the advance is paid back in full. Businesses find this valuable when they fluctuate revenues and don't want to be locked into a fixed payment that could negatively impact cash or profit margins. This product is another excellent resource for working capital to help your business. Remember, a merchant cash advance is not a loan. A portion of the businesses' future sales is sold to a funder at a discounted rate in exchange for cash. This product is popular with companies that can not get a bank loan.
Product Overview
Rates: Range from 1.09% up to 1.45%
Term: No time limits
Fees: Origination fees range from 0% to 3%
Payment: Set a fixed percentage of future card revenues
Credit Requirements: All types of credit considered
Application Requirements: Application, bank statements, merchant processing statements
6. Equipment Loans and Financing for Small Businesses in Colorado
Colorado area businesses that require equipment to operate their business often turn to equipment financing to purchase machinery. Equipment loans secure the equipment itself as collateral. The good news is little paperwork is necessary, such as a one-page application and bank statements, to get approved. Equipment loans are fast and easy to apply for and can be approved on the spot, although additional time may be required. This product is most prevalent in industries with a heavy reliance on equipment resources like manufacturing and construction.
Product Overview
Rate: Range from 1.09% up to 1.45%
Term: 2 to 7 years
Fees: Origination fees range from 0% to 3%
Payment: Weekly or daily Monday-Friday fixed ACH
Credit Requirements: Fair to excellent credit score required
7. Small Business Administration- SBA Loans for Small Businesses in Colorado
The United States Small Business Administration (SBA) is a Federal government agency, headquartered in Washington DC. It provides resources, programs, guidelines, and loan guarantees to approved SBA Lenders to issue business loans to small businesses. The SBA's mission is to help American enterprises successfully start, build, and grow their businesses. The SBA is not a lender. It provides a guarantee that gives lenders the ability to take on the risk of business lending and other decisions they ordinarily would not. The SBA terms have rights reserved for any recourse needed. SBA loans are highly sought after by small businesses, and there are many government agency approved lenders to choose from. The loan application process can be lengthy, but with the help of an experienced SBA-approved lender to help your business through the application process, it can be a smooth and efficient experience. Some SBA loans require a business plan.
SBA Loans Product Overview
Interest Rates: Starting at 3.50%, treasury index plus 1% to 2.5%  
Term: 3 to 25 years 
Fees: Origination fees 0% to 3%
Payment: Fixed monthly
Credit Requirements: Good to excellent credit score required
Small Business Administration SBA Loans, Lending Programs, Updates and Resources in Colorado 
Small Business Administration SBA Standard 7 (a) loan – SBA loan 7(a) is the SBA's primary program designed to provide financial assistance to small businesses with a good track record. Like the guaranty percentage and amount, the terms and conditions may vary by the type of loan approved for a small business. Real estate may be used for collateral but is not required. The maximum loan size is no more than 5 million, SBA Express max loan size no more than $350,000.
Small Business Administration SBA Loan 504- The SBA 504 Loan is a powerful economic development loan program that will provide small businesses with another avenue for business funding while promoting business economic development and job creation. The use of proceeds from SBA 504 Loans must be used for fixed assets such as construction, owner-occupied commercial real estate, mixed-use real estate, land improvements (and particular soft costs), or can also be used to refinance existing debt on your small business. The maximum SBA loan size is $5 million.
Small Business Administration COVID-19 SBA Loan Programs & Resources Updates
Small Business Administration SBA Disaster Loan – Economic Injury Disaster Loans (EIDL) assist Colorado businesses after natural disasters like tornadoes, wildfires, or floods. However, when President Trump declared COVID -19 a nationwide health emergency on March 13th, congress provided small businesses access to this loan for emergency funding. This loan was designed for small businesses to retain employees and other expenses to stabilize the company during the COVID-19 pandemic. Suppose a small business has an urgent need for cash while waiting for a decision and disbursement on an Economic Injury Disaster Loan. In that case, they may qualify for an SBA Express Disaster Bridge Loan. SBA Express Bridge Loans enable small businesses with an established business relationship with an SBA Lender to access a loan up to $25,000.
Small Business Administration SBA Paycheck Protection Program (PPP) – The Small Business Administration (SBA) has established the SBA Paycheck Protection Program loan. This SBA loan provides loans to small businesses in Colorado affected by the COVID-19 crisis requiring financial help. Under the right conditions, this loan offers forgiveness. This loan was designed for companies to retain employees and protect jobs during the COVID-19 pandemic. (Updates: Applications closed August 8th, 2020)
SBA Express Loans are business loans partially guaranteed by the SBA with expedited credit decisions. SBA Express loans offer credit decisions in 24 to 36 hours. Like all SBA loans, the SBA doesn't do any direct lending for SBA Express loans. Instead, the SBA works with a network of approved lenders who underwrite and issue the loans. However, they guarantee a portion of the loan amount, meaning if the borrower defaults on the loan, the lender won't lose all of their money.
SBA Learning Center-Financing Your Business – Assess your financing needs and discover SBA financing options for your business.
SBA Grants Programs and Eligibility – Learn about available SBA grants and cooperative agreements to determine if you meet the SBA application requirements.
U.S. Small Business Administration
How to Grow Your Business in Colorado
View the Colorado Small Business Resource Guide for information and assistance in growing your local business, exploring funding options, and contracting.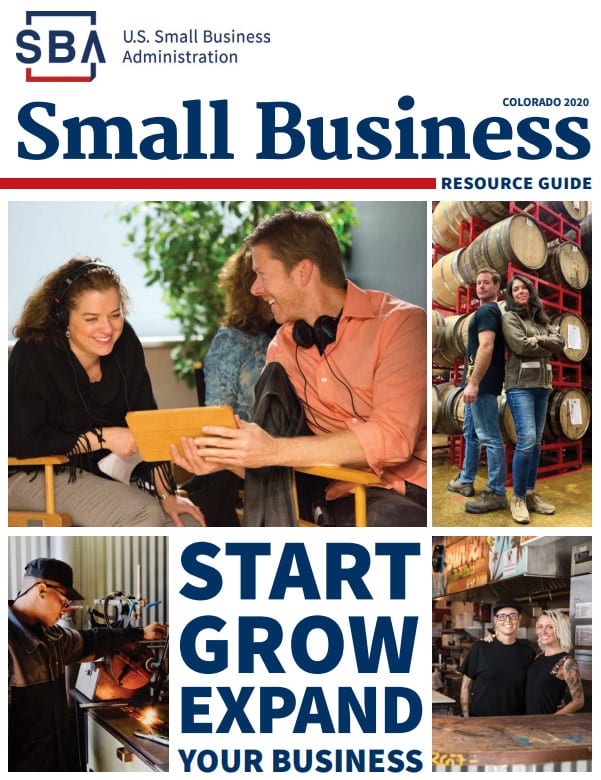 8. Invoice Financing for Small Businesses in Colorado
Invoice financing advances the outstanding balance to a business owner to increase cash flow speed to the business. This solution provides cash quickly, and there is no need to wait for unpaid invoices to be collected and received by the client with invoice financing in place. Invoice financing has affordable costs ranging from 1% to 2.5% fee off of the face value of the invoice advanced. This product is typical for industries such as manufacturing.
Product Overview
Interest Rate: None
Term: Not a traditional loan
Fees: 1% to 3% fee based on the invoice. Monthly Service fees may apply depending on the volume of invoices factored
Credit Requirements: The credit score of the business owner does not matter
The Fast, Convenient, and Straightforward Way to Get the Money You Need for Your Colorado Small Business – Now!
Get Your Business a Quote and More Information Today By Filling Out a Simple Form on Our Website.
Why Do Colorado Small Business Owners Need Financing?
The most common reasons Colorado business owners use a loan:
Access to Working Capital

Equipment Purchase and Repair

Access Capital for Inventory

Business Plan Expansion

Cash Flow Shortages

Access to Capital for Emergencies

Advertising / Marketing / Customer Acquisition Resources

Create More Jobs, Recruitment of Employees and Training Resources
Frequently Asked Questions by Colorado Small Business Owners
Are Small Business Loans challenging to obtain in Colorado?
It is not difficult to obtain small business loans in Colorado as there are many small business lenders and funders that service Colorado. As a customer, choose your lender and business loans wisely.
Can I apply for a small business loan using an online business funding website? Is it trustworthy?
The internet is an invaluable resource when searching for a business lender. Most businesses search the internet for business lending websites to glean additional information, find reviews on a business lender, inquire for details, and apply for a quote. This internet search process allows businesses to shop, compare, and potentially save significantly. Are websites trustworthy? They're as trustworthy as visiting any Colorado small business in person. You are not evaluating the website as much as you are the company and people with whom you communicate. The website is merely the port of entry. It's like walking into a business without leaving the comfort of your home. The companies you deal with must earn your trust through customer service, customer treatment, and quality offers. 
Can Colorado applicants qualify for Small Business Loan if they have bad credit?
There are many business lending options available for small business owners with bad credit. Financing options will vary depending on the risks associated with this type of funding and impact terms, pricing, and costs. 
Initiatives, Government Programs, and Grants in Colorado for Small Businesses
Additional Small Business Resources, Tools, Support, Updates, Help and Information
Colorado Lending Source – As a small nonprofit lender, its mission is to foster economic and job growth for diverse small businesses in Colorado communities. Colorado Lending Source is a membership-based organization made up of lenders, small businesses, community organizations, and government groups. Membership is free for individuals, and it ensures that you will be informed of events, successes, and the latest news.
Colorado Lending Source Loans – Provides access to capital to meet business needs. Loan options include Commercial Real Estate (Small Business Administration 504 loan), General business Loans (Small Business Administration 7(a)), Community Advantage, and Colorado Main Street (no longer accepting applications for this program).
Colorado Enterprise Fund – As a CDFI, Colorado Enterprise Fund is a nonprofit lending institution that offers loans to small businesses unable to get traditional bank financing. Colorado Enterprise Fund is a nonprofit corporation that leverages investments and grants from a lending source such as financial institutions, foundations, government agencies, other nonprofits, and individuals to provide capital and technical assistance to borrowers. Together with these funders, CEF serves small businesses and produces jobs in their communities throughout the state sustainably and responsibly.
Colorado Enterprise Loan Options  – Includes 2020 Colorado needs such as SBA Paycheck Protection Program (protects jobs), City and County COVID-19 Relief Loans, Delta Dental COVID Relief Loan, Community Loan Funds, Small Business Loans, and SBA Microloan.
Colorado Office of Economic Development & International Trade – Startups and Small Business – The Colorado Office of Economic Development and International Trade (OEDIT) works with Colorado partners statewide to create a favorable business climate that encourages dynamic economic development and sustainable job growth. Discover financial resources by searching for a lending source and technical assistance to support local and regional economic development activities throughout Colorado.
Colorado Office of Economic Development & International Trade – COVID-19 Business Resource Center
Colorado SBDC – Helping businesses statewide respond to the 2020 Colorado COVID-19 health crisis. Small Business Response provides a lending source, resources, and job protection.
Colorado Housing and Finance Authority (CHFA) – Colorado Housing and Finance Authority (CHFA) Community Development team partners with a lending source and economic developers to provide the resources and financing needed for future growth and job creation. Colorado Housing and Finance Authority (CHFA) can help you reach new heights with your business, whether you are a for-profit or nonprofit. Colorado Housing and Finance Authority (CHFA) has unique programs for manufacturers, rural companies, and healthy food grocers.
How to Apply for Small Business Loans in Colorado
Applying for capital with AdvancePoint Capital is a simple, easy, and streamlined loan process with decisions in hours, not days. We are known for our customer service and business finance resources. Take the first step toward a better future. Start with this online form, fill out the short application page, provide information, wait a few hours for your approval, and then get your loan! Or you can call our toll free phone number and speak to our business development advisors. See the benefits of working with AdvancePoint as you take the first steps in the loan process and do your homework to make an informed decision. Let us be your lending source and provide you the navigation to find which loan best suits your needs.
The quick, convenient, and straightforward way to get the funding you need for your business – now!
Contact AdvancePoint Capital and Get your Quote Today by filling out our simple form.