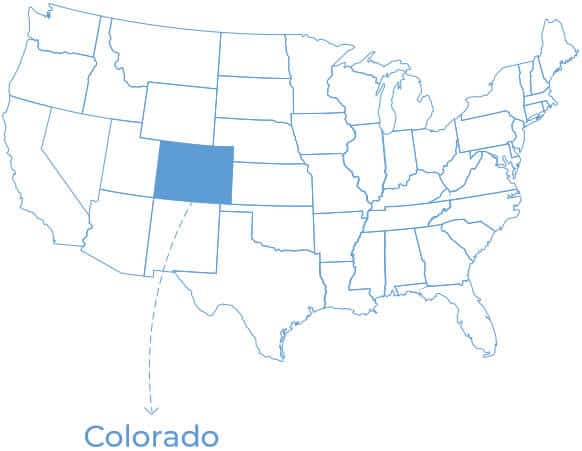 Colorado has exploded into a major center for both urban development and rural expansion. There are plenty of business hotspots in Colorado, from Aurora to Fort Collins. New businesses are popping up all the time in Colorado, and they often need financing to get started.
If you are a small business owner in Colorado and need financial assistance, look no further than Advancepoint Capital. We aim to support small businesses like yours by providing small business loans up to $1,000,000. With our small business loans in Colorado, you can access the capital you need to invest in your business's growth and development.
Colorado Small Business Loans Made Easy
Any new business owner in Colorado will tell you that starting a business is no easy feat. There are always things to worry about when operating a business. That's why it's important to have a strong financial foundation from the outset. Having a credit facility available that will handle any financial issue that comes down the pike is important to have in place.
If you're looking for a small business loan in Colorado, the first step is to get in touch with our team. We'll work with you to understand your needs and determine whether or not you qualify for a loan. Once we've determined that you do qualify, we'll match you with a lender who can provide the financing you need.
8 Best Small Business Loans in Colorado (December 2023)

Small Business Loans
The most common request for business financing, small business loans offer popular terms for most needs that a Colorado business owner may have. This product has attractive rates and fixed terms.

SBA Loans in Colorado
The Small Business Administration offers government back loans with attractive rates and terms. To qualify you must have good credit and be able to provide documents to support the health of the business.

Merchant Cash Advance
Merchant cash advance is for Colorado businesses where a majority of sales are processed through credit cards. This solution is an alternative to business loans or lines of credit. Advances are based off of credit card sales and paid out of a set percentage of future sales.

Business Cash Advance
A cash advance is not a loan, but an advance off of future sales of the business Commonly used when traditional bank loans are not achievable. The process is quick and simple with all credit considered and less paperwork.

Equipment Financing
Equipment financing is commonly used by businesses purchasing new equipment. Because of the collateral of the equipment, the terms can range from 2 to 7 years making payments affordable.

Invoice Financing
Invoice financing, also known as Invoice factoring, advances a lump sum to the issuer so they don't have to wait for payment from the client over the typical terms of net 15, 30, 45 or 60 days. This allows business owners to accelerate the payment and improve cash flow shortfalls all for a nominal fee.

Short Term Small Business Loans in Colorado
An alternative to bank loans, short term loans offer higher approval rates and lower documentation. Additionally the process is quick with the turnaround from application to funding sometimes within 1 day. Short term is considered terms ranging from 6 to 24 months.

Long Term Business Loans
A "Long term loan" in business is considered terms from 2 to 10 years in duration. This product is commonly used for business expansion and large projects requiring a lot of capital. The longer term products require better credit and documentation to support the health of the business.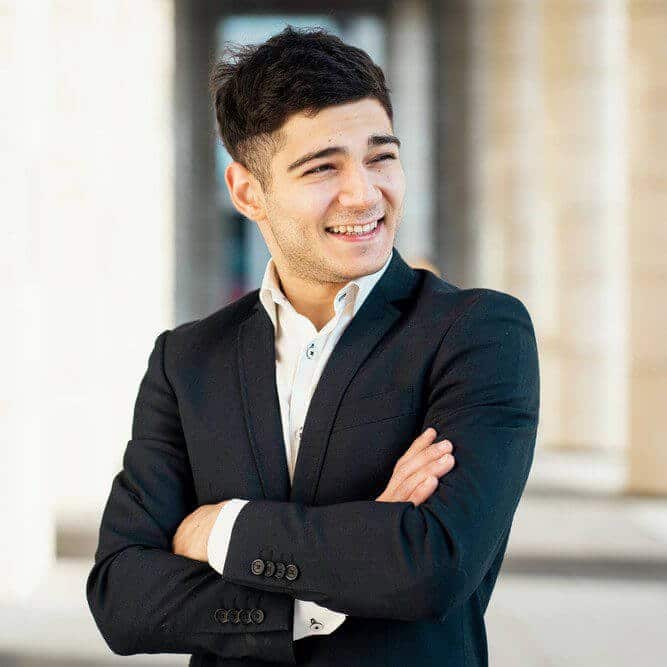 Common Reasons Colorado Business Owners Acquire Loans
Working Capital
Equipment Purchase
Inventory
Business Expansion
Cash Flow
Emergencies
Advertising/ Marketing
Recruitment of Employees
Employee Training
Initiatives, Government Programs, and Grants in Colorado
Why AdvancePoint Capital?
Experience in Colorado- Advancepoint has over 10 years of experience funding businesses in Colorado.
Trusted Reviews and Ratings– 4.8/out of 5 Google reviews and great feedback from Colorado businesses
Loan Specialists – Knowledgeable and experienced business finance specialists assigned to you
No Obligation –Quotes are free with no cost or commitment required.
Products – Network of business lenders and funders with a variety of products and terms.
Apply for Business Loans in Colorado Today!
Obtaining a financing solution or seeking financial guidance in Colorado can present challenges. However, at AdvancePoint Capital, the process of applying for a business loan is both swift and convenient, thanks to our uncomplicated application procedure. Simply complete our online form and application page, and within a few hours, you'll be on the right track to securing a business loan in Colorado.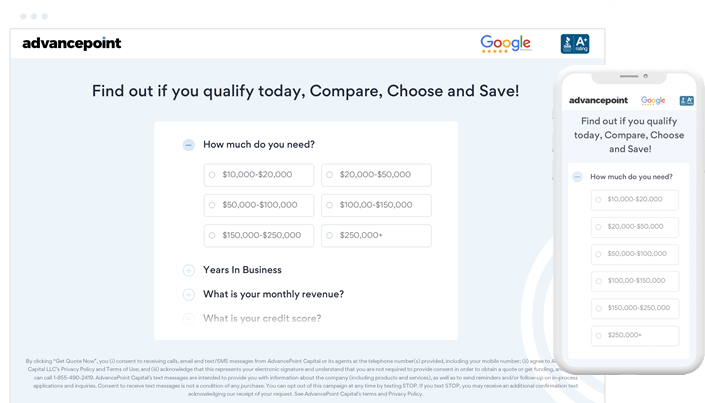 Get Started Today
AdvancePoint Capital makes the loan application process a simple, straightforward experience.
Frequently Asked Questions