Depending on what kind of small business you own, chances are you will need a point of sales (POS) system. Deciding which POS system to take advantage of is an important decision because you'll want to find one that will fit your current needs and grow with your business. POS systems have the potential to transform your customer experience while making it easier for business owners to track sales and inventory and keep personal expenses separate. If your employees work on commission, you can also track their performance and individual sales. With hundreds of systems on the market, it might be hard to make your decision. Check out the comparisons below to see which of the following systems will be best for your business:
Square
TouchBistro
eHopper
Shopify
Vend
What Is a POS System?
POS stands for point of sale. It is the place customers execute their payment for goods or services, including sales tax. POS system transactions occur online and in person and typically generate a receipt for the customer. A POS system that can operate seamlessly across phone, in-store, and online sales is essential in this age of online shopping and digital experiences. For this reason, cloud-based POS systems are increasingly popular among merchants. Deciding how your business will operate is a huge part of creating your business plan and will affect what kind of POS system you purchase.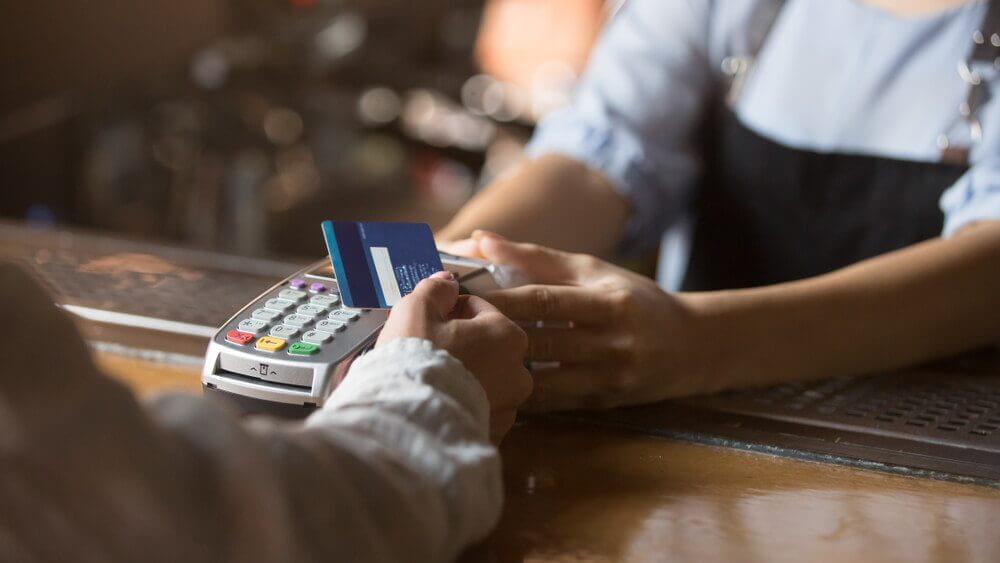 Best POS Systems for Small Businesses
The only way to choose the best system is to research and compare your options. Some systems excel at inventory management, while others are ideal for e-commerce. Cost is also a huge factor because many POS systems require a subscription so the prices will vary. Various processing options and features are available, as well as hardware types and costs. Comparing these options will help you make the right decision for your business.
Square
Square is an excellent option for small businesses because it allows much room to grow. The benefits of choosing Square include easily tracked inventory, an integrated payment system, and a robust free option for online sales. The only downside is that Square has an expensive processing fee for high-volume businesses, and the free option lacks some advanced features. With three different plans, any small business can choose the plan that will suit them best. Square offers a register, mobile square readers (great for small businesses that travel to fairs or markets), and iPad stands. This allows maximum customization, and all three plans come with the following standard features:
Barcode scanning
Low stock alerts
Sales reports
Time tracking
Timecard reporting
Invoice and electronic gift card options
Instagram selling capabilities
TouchBistro
TouchBistro is a POS system perfect for food and beverage sales because it can provide cloud-based analytics and has a simple, easy-to-use interface. If you are looking for an iPad POS system for your bar, restaurant, or cafe, you should consider TouchBistro. They have restaurant-specific hardware, which is essential for the food industry where there's the risk of spills and restaurant inventory management tools. TouchBistro uses mainly Apple products, so if you aren't as familiar with Apple, it might be an adjustment. The features they offer include:
Intuitive touch controls for table management
Add recipes to manage inventory costs
Access reports and data via the cloud portal
Remote menu management
Integrate with popular programs like QuickBooks, Sage, and 7Shifts
eHopper
eHopper is a great inexpensive POS system for small businesses, with built-in inventory management and low-cost plans. One important thing to note, however, is that eHopper does not offer gift card management. So if gift cards are an essential aspect of your business, you'll want to choose a different POS system. eHopper works with iPads; all four plans include integrated credit card processing features. The merchant fees are passed to customers via a surcharge, which is something important to note so that your clients aren't surprised by the small additional fee. Here are some of the features that every eHopper plan includes:
Tip management
Reporting options
Customer management
Inventory management
Print or email receipts
Self-service kiosk options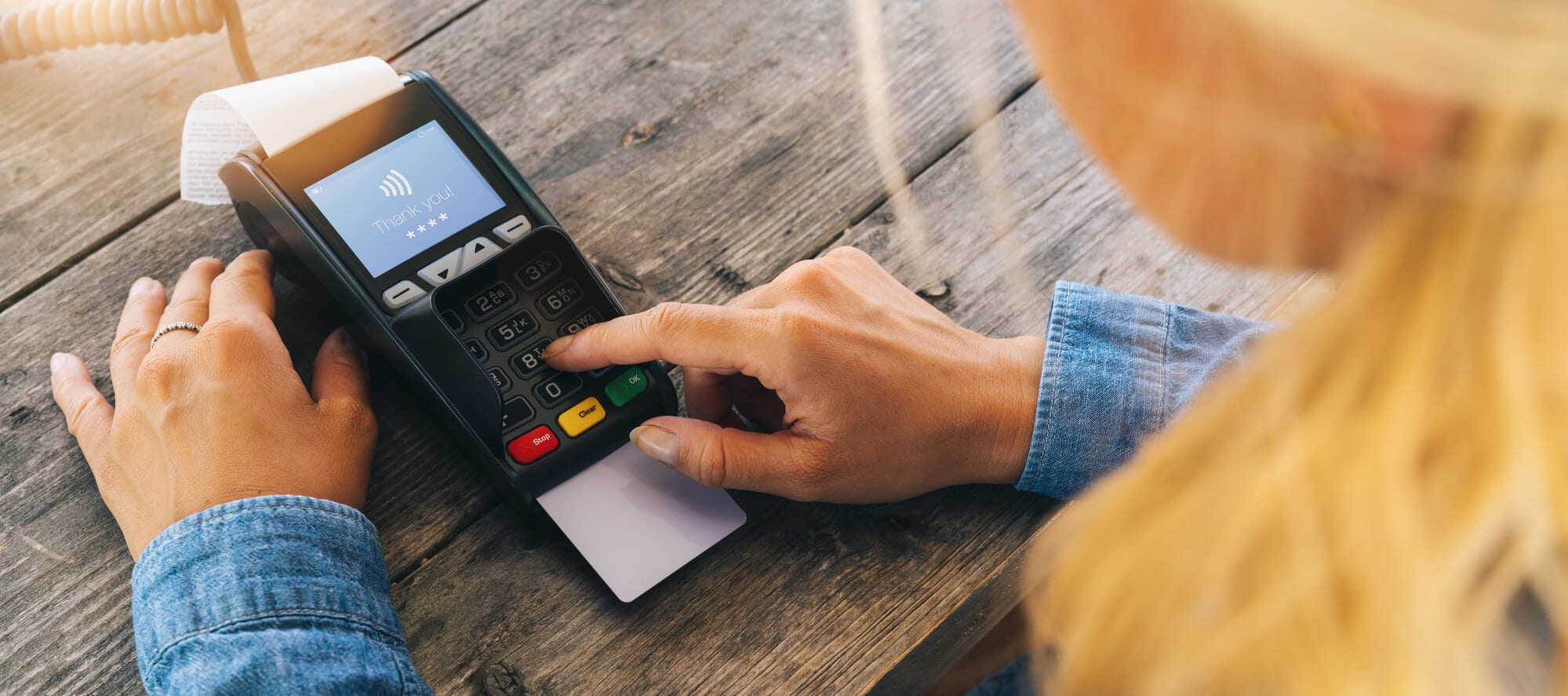 Shopify
Shopify remains one of the most popular POS systems for small businesses today. They make overseeing in-store and online sales easy from a mobile dashboard, with no extra transaction fees above interchange rates. Shopify also has a variety of plug-and-play hardware so you can fully customize your POS system set-up. Choose from tap and chip card readers, iPad stands, and complete retail kits. Shopify has been operating since 2004 with many happy customers, so it's easy to see why many small businesses rely on them for their POS systems. Some of their features include:
Robust virtual features for e-commerce
Quick response (QR) codes
Customizable checkout options
Order and product management
Customer profiles
Integrated credit card processing
Vend
Vend is one of the best POS systems for small businesses in the retail space. The software is easy to use, making training employees much easier. There are no limits on the number of products, and the systems are compatible with all equipment types. Vend works best with retail thanks to its advanced inventory management and analytics, which are essential for shops that need to manage their goods. Though it can get costly when adding registers, all versions have features that will significantly support your retail operations, such as:
Real-time inventory management
Unlimited products and employees
Total cash management
Inventory control levels and alerts
Customizable receipts for email or print
A mobile dashboard
Easy-to-personalize reports
POSApt
POSApt is a new competitor in the field of cloud-based POS systems for small businesses. It packs all the basic functionalities of a regular POS system with a few niche features like HR Management and Short-Term Cash Flow Assistance. On top of being super easy to use and navigate through, you also get hands-on training during the installation so you know exactly how to use your POS system. While their basic plan covers the needs of a single-outlet business, we recommend also purchasing their online ordering system instead of getting it from somewhere else as they integrate with each other pretty well. The most notable features of POSApt that are available in all their plans are:
Cloud-based POS
Order Management
Inventory Management
Easy integration with Accounting Software
Inbuilt HR Management
Customer Booking
Live Reporting
PO/Credit Note Management
Credit Card surcharge
Choosing the Best POS System for Small Business
Once you've evaluated all of the great POS systems on the market, it will be easy to decide what's best for your small business. Industry can play a significant role in determining which POS system is best because some are designed with retail in mind, while others cater more to the food industry. Looking at all the features and deciding which are essential for your business can help you make the right choice. If you're trying to determine what plan you can afford, consider using a financing software program to help you make safe fiscal decisions for your small business. Each POS system has excellent benefits that you should take advantage of to help your small business reach the next level.