Credit
As the old saying goes, credit is king. Most business financing products review both the personal credit of the business owner and the business credit. The better the rate and terms of the business funding product you are applying for, the higher the credit standards.
Just because you are turned down for credit reasons does not necessarily mean you cannot get financing for your business. It just means that the specific type of business loan you were denied for isn't the right one. Check to make sure all options have been explored before giving up your search for business funding when denied for credit reasons.
AdvancePoint Capital's business funding marketplace has a variety of products for credit-impaired business owners. If you want to learn more about credit and what business lenders look for when making an underwriting decision, the following guide will help you understand in greater detail.
Did you review "How Does Business Credit Work: A Simple Guide to Establishing and Maintaining Business Credit"?
Time in Business
The length of time in business generating revenue will dictate what business funding products can be offered. If you are less than three years in business, many traditional business loan products will not be available to you. But, there are a lot of business funding alternatives to consider. AdvancePoint Capital can guide you through the options available for both new businesses and well-established ones.
The Restaurant Industry Is "Risky"
Some banks find the restaurant industry too risky to lend too. So, even if you meet the normal requirements for a traditional long-term business loan or business line of credit, you may be left out in the cold just because of the nature of the restaurant industry. The good news is that there are many products and business lenders who are willing to take on the risk.
Collateral
Some small business loans with attractive rates and terms may require collateral to approve business loan applications. Traditional lenders require collateral, and if you don't have it, you will not get approved. There are many business funding alternatives, such as unsecured business loans that do not require certain types of collateral. Contact AdvancePoint Capital for details.
Debt Utilization Is Too High (Or Not High Enough)
Lenders and funders look to see what kind of debt you currently have to see if you are overextended and can or cannot afford more debt. On the other side of the coin, if you lack any history of debt, you may be viewed as high risk as well, so a balance is ultimately what you are striving for. Some business funding products have more tolerance for debt utilization. Not all business funding products look at debt utilization the same.
Cash Flow
Cash flow is a very important factor for all business funding products. Cash flow determines the ability to repay a business loan while being able to manage normal business expenses and still have a cushion of cash. If your cash flow dips too low, approval may be difficult with some business funding options, and alternative business funding options may need to be explored.
You Went for the Wrong Loan or Worked With the Wrong Business Loan Originator
Choosing the Right Business Funding
This reason for denial is more common than you may think. Banks and traditional business lenders offer both term loans and business lines of credit. Some banks offer SBA loans, and others do not. Also, banks and traditional business lenders have overall less business finance product options than a business finance marketplace.
Every business originator differs in terms of what products and services they offer, so it's important to ask what type of business finance products they offer upfront to see if they are diversified enough and can provide you the best options available in the business finance marketplace. Choosing the business loan originator who understands your qualifications is important, so time, effort, and in some cases, money is not wasted.
Additionally, there are many different business funding products that will allow for credit issues, no collateral, low daily cash flow, and many other reasons that could cause a denial of one business loan, but not for another. Not all business funding products are created equal, and neither are business loan originators.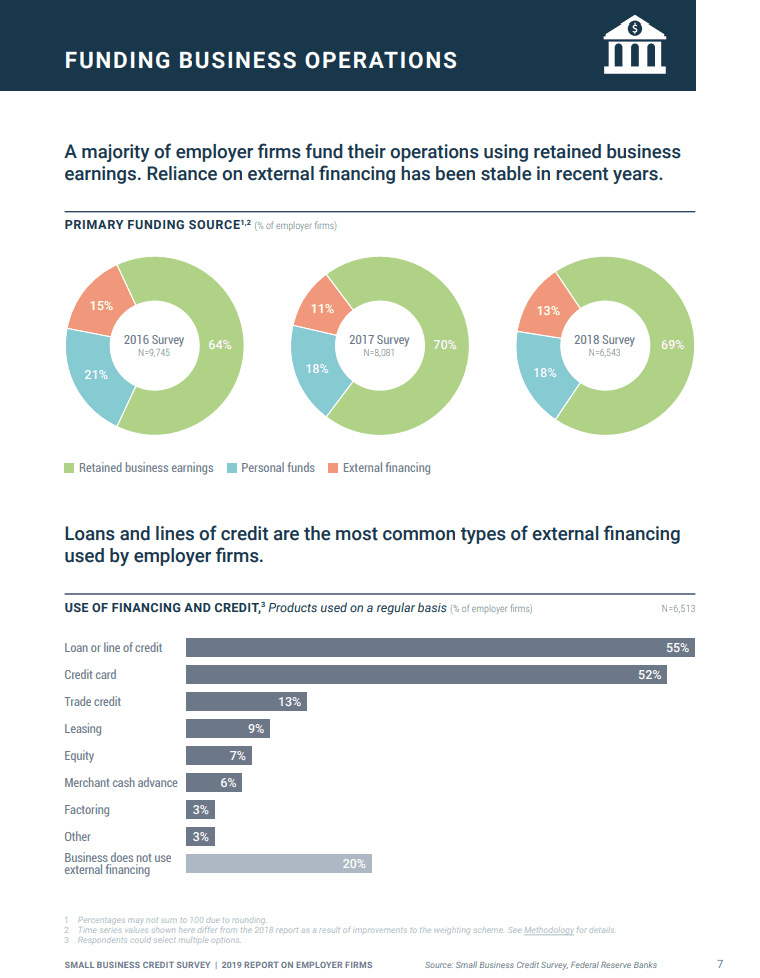 Source: Small Business Credit Survey, Federal Reserve Bank
Different Types of Business Loan Originators That Offer Business Funding
Traditional banks (Bank of America, Wells Fargo, Chase, etc.)

Credit Unions

SBA Approved Lenders

Online Business Lenders (Fintech) or Online Business Originating Marketplace's

Business Loan Broker's

Long-Term Business Lenders

Equipment Financing Companies

Invoice Factoring Companies

Private Business Lenders

Hard Money Business Lenders

Commercial Real Estate Lenders
The 8 Best Small Business Financing Alternatives for Restaurants
Long-Term Business Loans
Long-term small business loans are small business loans with a duration of greater than two years. Businesses are offered a fixed amount of upfront and charged principal & interest. Typically, long-term business lending is for business expansion and growth or to finance large long-term projects. This business funding option is used for long term projects and needs.
Business Line of Credit
A business line of credit is an open revolving line. This type of funding allows business owners to draw funds when needed on-demand or make purchases—a business line charges a principal and interest rate. Business lines of credit have a credit limit that cannot be exceeded without approval and are not open-ended forever. They require renewal either semi-annually or annually to be extended. This business funding is primarily used for small purchases and working capital.
Small Business Credit Cards
Business credit cards are open, revolving credit lines that charge a principal and interest rate with a limit. A card is issued that can be used for making payments or purchases. Arizona business owners utilize business credit cards in conjunction with other small business financing products. The primary use of this financial product is for purchase of small items or working capital
Short-Term Small Business Loans
Short-term business loans are defined as loans that are typically repaid within 6 to 18 months. This small business funding features a lump sum offered up front with a fixed payback amount calculated using a factor rate over a short term of time. Rates are not principal and interest but a "factor rate" that costs more than traditional loans.
Most businesses choose short term business loans when they do not qualify for traditional business funding. Short-term small business loans charge more for costs and are shorter-term. The payments are more frequent to compensate for the greater risks business lenders take in offering this product. Short-term business loans are popular with small businesses because of the reduced documentation requirements and credit tolerances that are laxer than traditional business loans.
Business Cash Advance
Business Cash Advances (BCA) are also known as the Purchase of Future Sales Agreement that advances future sales at a discount to a business. The business is responsible for paying back a fixed payback amount known as a specified amount, which is greater than the amount that was advanced to the business. This difference between the advance amount and the payback amount is called the "factor rate or cost," which is a fixed cost. This is not principal and interest costs. The advance is repaid by taking a fixed percentage of future overall deposits called the specified percentage. The payments are collected by an ACH fixed daily or weekly payment deducted from a business bank account based on the specified percentage of future sales.
At the end of every month, reconciliation can occur. If the fixed payments taken are more than the set future percentage of sales, a business owner can request a refund back to the business for overpayment so that the set specified percentage of sales collected for the business matches the revenue volumes. Repayment continues until the payback amount is paid back in full. There is no term limit with advances as the fixed payback percentage ever changes due to fluctuating revenue.
Merchant Cash Advance
A Merchant Cash Advance (MCA) is also known as a Purchase of Future Sales Agreement that operates very similarly to BCA's. The biggest difference is the repayment process, which is connected to future credit card revenues instead of overall sales. MCA's take a set percentage of future credit card sales at the time of batch of credit cards until the advance is paid back in full. Business owners find this valuable when they have fluctuating revenues and don't want to be locked into a fixed payment that could negatively impact capital or margins of profit if revenues decline or fluctuate. This small business funding is used primarily for working capital needs.
Equipment Financing
Businesses that use equipment to operate their business often turn to equipment financing for purchases that uses equipment as collateral. Business owners must have very good to excellent credit, but limited paperwork is necessary to get approved.
Small Business Administration (SBA) Loans
The Small Business Administration (SBA) provides programs, guidelines, and loan guarantees to approved lenders for businesses throughout Arizona. The SBA's mission is to help Americans start, build, and grow their businesses successfully. The Small Business Administration (SBA) is not a lender. The Small Business Administration (SBA) provides a guarantee that gives the approved lender ability to take on the risk of business lending under Small Business Administration (SBA) terms that they would not ordinarily do on their own.
The Bottom Line: Advice and Tips About Applying for a Business Loan for My Restaurant
Whether it's a Business Loan Broker, Direct Business Lender, or a Business Finance Marketplace Platform, there should always be a basic approach as to who you would want to work with. It's important to ask questions and do your research about the business loan originator you are choosing. AdvancePoint Capital has years of experience understanding restaurant needs and knowing what funding options are available in the industry.
As a business owner, always ask yourself the key questions when getting a business loan for your business. What types of business financing products are offered? Does the business loan originator have the experience and knowledge to assist me in finding the best product for my needs? Does the business loan originator not only have great customer service on the origination of my loan, but also on the processing, funding, and servicing of my loan on the back end?
Did you review "Why You Should Use a Business Loan Broker" and "The 11 Warning signs to look out for when dealing with a business loan originator"?
Once you make your decision on who you want to work with, you are still the final decider on any business finance product you choose. Always start by asking why do I need the money and how am I going to put it to good use for the business? Have I been given all business funding options in the marketplace? Am I getting competitive rates, costs, and terms for my situation and credit profile? Have I done my cost verse benefit analysis for borrowing money for the business?
Always check your proposals, term sheets, and agreements for terms and conditions, which should include the cost of money (interest rate or factor rate), all closing or funding fees, term duration, payment frequency, personal or business guarantees, and any collateral requirements.
If you ask the tough questions of yourself and the business owner, you will be better armed to make great decisions about products and terms offered.
How to Apply for a Business Loan for Your Restaurant Using Advancepoint Capital's Business Funding Marketplace
Applying for a loan with AdvancePoint Capital is as simple as 1, 2, 3, 4. Start with this online form, then fill out the short application page, wait a few hours for your approval, and then get your money!
The fast, convenient, and straightforward way to get the money you need for your business – now! Get your quote today by filling out our simple form.