Many business owners find success in opening a new franchise location. A franchise works when a franchisor establishes a brand's trade name, and a franchisee pays a royalty to operate a business under the same brand name.
Franchises are common in spaces such as fast food, real estate, home improvement, hotels, automotive repair, fitness centers, and more. A few popular franchised businesses are:
McDonald's
Anytime Fitness
Ace Hardware
Holiday Inn
Great Clips
Perhaps a franchisor has handed you a franchise disclosure document, and you feel ready to open a location tomorrow. But, while opening a location for an existing franchise is often more economical than starting a brand new business, there are still costs you need to be aware of. You will need funds for a franchise fee, build-out costs, and operation costs.
To adequately fund your franchise purchase, you will need to pursue franchise financing. Let's explore five things you should know before securing a franchise loan.
1. Understand Your Net Worth and Any Financial Shortcomings
The first thing you need to know before pursuing franchise loans is your net worth. Determining your net worth will require you to create a balance sheet with your assets and liabilities. Under assets, list what you own, such as:
Cash on hand
Savings accounts
Checking accounts
Real estate
Automobiles
Insurance cash values
Bonds
Stocks
All other assets
Total up all of your assets, and be sure to include possessions whether or not they are fully paid off. Once you've made a note of your assets, the next step is to list your liabilities. Note all money you owe under your liabilities, such as:
Home mortgage
Auto loans
Student loans
Current monthly bills
Company loans
Hospital debts
Credit card debt
Even though noting all of your liabilities can be overwhelming, avoid frantically paying off outstanding debts before applying for a loan. Lenders would rather see that you have capital available.
This exercise of listing out liabilities will help you gain a solid understanding of your credit report. Potential lenders will take an interest in your stability, income, and track record over the years.
If you haven't opened a business yet, lenders will base financing off of your personal credit score. Creating an outline of your net worth will help you explain gaps in your payment history. Lenders often need to see proof that you can finish what you start.
Your budgeting habits will be a good indicator of your ability to manage finances. Lenders are more apt to work with people who make a lower income and budget nicely than people with a significant income who don't pay their debts.
2. Make a Thorough Franchise Business Plan
Before you approach lenders, it is paramount to create a detailed business plan. A business plan is helpful for everyone involved; including you, lenders, business partners, and employees.
Even if you have a low credit score, business loans are not out of the question. A thorough business plan can be a significant advantage towards getting your loan application accepted.
Franchise costs go beyond the initial franchise fee. You will also need to plan for building and operating costs, such as:
Down payment on the land or mortgage
Construction teams
Equipment
Signs
Inventory
Employee training
Promotional efforts
A business plan outlines how much money you need and why. Additional details to include in your business plan are:
Intended business structure
The product or service
Market forecasts
Prominent competitors
Sources of supply, labor, and materials
Marketing plan
Insurance needs and costs
Anticipated sales
Business's cash flow
Amount of working capital needed
Understanding financial projections is necessary before starting a new franchise location. If you have never created a business plan before, there are many free templates online that can help you get started.
3. Reserve Some of Your Cash
Before you dive headfirst into opening a franchise location, consider how much of your cash reserves you're willing to invest. Opening a business requires commitment and a significant investment, but you should avoid spending all of your cash reserves.
A good rule of thumb is to never invest more than 75 percent of your cash on hand. For example, if you have $10,000 in savings, invest up to $7,500 in your business. Use your net worth outline to help determine how much of your cash reserves are available and how much you should rely on financing.
Another unwritten rule of starting a franchise or any business is to avoid pulling money from special accounts. For example, it is best to leave your retirement fund and children's college accounts untouched.
If things go wrong and you ultimately need to close your business, you will be thankful that you didn't invest all of your money into the effort. It is vital to have cash reserves to fall back on in case of an emergency.
4. Loans From the Franchisor May Not Be Best
It is worth communicating with the franchisor so that you don't rule out any potential funding options. However, be prepared to keep your options open after receiving loan information from the franchisor. Franchisors can carry a percentage of the loan from 15 percent up to 75 percent.
The purpose of franchising is to expand the business and raise capital, so most franchisors are eager to help fund a new location. However, you may find better financing options elsewhere, so don't limit yourself to the first loan option you find.
If you have bad credit, a franchisor may be hesitant to offer you a loan. In that case, it is best to seek out alternative financing.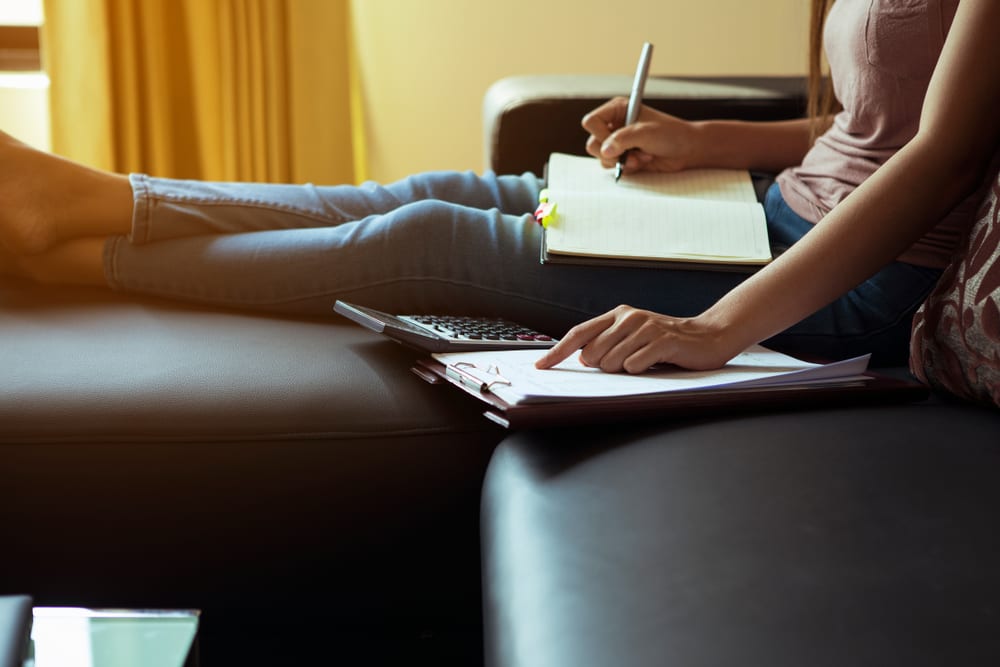 5. Research Multiple Franchise Loans
It is best to research as many loan options as possible. For instance, if you have a poor credit report, your best option is to seek financing from online lenders. Franchise loans come in many different forms, and each option has separate terms and requirements.
Online loans, in general, are easier to secure than traditional bank loans. In addition, online lenders offer faster turn-around times on your loan application, while bank loans require complicated applications that take months to review.
Alternative lenders offer many options for franchise loans. The best loan options for franchises are:
Small Business Loans
The Small Business Administration (SBA) is a government agency that works to pair small business owners with approved small business lenders. A small business loan is one of the best financing programs to successfully grow a franchise because you can use the funds for a wide variety of purposes.
SBA loans are highly sought after because of their great rates and flexibility. However, SBA loans are often more challenging to secure than other loans because they have stricter requirements and guidelines. SBA loans require a good to excellent credit score, and the application process takes a lot of time, commitment, and energy to complete.
In addition, the processing time for SBA loans ranges between four to six weeks which is longer than other alternative loan options. Consequently, SBA loans are ideal for borrowers who do not need immediate funds.
Term Loans
Term loans are great options for a franchise owner because they offer flexible repayment terms, depending on what you qualify for. Term loans refer to a lump sum of money used for business purposes that you must repay within a certain period.
The most popular term loans for franchises are short-term loans and long-term loans.
Short Term Loans: Short-term loans are easier to secure with a low credit score. The repayment term is 18 months or less—a fantastic option for business owners who need fast funds.
Long Term Loans: Long-term loans are usually offered to borrowers with a higher credit score because the repayment term is between two and 25 years.
Term loans can be used for various business purposes such as working capital, expansion, renovations, equipment, and more. Loan payments on long-term loans are made monthly or bi-monthly, while short-term loans can require weekly or even daily payments.
Business Line of Credit
A business line of credit (LOC) is one of the most flexible financing options available. Lines of credit are often obtained for backup funds in case of recurrent cash flow issues.
In a business LOC, lenders provide access to a specified amount of cash. The borrower can draw on the money whenever it is needed. The best part is, you only pay interest on the funds you use.
Borrowers love the renewability of business LOCs. You can repeatedly draw funds, make the necessary payments, and draw more funds. There is no limit on drawing funds as long as the required payments are made.
Your personal credit score, time in business, and annual revenue all help determine your eligibility for a line of credit. Often, a personal credit score above 600 is required.
Business lines of credit are best for:
Emergency cushions
Seasonal expenses
Operating expenses
Working capital
Payroll
And more!
Business or Merchant Cash Advance
Cash advances are popular financing options for franchises. There are two types of cash advances: business cash advances and merchant cash advances. These forms of financing are similar, but they are distinct in the way funds are repaid.
A lender exchanges a lump sum of cash in a business cash advance for a percentage of the business's daily sales. Each day, a fixed rate of your daily sales is deducted directly from your bank and paid to the lender. The deduction process continues until the balance is paid in full.
A merchant cash advance operates similarly. The only difference is that a merchant cash advance is based on future daily credit card sales rather than overall sales. A fixed percentage of credit card sales is deducted until your balance is paid in full. You can apply for a merchant cash advance with a low credit score.
Business and merchant cash advances are great options for people who need fast cash flow. There are no time limits, and the automatically deducted percentages are great because you won't need to remember to make regular payments.
Equipment Financing
Equipment often accounts for between 25 and 75 percent of a franchise's start-up costs. All franchise businesses need equipment of some sort, whether it's large fitness equipment, furniture, or computers.
Equipment financing is a popular option because it is low-risk for lenders. Equipment loans work by lending funds designated explicitly for purchasing equipment. Equipment loans are popular in healthcare, construction, and franchises of all kinds.
Since the borrower purchases equipment as a business investment, it acts as collateral which lowers the lender's risk. The best part about equipment loans is once you've paid back the balance, you officially own the equipment.
Discover Franchise Financing Options Today
Preparation and research are essential when it comes to financing a franchise. As long as you do not overlook all of the costs that come with opening a franchise location, you should be able to create an adequate business plan that appeals to lenders. Then, shop around for the best loan for your business because there are many fantastic options out there.
If you're ready to learn more about financing options for your new franchise location, contact AdvancePoint Capital today. We will offer you a free quote that won't affect your current credit score. So, don't wait any longer to make your business dreams a reality.