Farmers like you have a lot of decisions to make and there are many options for your loan needs. Whether you want to buy land, purchase real estate or equipment, cover operating expenses, purchase livestock or pay off debt with your farm-related business venture, sifting through loan programs can be a challenge. Your best option may be an online lender for your farm loans.
While banks and other traditional lenders offer a wide range of financing options, there are some downsides. Strict terms, unwavering credit requirements, mountains of paperwork and documentation, and other factors may limit your opportunities. That's where online lenders come to the rescue.
For those who are interested in alternative financing and how it can benefit farmers, read on for more information about agricultural loans from online lenders and why they might be right for you.
What are Farm and Agricultural Loans From Online Lenders?
Farm and agricultural loans from online lenders are a way to get the funds you need for your farm-related business venture. Whether you want to purchase land, equipment or livestock, an online lender might be able to help with financing needs.
A full-service bank is also another great option if they have what you're looking for in terms of loan product offerings that can provide value while staying within your budget.
The rates charged by these banks may not compare favorably when it comes down to money lent versus interest paid overtime, so there should never be any assumptions made about which solution will work best without evaluating all options available firsthand.
This means talking with multiple lending institutions before committing anything, as each one will offer different types of products tailored towards your goals. However, banks and other traditional lending institutions can prove difficult with rigid approval guidelines and countless requirements for funding.
So, it's all about doing your due diligence and researching all of the financing options available before making a final decision. Whether it's choosing a bank, commercial lender, or online lender — there's always an opportunity for getting the cash you need for your farm today.
Why Should I Get a Farm or Agricultural Loan?
There are many reasons why you might want to get a farm or agricultural loan.
They provide flexible fixed rates so that your payment doesn't fluctuate with market volatility.
The interest rate is often tax deductible which can help reduce the financial burden in an uncertain economy.
Some of these loans offer additional benefits such as crop insurance programs and access to retirement account funding for farmers without other means of having this type of financial security.
On top of all that, it's important to remember that there are plenty of options available when considering how much money should be borrowed – from $500 up to six figures depending on what works best for your needs!
What if I don't qualify? Well, through online lenders, there is a wide range of funding options available with varying approval requirements, giving you the flexibility and freedom to discover the perfect option for your farming or agricultural operation.
Who Qualifies For a Farm or Agricultural Loan?
Qualifying for a loan from an online lender depends on a few primary factors. Your application will be declined if you meet any of these criteria:
*You are under 18 years old and not emancipated
*You have no means to repay the loan (no income or savings)
*No collateral for security against an unsecured loan.
If you don't qualify, there is still a range of financial assistance available that may suit your needs better than borrowing from a bank – such as agricultural grants.
Some other options include USDA loans, applying for funding through local government organizations like land-grant universities and county extension agents.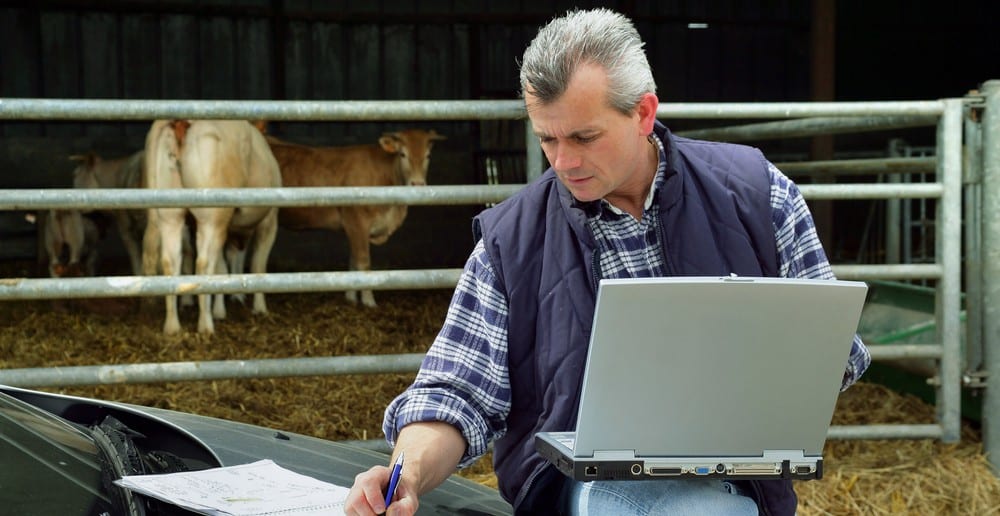 The 7 Ways Farmers Can Take Advantage of Online Lenders
1. Gain Access to Revolving Lines of Credit
If you're looking for a flexible and revolving financial solution for your farming business, look no further than a business line of credit.
Both farmers and ranchers can take advantage of a business line of credit to draw money on demand up to a certain credit limit. You only need to pay interest on the money you draw, with monthly payment terms.
How You Can Benefit From a Business Line of Credit:
Reduced cost and fees compared to other financial options
Draw money whenever you need it most for working capital, ag expenses, and more
A perfect solution for cash flow shortages
Only pay interest on outstanding balances
2. Utilize Varying Terms + Loan Amounts
Both long-term and short-term loan options are a great way for farmers, agriculture businesses, and ranchers to get the cash flow they need for their operation. The primary difference between short-term and long-term loan types is the repayment terms and the amount of capital you can borrow.
Short-term loans offer an accessible avenue to funding, especially when other financing options aren't possible due to lacking credit scores or insufficient paperwork. With a fixed term of 6 to 18 months and fixed factor costs, payments are made bi-weekly, bi-monthly, or weekly. These loan programs can be used for a wide range of agriculture business expenses such as working capital, renovations, and general cost usage.
Long-term loans are for greater sums of capital with longer repayment terms. With a fixed lump sum of cash upfront, the length of repayment can range anywhere between 2 to 10 years. Due to the extended length of repayment, long-term business loans for farmers have higher credit standards and time in business requirements (typically 2-3 years minimum). However, they do boast attractive interest rates and access to higher amounts of capital compared to their short-term counterpart.
Deciding between these term loan options depends on your credit history, time in business, and the amount you need for your total loan.
3. Purchasing Farm Equipment
The machines and equipment farmers and agricultural pros use every day are essential to maintain and expand operations. These are the lifeblood of a farmer's business and provide a wide range of essential functions throughout their agricultural business.
Typically, cash flow or cash on hand isn't going to cover the cost of purchasing new equipment or upgrading outdated machinery. That's why equipment financing is essential to gain access to equipment like irrigation systems, tractors, harvesting systems, and more.
Through equipment loans for agriculture and farm business, you can secure equipment as collateral. These are structured as fixed-term loans. Bad credit? No problem. You can still get equipment financing with poor credit.
Why Use Equipment Loans for Your Farm:
Get approved same-day to 24 hours
Repayment terms of 1-7 years
Affordable monthly payments
Minimal paperwork
Free up cash flow by financing equipment instead of paying out of pocket
4. Rebuild From Natural Disasters
The United States Department of Agriculture (USDA) has USDA farm loans to assist in the unfortunate case of a natural disaster. Whether it's drought, flooding, fires, tornadoes, insect or disease infestations, or other natural threats — there are options.
USDA loans can help alleviate massive revenue damages caused by natural disasters. Agriculture loans or a Farm Service Agency FSA loan will help cover repair and operating costs.
Additionally, there are guaranteed farm loans, direct loans, and other options available through the USDA Farm Service Agency.
These include farm operating direct and microloans, farm ownership direct, microloans, joining financing, and down payments. The FSA offers guaranteed farm loans through a commercial lender of up to $1,776,000.
Benefits of USDA Farm Loans & Guaranteed Farm Loans:
Peace of mind that your farm will be taken care of
Wide range of farm loans available, including those for natural disasters
Agriculture loans built for your operation
5. Grow and Expand Through Agriculture Loans
One of the primary reasons why so many farmers and ranchers can benefit from online lenders is to grow and expand their operations. If traditional banks, farm credit services, commercial lender or FSA loan program turns you down — you may not know where to turn.
While it can be a bummer to miss out on loan terms you were looking for, you're not dead in the water just yet. Luckily, online lenders offer a wide range of financing options that farmers and ranchers alike can take advantage of.
You can use online lenders and their farm loan products to purchase livestock, hire additional farm employees, revamp irrigation systems, manage working capital, and so much more.
6. Manage a Volatile Marketplace
It's no secret that the agriculture and farming industry is somewhat unpredictable. While there are certainly ways to forecast the future — crops, livestock, and equipment can all ebb and flow from year to year.
Your farm is also likely a seasonal business venture, which means slow seasons can lead to serious cash flow issues. Lastly, your consumers and partners ultimately decide the fate of prices. At the end of the day, there is a lot of uncertainty attached to running a farm and it's up to you to take a proactive approach to keep operations running seamlessly.
Farm and agriculture loans allow you to protect your farm and future from the ups and downs that are sure to come. Cover operational costs or use funding to get your farm back in working order. While it's impossible to plan for the future, you can certainly safeguard it with the help of online lenders.
7. Tackle Land Improvements
Your farm requires continuous maintenance and upkeep in order to maintain operations and run efficiently. Various agricultural loan programs, guaranteed loans, FSA loan opportunities, and online farm credit services can be used for a wide range of land improvements on your farm. Boost farm value and upgrade infrastructure throughout your operation to eventually expand and grow your business.
Online lenders offer a wide range of financing options you can take advantage of today, including:
SBA loans for agricultural and farm businesses
Invoice factoring for farmers and ranchers
Purchase order financing
Business credit cards for your farming operation
And more
Explore Online Lenders For Your Farm Loans Today
Don't feel limited with your farm loans and agriculture loans for your operation. When banks and other traditional financing institutions don't work out in your favor, online lenders like AdvancePoint Capital are here to help farmers and ranchers get the capital they need — fast.
Discover our farm loans and agricultural financing options today. We offer a wide range of loans, cash advances, and flexible solutions for your farming business with varying loan terms, loan types, and financing options you can utilize right away.
When you need access to quick capital, whether for a natural disaster, expansion, working capital, new equipment, upkeep, and beyond — look to reliable online lenders.