The U.S. Small Business Administration (SBA) helps entrepreneurs start and grow their businesses through various loan and financing programs. While the SBA is not technically the lender, they are a government agency that guarantees up to 85% of the lender amount.
SBA loans are an attractive option for many up-and-coming business owners as they offer incredibly low-interest rates, lengthy repayment terms, and simple monthly payments. They are designed to give businesses a good footing to gain access to the financial products they need to hit the ground running.
However, with such attractive rates, terms, and payment schedules — it shouldn't come as a surprise that SBA loans are not easy to obtain. Your credit score, time in business, cost of goods, and previous years' revenue will all be heavily scrutinized — so be certain that you're in a good place before going down this path, or you'll certainly be denied. Businesses that don't have the optimal qualification factors in place can seek alternative financing solutions — but for now, we'll be diving into what happens if you were denied an SBA loan and how to appeal an SBA loan denial.
A denial letter can be devastating, but it's not the end of the world. With the right information, plan, and motivation, you can get back on the horse and obtain the financing you need to reach your goals.
1. Figure Out Why You Were Denied
Alright, so you've been denied an SBA loan: what should you do? The very first step you'll need to take is figuring out why you were denied. This is crucial information that could help you reapply once you've corrected the issue or hit a certain goal you may have been missing, whether it be a credit score or revenue objective.
The good news is that you're legally obligated to a written letter explaining why you were denied. Depending on what type of SBA loan you were trying to obtain, this letter will either come from the SBA directly or from the lender. However, it's not uncommon for these letters to be unclear regarding the exact reason for denial. Many business owners seek loan specialists to clear up misunderstandings and prepare them for approval.
All SBA lenders have their own eligibility requirements and guidelines, but most follow a general pattern. When it comes to getting denied for your SBA loan, it's likely for one of these five reasons.
Your credit score is too low, or lacking a credit history (also bankruptcy or other red flags may cause denial)
Character issues (criminal record)
Lacking collateral (if the loan is secured)
You don't have enough business revenues or capital to make the repayment
Existing loans are limiting your capacity to repay the financing
Regardless of the reason behind the denied loan, it's important to get the why from the lender or SBA. An honest and non-emotional conversation can go a long way in understanding being turned down so that you can plan for the future.
2. Build Upon What You Learned & Reapply
Loans are fairly predictable if you've completed the proper preparation steps and know the numbers you must hit before applying. Whether it's your credit score, collateral, or revenue — there are certain goals to hit before you undergo the time-consuming application process.
Because SBA loan programs have pretty straightforward and difficult loan requirements, they may be intimidating for some business owners. However, the more clear-cut your loan eligibility qualifications are, the better prepared you can be.
Relying on may not be the best move depending on your current situation and future plans. You must wait at least 90 days after being denied to attempt to reapply, so if you're looking for a fast loan, you may have to look elsewhere.
Your specific industry may also play a role in reapplication, as certain markets have difficulty finding the financing they need. So, an SBA loan may not be the right fit if you were denied due to your industry. However, if you were denied for a different reason, here's what you can do to boost your application and strengthen your chances of approval.
Improve your personal and business credit scores. When getting an SBA loan, personal and business credit is typically evaluated, so make sure these are strong. If your personal credit is above 620, you're in good shape — but many lenders will want to see scores of 700+. You'll want to be at the very least in the 140 range for business credit.
Work on business financials to improve your chances of approval. Both lenders and the SBA want to ensure that their loan will be paid back on time and in full, so they'll take a deep dive into your profit, revenue, and existing debt to ensure you're a reliable borrower. They may use a debt service coverage ratio (DSCR) to determine the likelihood that you'll be able to repay the loan.
Take the time you need to get your business fully up and running. Sometimes, SBA applications get denied because a business hasn't been up and running long enough to prove they can pay back the loan. Give yourself sufficient enough time to increase revenue, implement your business plan, and build enough credit to get approved.
3. Check Out Alternative Routes to Financing
The SBA is a great resource for obtaining the loan or financing solution you need for your business, but it's certainly not the only one. If you're dealing with SBA loan denial but need cash flow fast, you may not have 90 spare days to wait (not to mention the time-consuming nature of applying for an SBA loan).
There are fast and easy ways to get the funding you need. Depending on what type of SBA loan you were attempting to obtain and the reason for why you were denied, there's a wide range of options that could be a sound alternative that works for your business today.
Bad credit business loans can be a great way to get financing with a less than stellar credit score. Bad credit business loans may include: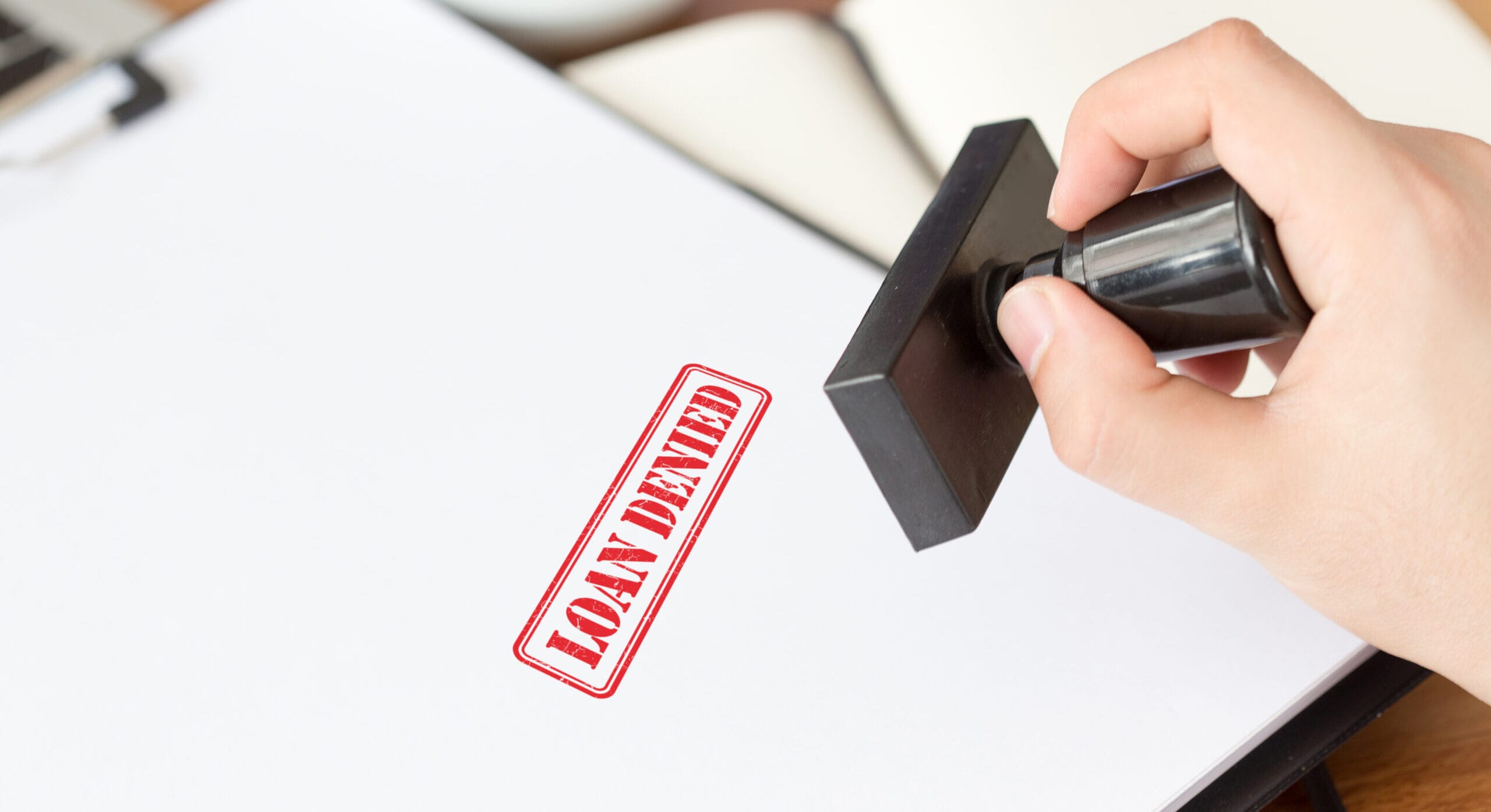 Appealing SBA Loan Denial: Don't Give Up
If you were denied an SBA loan, don't give up. It may seem like the end of the world or a significant roadblock, but it's a great chance to identify holes in your business and create actionable plans for fixing them. So, if you're denied an SBA loan, follow these steps.
Speak with your lender or SBA point of contact to understand why you were denied. Don't be afraid to ask questions and seek out tips to help you reapply with success.
Figure out how quickly your business needs the cash. Identify some alternative financing routes to get the money you need if it's urgent. If it can wait, take the steps we mentioned to strengthen your credit score and financials to reapply for an SBA loan successfully.
Research research research. Before applying for any loan, make sure you're preparing properly to know whether it's worth your time. If you were denied an SBA loan, that's a great learning experience in figuring out the requirements for getting approved.
There you have it! Handling an SBA denial can paint a vivid picture of what type of entrepreneur you want to be. Don't give up, don't give in, get creative, and find out what you can do to succeed in finding the financing solution for your business.