Have you started calculating additional working capital in your company's annual revenue? Is your business just getting off the ground, and you want to plan? Regardless of your situation, business savings accounts are a great way to store, protect, and grow additional funds. But where do you begin? Let's start with learning the difference between a business checking and savings account, the various types and purposes of business savings accounts, and easy ways to compare when making your decision. Read on to learn more.
What Is a Business Savings Account?
A business savings account operates very similarly to a personal savings account, meaning it's an account you open with your bank to store extra funds while gaining interest over time. With a business savings account, you'll be able to make deposits and withdrawals as needed. Still, it's not unusual for the bank to require a minimum deposit to open an account. Along with a minimum deposit, you will also need to maintain a specified balance. There may be limitations regarding the number of withdrawals and account actions taking place within a given month.
If your business is flourishing and you've found yourself having extra funds, opening a business savings account is highly recommended, as it's a great way to keep your money safe. However, you must make sure you have enough funds in your business checking account to pay monthly expenses, operating fees, and more.
Business Checking vs. Business Savings
It's best if business checking and business savings accounts are used in tandem, as there are substantial differences between them. As a small business owner, you'll begin considering opening a business savings account once your accounting software shows that you have extra funds and your business checking account is established. There are many differences between these two business account types. However, two details tend to lead:
Funds in your business savings account gain interest over time, unlike those in a business checking account
Access limitations to business savings account funds are common, whereas you can access those in your business checking account at any time
A business checking account can be viewed as an effective tool to separate your business and personal finances, while a business savings account is what will set your business up for success down the road once additional funds are available.
Types of Business Savings Accounts
Many business owners find simple business savings accounts effective as they're usually the most liquid and accessible. A simple business savings account allows you to withdraw from your account as needed while earning interest on your funds. You will also not have limitations regarding how long your funds have to sit in your account before any withdrawals. While simple business savings accounts tend to do the trick, there are a few others that are worth considering, such as:
High-Yield Business Savings Accounts: By choosing a high-yield business savings account, you'll be able to store your funds, earn interest, access your cash, and make deposits and withdrawals. However, the annual percentage yield (APY) or interest rate for high-yield business savings accounts is substantially higher than your regular savings account. High-yield business savings accounts have stricter requirements, like monthly fees, minimum balance restrictions, and more.
Business Certificate of Deposit: Through this savings option, you'll be offered high-interest rates but will be limited as to when you can access your funds. If you know you don't need a set amount of funds for an allotted time frame, a business certificate of deposit is an excellent option. You'll make a specified deposit, choose a term length, and over that time frame, interest will be earned on your savings.
Helpful Ways to Compare
It can be complex and time-consuming to find the best business savings account for your unique needs – especially when each has its own set of terms. While there are many ways to compare business savings accounts, the factors below are a few of the most useful to consider when making your decision.
Annual Percentage Yield (APY)
The main benefit of having a business savings account is accumulating more money over time by storing excess capital in an account that gains interest. When choosing your business savings account, you must consider the Annual Percentage Yield (APY). This indicates the total return or interest you can expect to receive on your account per year. Every business savings account interest rate differs, meaning the rate can be fixed or variable and compound daily or monthly. Below is an example of how APY affects the funds in your business savings account each year:
Account Balance x APY = Yield
$45,000 x 0.60% = $27,000
Service Fees & Minimum Balances
There are many different business savings accounts available for business owners, and while some of them are free, many require you to pay a service fee. The bank or provider managing your business savings account will most commonly require you to pay a monthly service fee. The amount can vary depending on the type of business savings account, bank, and account provider. However, it's recommended to thoroughly review your business savings account's details, as many offer a way for you to get service fees waived.
While it's not unusual for business savings accounts to require a minimum amount of funds to open an account, you'll likely be required to maintain a minimum balance too. It's vital that you're aware of both the minimum deposit and balance, as holding the minimum balance may help you avoid unwanted service fees.
Fund Accessibility & Customer Support
As a business owner, access to your funds and customer support is vital. It's essential to consider both of these factors when choosing your business savings account. If you prefer face-to-face customer support, an online business savings account provider may not be the best choice. Instead, you should choose a bank that's local to your area so you can speak to a person directly when questions come up about your savings account. You also might need to access the funds in your savings account unexpectedly for various reasons, from inventory shortages and building repairs to business opportunities and more. Because of this, considering fund accessibility is highly recommended.
Withdrawals
A business savings account is designed for storing extra funds rather than spending like a business checking account. Because of this, many banks and account providers create guidelines so your funds are less accessible. Once your business is established, you shouldn't have to rely on your business savings account funds. When choosing the best business savings account for your company, take time to consider how often you expect to withdraw from the account, as many have limits and associated withdrawal fees that can add up quickly.
ATM Usage & Wires
Many business savings accounts allow you to withdraw from your savings account through any ATM. However, others may charge a fee if the ATM isn't connected with the bank itself. Whether you'll often be traveling or find an ATM more convenient, it's essential to consider how each account provider handles this usage functionality.
Wires are also another essential feature to consider when choosing your business savings account. You should verify whether domestic and international wires can be sent and received as well as how they're handled. Some business savings accounts allow a specified number of free wires each month, while others charge a fee for wires both sent and received. If you're going to be receiving and sending a lot of wires, you may want to choose a business savings account that doesn't charge fees for these services.
Many crucial elements to your business finances work together to contribute towards your goals. Whether delving into balance sheets, managing your business budget, tracking expenses, and more, your business finances must be handled carefully and carefully.
One of the most important steps an entrepreneur can take is opening a business bank account. Not only will this help separate personal finances from business finances — but it will also help with tax payments, safeguarding cash flow, opening up doors for debt financing, and so much more. We will dive into why opening a business savings account can put you in a position to achieve your goals and all the business savings account benefits.
Why You Need a Business Savings Account?
Here are a few reasons why you need a business bank account or a business savings account.
Unforeseen Emergencies
Life is unpredictable, and business is no different. Just like with your personal expenses, safeguarding some business capital for unforeseen emergencies is an important financial play. The recommended amount of business savings is roughly three to six months of capital. This cash can be used to keep up operational needs in case of unplanned hurdles and can be used for:
Rent
Payroll
Online tools
And more
These emergency business savings can prevent any shutdowns in case of unexpected events or slow seasons. These funds should be liquid and easily accessible, so your business savings shouldn't be mixed in with investments or projects.
Business Taxes
Starting a business and making significant money can be a great feeling, but business owners often forget all about tax season. Position your business savings account to help with unforeseen emergencies and tax season so that your quarterly or yearly tax payments can be handled without a hiccup.
Your accountant can help decide how much should be put into tax savings. However, 30% of your gross income is a good rule of thumb.
New Projects
Having some cash flow in a business savings account can be a Godsend regarding future project opportunities for your business. You can utilize this capital for business expansion or endeavors to help you reach your goals.
This is one way to avoid business debt (which we'll cover later in the article), and you can utilize these funds for PR, marketing, new hires, and more. Think of it as insurance for possible growth!
Protect Your Capital
The capital you use in transactions can be a juicy treat for bank account fraud or hacks. A business savings account can protect this cash as vendors or other purchasers won't utilize it. Additionally, you'll have FDIC protection as most business bank accounts nationwide have these safeguards in place.
So, keep your cash flow safe and secure by keeping it in a business savings account. Plus, if you want a loan or financing from your bank, you'll have an established banking relationship to help you get approved.
Earn Extra Cash
Your business savings account will accrue interest, letting your money generate more. Cool, right? Well, research and look at various bank options for a business savings account, and you'll be able to take advantage of interest so that your money can work for you.
We'd also recommend researching various bank options for:
Minimum balances
Transaction limits
Sign up bonuses
And more
Open Up Financing Options
While having emergency funds for projects, expansion, and working capital is great, a business savings account can also provide lenders with the documentation needed to get approved. This is especially true when we consider some more stringent financing options, such as SBA or long-term business loans.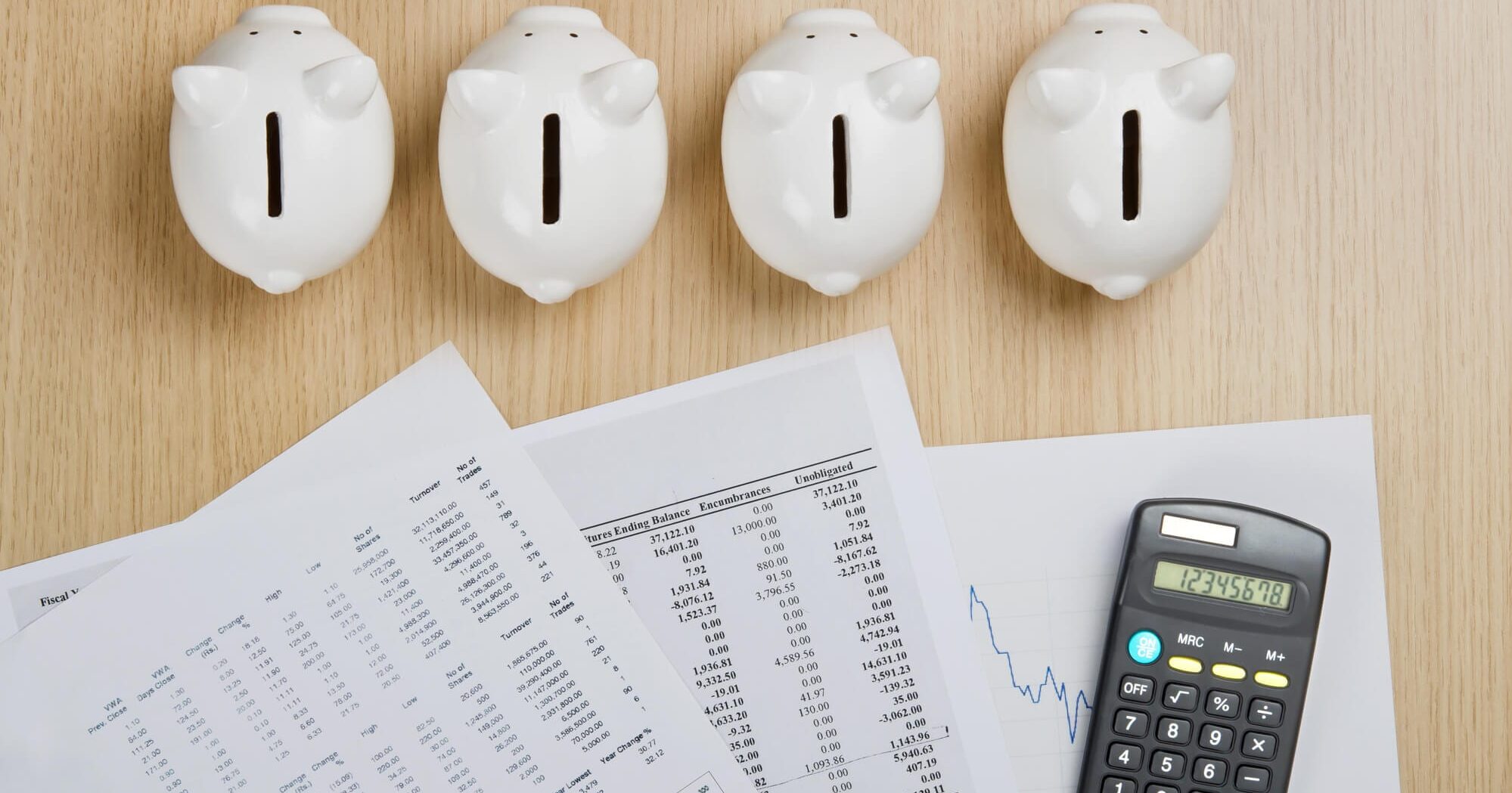 How to Choose the Best Business Savings Accounts for Small Business
When considering the best business savings accounts, a business should consider a variety of factors. It's not just about what the rates are. Banks charge various fees and customer service and the bank relationship is important for a business as well. Below are some key features to ask questions about when choosing the best business savings account for you and your business.
What is the interest Rate (APY)?
The interest rate (APY) is the yield you will earn on the balance of your business bank account
What are the Bank Fees?
It's important to understand, many banks charge various bank fees. Determine which fees may punish your business more based on your business bank account activities. Consider the following fees when evaluating what's best.
Overdraft fee
Non-Sufficient Funds Fee
Monthly Maintenance Fee
Out-of-Network ATM Fee
Excessive Transaction Fee
Does the bank have minimum balance requirements?
Some banks charge fees if you don't maintain a minimum balance. Check the bank's requirements.
Does the bank offer a debit Card?
Receiving a debit card for your business savings account is not a given. Some banks do not offer a debit card. Consider this option and determine if it's needed for your business banking activities.
How is the Bank's Customer Service?
Service is very important to a business owner when it comes to the business bank accounts. Consider the following types of services you may or may not require to conduct your business banking when choosing the best bank for you.
In-person branch experience- In-person banking is underrated. When your business has a problem with the business bank account, having the ability to go face-to-face down at the local bank branch can be priceless and make all the difference in the world in solving any serious problems related to your business bank accounts.
Online application functionality- A user-friendly smartphone banking app can make banking fast and easy. Always consider the functionality of the app and the online banking access and compare from bank to bank. Some banks let you do almost any banking transaction online, and others do not. Some offer easy access to documents and other statements or let you set up direct deposits or make or send payments, while other banks do not. Always look to take a free trial run to see which online banking apps you like best from what banks.
Customer Service Center- Check to see if the bank has 24/7 access to bank representatives by phone that can answer your questions and solve your problems. Not all banks provide full-service day and night.
Quick Questions About Business Banking and Savings Accounts
So, you're probably on board with the idea of a business savings account but still have some underlying questions. Don't worry; we're here to help.
Should I have more than one business savings account?
You've probably heard that separating assets is an important step, so you may wonder if having more than one business savings account is good or bad. To be honest, this can be subjective — not all business owners want to juggle multiple savings accounts for their business. With that being said, separating accounts by purpose can help with organization. You may want to have business savings account for taxes and another for potential future projects.
How much should I save in my business savings account?
While there's no "one size fits all" number here, a good rule of thumb is you should put away at least 20% of your business income in savings. This should be enough capital to help with emergencies, future projects, or other company needs. Investing some of your business funds can also be a productive step, depending on your stability.
Automatic transfers to your savings can help with a lot of the numerical headaches. Speak with your banking professional, and they'll be happy to help set up these transfers so that your business savings account is healthy.
When's the right time to open a business savings account?
Regarding safeguarding your company's future and separating your personal finances from the business — there's no time like the present. Opening up a business savings account can help you succeed in the short and long term.
Start Saving In Your Business Savings Account Today
Opening a business savings account can take some research, but it's well worth the investment to safeguard your capital and set your business up for success. Owning a business means protecting your finances and safeguarding your company from unforeseen issues — and a business savings account does just that.