If you are a small business owner looking to secure financing, you may want to consider working with a business loan broker. A loan broker can save you valuable time and effort by doing the legwork for you and finding suitable lenders willing to work with your unique financial situation.
In addition to saving you time, a business loan broker can help you navigate the often-complicated lending world. They have a deep understanding of the lending industry and can help you understand the pros and cons of different loan options and the potential risks and rewards associated with each. Overall, using a business loan broker can be smart for small business owners so here we look into why you should use a business loan broker.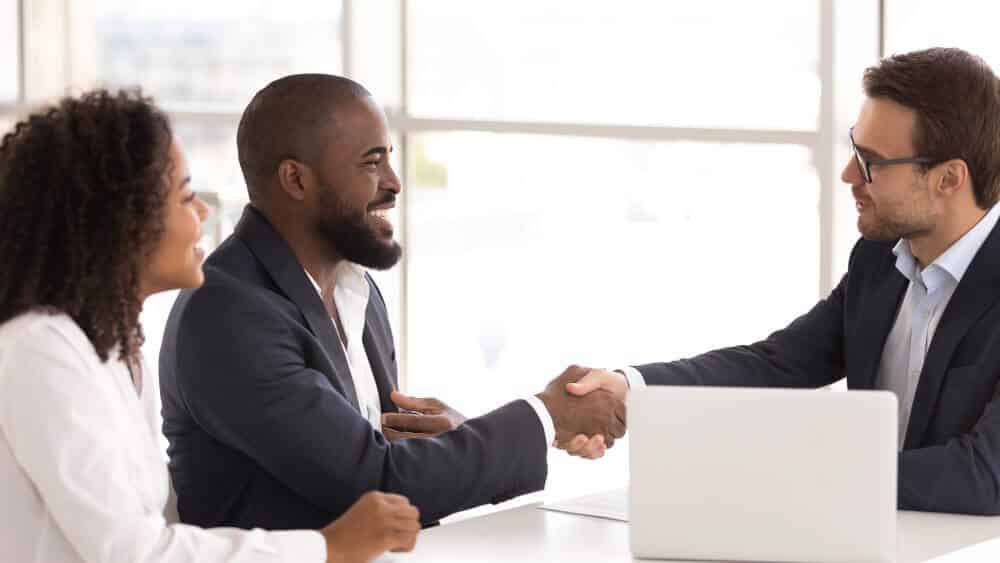 What is a Business Loan Broker?
A Business Loan Broker (Commercial Loan Broker) helps small businesses by arranging business financing through a network of business financing products and lenders and funders that the business loan broker has built a relationship. Brokers identify the need of small business owners and then offer financing products to suit those needs. Business loan brokers charge typically earn fees from the referring source (lender or funder) and do not collect fees upfront or at funding or closing for their services from their client, the small business owner.
A broker generally specializes in a variety of business financing products including, but not limited to loan offers such as; Long-Term Loans, SBA Loans, Business Lines of Credit, Short-Term Business Loans, Merchant Cash Advances, Business Cash Advances, Equipment Financing, Invoice Financing, Asset Based Lending, Accounts Receivable Financing, Commercial Loan, Commercial Real Estate Loans, term loans and other small business funding options as well.
Do Business Loan Brokers Specialize in Certain Business Funding Products?
Every commercial loan business broker offers different business loan options they sell. It is not uncommon for business loan brokers to specialize in certain products like SBA loans or merchant cash advances. It's important to work with a business broker who offers a variety of business funding products such as SBA loans, business lines of credit, long-term business loans, short-term business loans, accounts receivable financing, invoice factoring, and merchant cash advance to name a few.
A Business Loan Broker Versus a Direct Business Lender: What are the Differences?
A direct lender offers specific products that they originate, process, fund, and service payments. Brokers refer to direct lenders and funders but do not fund or service the finance products themselves merely to assist in the application process.
It is not a bad thing to deal with a Loan Broker because they can compare loan products in the marketplace that match your needs versus a Direct Lender who will only of their loan products that they underwrite and fund and forgo any other loan financing options available in the marketplace through there application process. Many lenders have no obligation to offer you the best loan product for your specific funding needs. A loan broker's value will be determined by their knowledge, product diversity, the application process, and the relationships that the entity has within the financing community.
The 9 Best Business Financing Options that Business Loan Brokers Provide
Long-Term Business Loans
Business Line of Credit
Small Business Administration (SBA) Loan
Short-Term Business Loans
Equipment Financing (either term loans or leases)
Business Cash Advance/Merchant Cash Advance
Invoice Financing
Purchase Order Financing
What types of Lenders work with Small Business Loan Brokers?
Traditional banks
Credit Unions
Private Lenders
Online Business Lenders (Fintech)
Long-Term Business Lenders
Equipment Financing Companies
Invoice factoring Companies
The Small Business Administration (some products require collateral)
Alternative Lenders
Hard Money Business Lenders
Commercial Lenders
What are the Pros and Cons of Working with a Small Business Loan Broker?
Pros
A broker has access to many different lenders in the business finance marketplace
No Upfront or funding/closing fees for services rendered
Can provide a few options at the same time
Can save time, energy, and the hassle of comparison shopping
Cons
Could be a specialty broker that only focuses on certain areas of brokering business finance products
Not directly regulated by any Federal or State agency. It's important to screen the reputation of the broker you are working with.
How to Choose the Best Small Business Loan Broker
Evaluate the expertise of brokers' product knowledge. How long has the broker been in the loan broker business?
Determine the variety of product offerings, loan programs, and different lenders the broker has at their disposal. Consider the working relationships brokers have with specific lenders. Ask how many lenders they work with and do they offer SBA loans. The more lenders they have the better the offerings.
Ask how quick and efficient is the broker's process to secure small business financing.
Check Reviews with third-party companies that don't work directly with a business like the Better Business Bureau and Google. Trust Pilot is not reliable for the loan broker business because they work directly with businesses and are compensated for their services. Is the broker you're dealing with a successful business loan broker?
Most business loan brokers do not require you to pay a fee directly to them for loan applications or their professional services. Reputable brokers do not charge fees separate from the lender/funder
Cost or fees-Make sure all offers are fully disclosed with disclosures or term sheets at the time of offer. Request a copy of a loan agreement before signing anything.
Does the broker treat you as if it was their own business? Does the broker seem like they are working in your best interest?
12 Warning Signs Small Business Owners should look out for when Dealing with a business loan brokers
Company Website- Make sure to check the broker's or lender's website and look for whether the site looks current and informative. How does it stack up to other bank sites you use? Is there a section for legal information, privacy policy (remember, a privacy policy is an important issue), location, and phone numbers for the various departments that can help you with more information or post-funding issues?
Physical Address-Google searches the loan broker's address and google maps for a picture of the location. Check to see if it's a true business address or if it's shared office space, co-work office, residential address, UPS Store, or mailbox center. Obviously, you would want to be working with a company or someone who is an established location. A loan broker should be able to demonstrate they have an established location.
Company History-Check the history of the loan broker with third-party sources like the Better Business Bureau. If the finance broker is less than three years of brokering loans, you may want to ask for a resume of the loan broker or company you are dealing with to see if they have good experience.
No Independent Reviews-Check for independent reviews of a loan broker from Google or BBB. Do not rely on companies like Trust Pilot, who work directly with the loan brokerage for a monthly service fee and have a controlled review model. They do not have proper independence when considering customer reviews.
Access/Communications-Does a live person always answers the phone? Is there a general phone number where you can talk to a customer service representative other than the loan broker you are working with at the company? Always ask for direct numbers for the loan broker and general company phone numbers. Check for service and response levels, such as returning voicemails and email response times. If they take more than an hour or two to respond that should raise warning flags.
Better Business Bureau-Is the finance broker a member of BBB? Are they in good standing? Do they have any customer reviews? A loan broker should be able to be accredited or at least be on file with the BBB.
Any Federal, State, or Local Actions. Has the commercial loan broker complied with all fair-lending laws? Are there any negative actions about the commercial loan broker from Federal, State, or local governments? Any customer lawsuits? Any employee lawsuits or actions?
No Clear Fee Disclosure or Term Sheet-The financing broker should have Disclosures such as a "Term Sheet" that detail all terms, conditions, costs, and fees of loans as well as what brokers charge. Do not rely on any loans offered without receiving disclosure from lenders directly that is in the body of an email like they were just giving you a general idea. Business loan brokers must have disclosures that can be emailed to you, not just loan applications.
Credit Report Disclosure - Does the business loan broker offers a free copy of a credit report so you can see the personal credit they are evaluating? There are many business loan originators, both lenders and business loan brokers that will downplay your credit to convince you that you don't deserve a better business funding product than the one they are offering. If the lender or business loan broker provides a free credit report at the time of the offer, this is a great sign that the company or business loan broker is transparent and trustworthy. Most lenders will offer this.
 Time to consider offers and Quotes - Business loan brokers should give you the time to make decisions as if it was their own business. Are they giving you enough time to consider an offer? Are they pushy and giving you an unreasonable amount of time to consider an offer? Most offers or approvals should be good for at least one week before any secondary credit review would be needed.
 Style and Presentation- Listen to your business loan broker. Evaluate his speaking skills and see if his or her approach is educational, informative, consultive, and not aggressive or fast-talking. Does the business loan broker listen and answer your questions fully? Does the commercial loan broker use terms like "guarantee," and "no credit check"? If so, run the other way!
Deceptive Marketing Practices-Are you receiving cold calls from business loan brokers related to getting loans? THIS IS A BIG RED FLAG! Never work with a lender or commercial loan broker who would use this marketing technique unless you have an existing relationship with them. Stay away from these boiler room tactics. Receiving offers in the mail can be quite an acceptable way for a business lender or small business loan broker to market their services but beware of deceptive mail pieces that over-promise or use words like "guarantee," "95% approval rate", "no credit check," or "no paperwork needed" or over emphasize getting money fast.
The Bottom Line: Advice, Tips, and Benefits of Using Small Business Loan Brokers
Whether it's a Business Loan Broker, Direct Business Lender, or Business Finance Marketplace Platform, there should always be a basic approach to who you want to work with. It's important to ask questions and research and do homework about the business loan broker you choose.
As a business owner, always ask yourself the key questions when getting a business loan. What types of financing products are offered? Does the Business Loan broker have the experience and knowledge to assist me in finding the best product for my needs? Does the business loan broker have great customer service on the origination of my loan and on the processing, funding, and servicing of my loan on the back end?
Once you decide who you want to work with, you are still the final decider on what, if any, business finance product you choose. Always start by asking why I need the money and how I will put it to good use for the business. Have I been given all business funding options in the marketplace? Am I getting competitive rates, costs, and terms for my situation and credit profile? Have I done my cost verse benefit analysis for borrowing money for the business?
Always check your proposals, term sheets, and agreements. These offers should include the cost of money (interest rate or factor rate), all closing or funding fees, term duration, payment frequency, personal or business guarantees, and any collateral requirements.
How to Apply for a Business Loan Using Advancepoint Capital's Business Loan Marketplace
Applying for a loan with AdvancePoint Capital is as simple as a 1, 2, 3, 4 process. Start with this online form, fill out the short application page, wait a few hours for your approval, and get your money!
Frequently Asked Questions about Using a Small Business Loan Broker
Where do I find a Small Business Loan Broker?
It is not difficult to find or obtain business funding. A simple google search for "Business Loan Broker," or a specific product you are looking for like "small business loans," "Long-Term Business Loans" will do the trick and provide many options. Another option is any recent mail offerings that you may have received and saved.
Should I pay any fees Up-front or separate outside of funding fees to Small Business Loan Brokers?
You DO NOT need to pay for upfront fees to a business loan broker to get most business loan products. Keep in mind business funders and/or business lenders will charge fees that are deducted from proceeds at the time of funding. Always check the terms and conditions of all financing you are considering.
Can I qualify for a Small Business Loan with Small Business Loan Broker if I have bad credit?
Yes, you can get approved for business funding if the business owner's personal credit is considered bad credit. Be aware the offer will be affected by your credit risk and what can be offered to you.
If I am a Start-up business, can I get a business loan from Small Business Loan Brokers? 
The short answer is Yes and No. It depends if the business loan broker is connected with SBA loan offerings or Private business loan investors. If they are, then yes, they may be able to help you secure a "Start-Up" business loan.
Can I Trust Small Business Loan Brokers with my Personal and Business Information? Is my Data Safe and Secure?
If you do a proper check using the "How to Choose the Best Business Loan Broker" and "Business Loan Brokers or Business Lender: The 11 Warning Signs to look out for when Dealing with a business loan originator," then you have taken the necessary precautions to consider your data safe and secure. Remember, there are no guarantees, so always use credit monitoring services and take the security steps always to protect your personal data and information.
Does a Small Business Loan Broker Provide any Direct Lending as well?
Some business loan brokers engage in direct business lending. You will need to ask the business loan broker who you are dealing with as the business financing products the broker and which do they direct lend when being presented offers.