There are many diverse types of financing that businesses can use. One mode of funding that's becoming more popular these days is asset-based financing. Though it used to be frowned upon or seen as the step before bankruptcy for most businesses, it is actually a legit type of financing that companies should consider. By using assets as collateral, you can secure the funding your company needs.
This type of funding has been around for decades. Not only are they great for companies that don't have enough cash flow for traditional funding, but they also give businesses an inexpensive loan option. Unfortunately, because the perception surrounding asset-based loans has started to shift just recently, there are still many common falsehoods shared about them.
This article will discuss the misconceptions heard most often, including:
Asset-based loan options are expensive.
Asset-based lending is only for small businesses.
Asset-based funding is not flexible.
Asset-based lending is the same as accounts receivable financing.
Asset-based funding is not available to startups or new companies.
Breaking Down Asset-Based Financing
Asset-based funding is a type of lending in which money is loaned in an agreement secured by collateral. The company's assets become the loan's collateral, so any assets of value become fair game, from inventory and equipment to accounts receivable and other property. Typically liquid collateral is preferred, as opposed to physical assets like equipment.
Asset-based lending is an option available only to companies and not individuals. It is often utilized by small or medium-sized businesses that need funds to cover short-term cash flow demands. There are various types of loans secured through collateral, including lines of credit and purchase order financing.
How It Works
Businesses often need to procure loans or obtain a line of credit to meet routine cash flow demands. This is true for companies in almost every industry. For example, if there's a delay in payments or customer bills aren't paid on time, a business might need more money to ensure they can cover payroll expenses. Whatever the reason, asset-based lending can offer an alternative financing option for these businesses.
If a company does not have enough cash assets or can't demonstrate the right amount of cash flow to cover the loan they're seeking, the lender might decide to approve the loan with the business's physical assets acting as collateral. Restaurants can secure financing by using their kitchen equipment as collateral, while a dental office could use their x-ray machine or other medical equipment. No matter the case, the lender will want to know that your business has assets of value that can act as collateral.
Asset-based lending has varying terms and conditions. It will depend on the type of loan offered and the value of the assets being used as security. In most cases, lenders prefer liquid collateral that can be converted to cash if you can't make your payments. Loans using physical assets are a little trickier, which is why the maximum loan amount will be less than the value of the assets. Interest rates will vary too, depending on the specific loan terms.
Lenders will also take into account:
The applicant's credit history.
Business cash flow.
Length of time in business.
Common Uses
The main reason many business owners seek out this type of funding is to help with cash flow. But there are other reasons, too. Some companies need to grow their amount of working capital, while others might be readying to buy an expensive piece of equipment. Whatever the case, asset-based lending can help your business find the funding it needs to succeed.
A few common uses for asset-based funding include:
Boosting cash flow.
Buying more assets.
Making investments.
Restructuring your business.
Purchasing equipment.
Leveraging a buyout of another small business.
Growing your working capital to pay expenses or make business improvements.
Benefits of Asset-Based Lending
There are some well-known perks to using asset-based lending vs. traditional loans. If you are seeking out an asset-based loan, it's vital to know the advantages and disadvantages to this type of funding. Some of the benefits of funding secured through assets include:
More relaxed credit guidelines.
In general, easier qualification criteria than traditional bank options.
Less involvement from the lender.
Lower financial ratios.
Common Myths About Asset-Based Funding
Now that you have a good idea about asset-based funding let's discuss some of the common misconceptions you may have heard about it. Despite popular belief, asset-based lending is not expensive, nor is it only available to well-established businesses. Continue reading below to learn the truth about this funding option.
Asset-Based Loans Are Expensive
One common misconception about asset-based loans is that they are too expensive. In fact, the opposite is true. They offer businesses an affordable loan option to get the funding they need. In addition, lenders are taking less of a risk when collateral is secured with the loan, meaning the interest rates should be favorable to the borrower.
In addition, asset-based loans are often less expensive than equity financing or venture capital for new companies. If you are operating a startup or a new business, this type of funding might prove to be the best option for you. Make sure you check if the lender will be adding fees for auditing and due diligence so that you're aware of any extra costs on top of your interest rates.
Asset-Based Lending Is Only for Small Businesses
This statement is false – loans and other funding secured through assets work for any size business. It doesn't matter how big your operation is. If you need cash quickly, then asset-based funding might be the best choice. Companies often rely on these types of loans to purchase new equipment if their current equipment unexpectedly stops working or when they are expanding and need to add additional staff.
Asset-Based Funding Is Not Flexible
Another falsity about this type of funding is that it's not as flexible as other alternative financing options.
In general, asset-based lenders have way more flexibility than traditional banks. They will be most focused on what kind of assets your business can put up as collateral and less on other things like credit score and financial history. You might be able to secure financing faster, too, without going through all the hoops of traditional funding options.
Asset-Based Lending Is Accounts Receivable Financing
Accounts receivable financing is actually its own separate type of funding. However, it is a similar type of funding in that assets are used to secure a loan, in this case, your unpaid invoices.
Many businesses working in the healthcare industry deal with unpaid bills or late insurance payments, meaning they need cash flow to keep their payroll and other operations going. When this happens, using accounts receivable financing is a great way to do just that.
Asset-Based Funding Is Not Available to Startups
If you have assets, then you can try to get asset-based loans. It's that simple.
However, many people think that startups or new businesses might not be eligible due to a lack of assets. This is not true. Any company with physical assets or accounts receivable and purchase orders can apply for asset-based lending.
Many businesses choose asset-based funding over other funding options because it means that no one gets a share in your business. Other kinds of loans come with stipulations and may release partial control over your company. If you don't want this to be the case, putting up any assets you have to secure a loan is the best choice.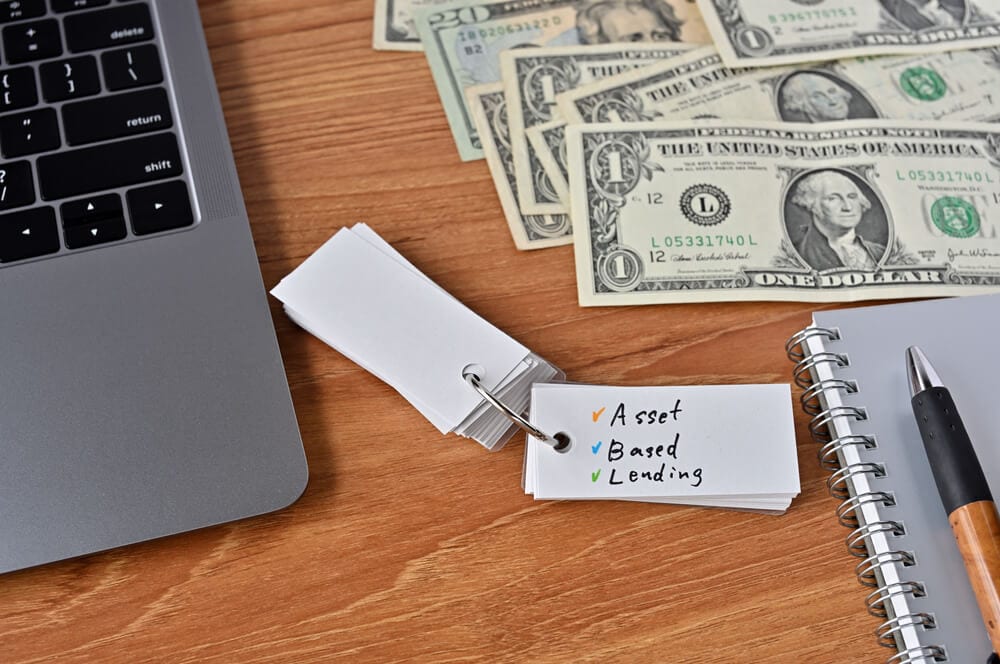 Popular Asset-Based Loans
After learning about the common misbeliefs or misconceptions surrounding this type of funding, you might be wondering – what exactly are asset-based loan options? Well, the answer is diverse.
Several different forms of funding could qualify. Any loan or funding option in which you put up collateral to secure the money could be considered asset-based.
Listed below are several of the most popular types of funding in which assets are typically needed as collateral, including:
Business line of credit
Merchant cash advance
Purchase order financing
Invoice financing
Equipment financing
Business Line of Credit
One funding option that businesses can consider is a business line of credit. It's a flexible solution meant to help businesses that are dealing with unexpected challenges or hardship. Lines of credit work similarly to credit cards, meaning the lender gives access to a certain amount of cash, which is limited by a specified credit limit.
With a business line of credit, you will be able to draw cash whenever you need it. Payments and interest rates only increase once you've actually drawn from the funds, meaning you only have to pay for what you use. In addition, business lines of credit can come secure, meaning they are financed by collateral.
Merchant Cash Advance
A merchant cash advance, also called a future receivables purchase, is a lump sum of money given to a business in exchange for a fixed percentage of future credit card sales. In this case, your future sales act as collateral for the lender to feel secure enough to provide you with an advance. Merchant cash advances are an excellent funding option for businesses with steady credit card sales each month.
Purchase Order Financing
Another funding option that businesses can take advantage of is purchase order financing. It is a short-term funding option that provides working capital, meaning your business can pay supplies upfront for any verified purchase orders.
Companies that are short on cash but need to accept orders on goods can use purchase order financing on an as-needed basis. It protects cash reserves from declining by giving businesses another way to pay for orders in the short-term.
Invoice Financing
Invoice financing, or invoice factoring, is an additional alternative route to funding. Suppose unpaid invoices are piling up at your company, whether from customers, insurance, or other parties. You might want to consider using invoice financing to get the cash you need.
Using your unpaid invoices as collateral, you can receive the funding you need to keep your company running smoothly. Lenders will give you a percentage of the outstanding invoices in exchange for a fee.
Equipment Financing
One final example of funding businesses can receive by putting up assets as collateral is equipment financing. If your business needs equipment to operate – whether you work in farming, food service, or the medical field – then equipment financing could be the perfect funding option for you. It can be used to finance new equipment or lease equipment.
The equipment is seen as an investment and used as collateral, so there's little risk to the lender. Terms are typically in the form of a lease or a loan, and they are often more lenient, giving borrowers up to 60 months to pay them back. Equipment leasing is a popular funding option across industries, offering businesses the tools they need to function successfully.
Using Collateral to Secure Funding
Once you've learned more about this type of funding, you will see that many misconceptions aren't actually true. Asset-based funding is a convenient option for businesses across industries that need to put up collateral to secure a loan. There are flexible options for funding, meaning every kind of business can find the right fit. Using collateral is a secure way to find the funding your company needs to continue operating.