The restaurant industry has been affected especially hard from the COVID-19 pandemic. Depending on the type of restaurant you operate, everything from the way you open, the process of operating, the menu, food preparation, health & safety requirements, to the ways you acquire and maintain your customers have changed in some small ways to drastically. To face this new reality, there are several essential insights that can help any restaurant, big or small, adapt, overcome, and prosper.
Whether you had to shut down and are now re-opening — or you have been open throughout, one thing is certain: The way you operate your restaurant has changed, and you have to operate and manage your business differently.
After researching the challenges faced by business owners through the COPVID-19 pandemic throughout the U.S., the following steps will help you navigate the issues facing restaurant owners most and the solutions to those problems based on real-world experience.
Step 1: Safe Operating Guidance
The first step in operating in a new world of COVID-19 is addressing the health & safety of both employees and customers. It's essential to make your restaurant feel and be a safe place to work and serve your customers.
You are required by regulations and laws Federal, State, and local authorities to take the appropriate safety measures and develop certain cleaning standards and make customers feel secure.
Be Healthy, Be Clean
This is the responsibility of both employers and employees to maintain personal health and safety. If feeling sick, you should not be at work, no matter if the manager, key employee, manager, or business owner, the prevention of infecting others is paramount.
Wash hands often with soap for at least 20 seconds. If no water is available to use a 60% or better alcohol-based hand sanitizer
Avoid touching your eyes, nose, and mouth with unwashed hands
Wear mask/face coverings per CDC & FDA guidelines
Never touch Ready-to-Eat foods with bare hands
Use single service gloves, deli tissue, or suitable utensils
Wrap food containers to prevent cross-contamination
Follow the four steps to food safety (Clean, Separate, Cook, and Chill)
Clean & Disinfect
Train employees on cleaning and disinfecting procedures, and protective measures, per CDC & FDA
Have and use cleaning products and supplies
Follow protective measures
Disinfect high-touch surfaces frequently
Use EPA-registered disinfectant (use as labels on disinfectants instruct)
Ensure food containers and utensils are cleaned and sanitized
Offer sanitizers and wipes to customers to clean grocery cart/basket handles, or utilize store personnel to conduct cleaning/sanitizing
Social Distance
Educate employees and customers on the importance of social distancing (signs, audio messages, physical spacing in stores)
Avoid & prevent customer & employee gatherings, self -serve areas when possible
Place floor markings and signs to encourage social distancing
Shorten customer time in-store through alternative processes and experiences
Set-up safe, designated pick-up areas inside and/or outside stores when possible
Pick-Up & Delivery
Delivery options (Ensure transport items are cleaned and sanitized, maintain time & temperature controls, and avoid cross-contamination; wrap food during transportation)
Encourage customers to use "no-touch" deliveries
Notify customers like the delivery is arriving by text message or phone call
Establish pick-up zones for customers
Offer curbside pick-up
Practice social distancing by offering to place orders in vehicle trunks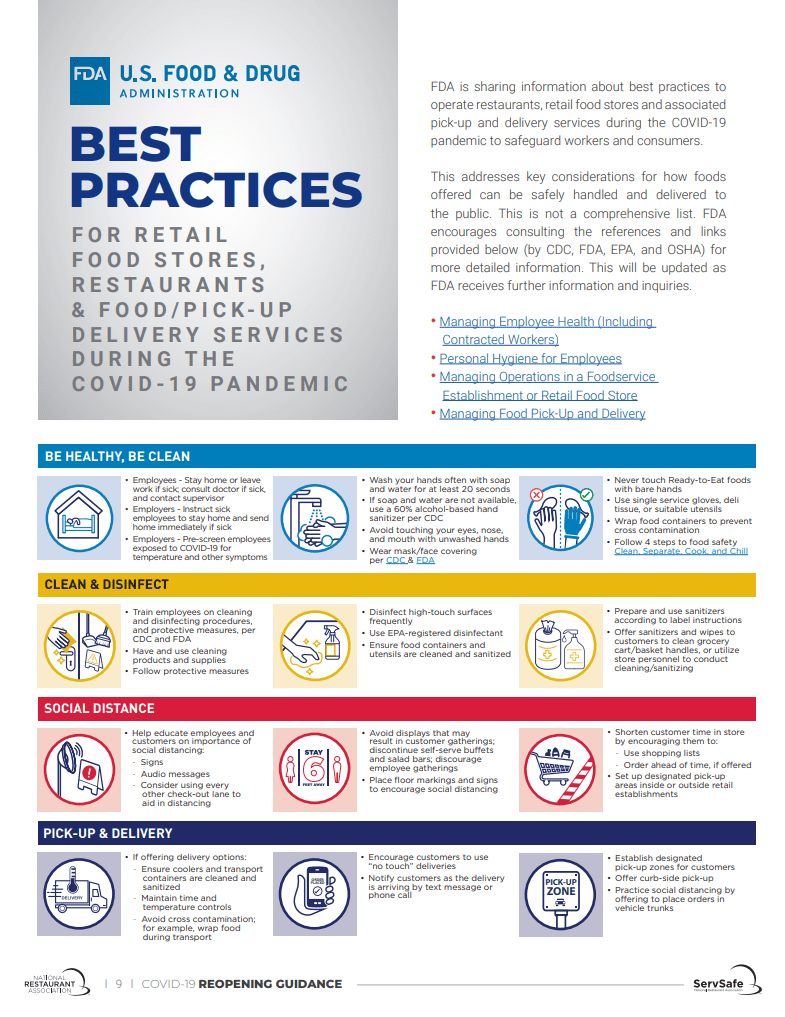 Source: National Restaurant Operating Guidance through COVID-19
For comprehensive operating and best practices guidance, the National Restaurant Association created the National Restaurant Operating Guidance through COVID-19. The purpose of this updated guidance is to continue to offer you direction and provide a framework for best practices as you reopen and operate through COVID-19. For the most comprehensive and up-to-date COVID-19 resources and information for the restaurant industry, visit restaurant.org/COVID19.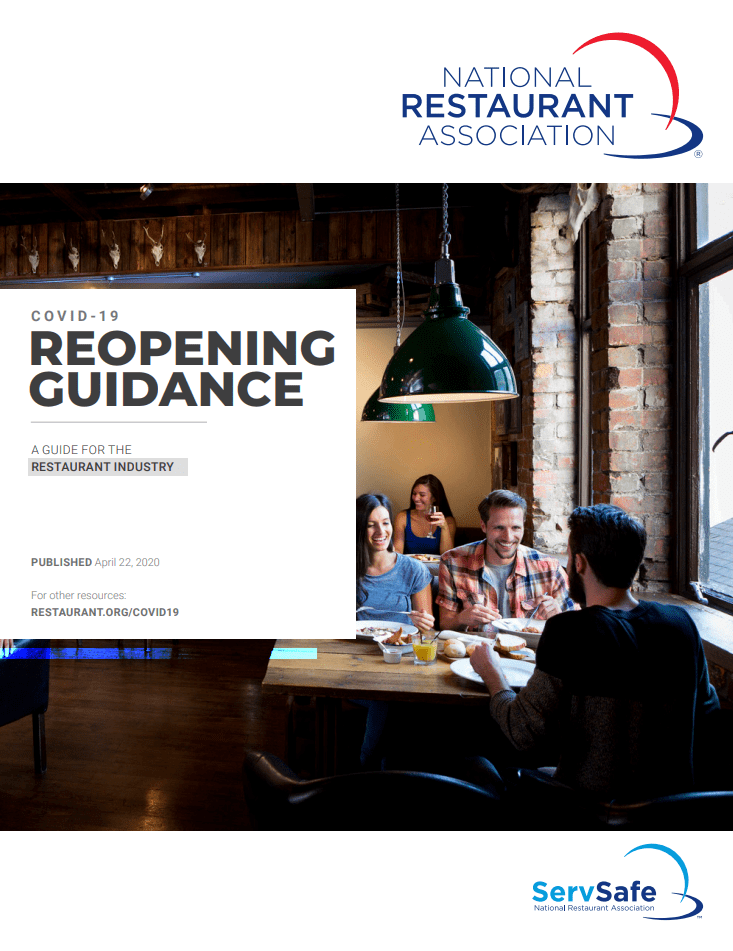 National Restaurant Operating Guidance through COVID-19
Step 2: How to Run Your Restaurant During COVID-19: Best Practices
Employees: How to Take Care of Your Staff
Health (Physical & Mental) and Safety First- Your employees are the heartbeats of the business. Making sure they understand that their health and safety is a priority to the business is essential. You must show that in your actions and words by following the safety protocols that were outlined above. If you take care of your employees, they will take care of you and your business.
Communicate Honesty- In the COVID-19 environment; you must level with the employees the risks of not following proper safety procedures and policies. Consistency in the way employees are treated key. Making mistakes could determine whether the business can operate as a going concern. Also, it's important to address employees' concerns and complaints swiftly to avoid conflict.
Team Work "We Are in This Together"- Employees are part of a team and need to be treated as such. If there are employees who do not want to work together for the common good, it's important to remove them, or you will regret it later. Act swiftly and be consistent in terms of what you expect from all employees.
Hours of Operation
You may have to expand or contract hours depending on the behavior of your customers, pre-opening preparation, pick-up & delivery, or other unforeseen events. Be prepared to respond to these events quickly and decisively.
Enhanced Table Turnaround
Time is money has always been the case in the restaurant business, but in a COVID-19 environment, there are also health and safety concerns as well as the need to maximize your higher traffic days to accommodate customers.
Delivery Options
In today's world, there are many delivery options that are driving customers to your restaurant. If you don't pay attention to these services and the costs associated, it can really eat into your bottom line. List commission-free digital ordering platforms as the primary options for visitors to pre-order at the restaurant, if possible, that way, you can protect your profits.
It's hard to avoid and maybe even foolish to ignore the paid delivery services because they can drive a lot of traffic to order to your restaurant.
The following is a list of the most popular service providers;
UberEats
Grub Hub
Caviar
DoorDash
Quick Tips in Dealing With These Delivery Services
Put costly delivery services separately from the commission-free partners, or remove expensive platforms from the website completely.
You may want to increase food prices on the menu for high commission delivery services to help defray the costs.
Capture customer emails from people who use these delivery services with your restaurant and then market them separately to use commission-free digital ordering platforms or your own delivery service to build customer loyalty and save money in the long run.
Menu Changes
Paper menus that can be disposed of or Menus that can be wiped, cleaned, and disinfected will be a must.
The menu may need to be altered to accommodate delivery as some menu items may not be conducive for delivery. You may also need to add other items that are popular for delivery. Food cost and loss may also impact profits, so keep a close eye on what's selling and what is not in a COVID-19 environment.
POS Systems
POS systems need to be able to accommodate delivery services platforms and Digital pre-ordering. The handling of payment methods with safe equipment may also be necessary. Do not underestimate the need for these systems to handle the way you will need to operate in a COVID-19 environment.
Restaurant Website
Your website may need to be redesigned to accommodate online pre-ordering and delivery services. Menu changes and also providing current information on your response to COVID-19 in terms of health and safety management will be a must, or you will lose business.
Signs and Banners In-Store/Location
Signs and banners will be needed to comply with health and safety guidelines for restaurants and COVID-19 per Federal, State, and local regulations and guidance.
Consider Adding Curbside Pick-Up
This is a great and affordable way to increase sales for your business. Develop systems to implement and accommodate curbside service. Customers love curbside service!
Is Outdoor Seating Possible And/Or Practical?
Some restaurants have the luxury of accommodating outside seating. Make sure all the same precautions are being taken to be safe and healthy and still practicing appropriate social distancing. If your restaurant in your locality can only serve outside, will it be enough sales to make sense to open? Watch your bottom line.
Lunch/Dinner Boxes/Meal Kits
Lunch and dinner boxes are a new concept that some restaurants are experimenting with that offer the recipe, instructions, and ingredients in the form of a box that can be picked up or delivered. Obviously, the cost versus benefit and only would apply to certain types of food and are case by case.
Step 3: Customer Experience | How to Get Creative During COVID-19
Communicate With Your Guests
Feedback during a point of contact with customers is essential in these challenging times. You can glean a lot of great information from operational changes, employee efficiencies, menu changes, to new opportunities.
Social Media to Connect Directly with Customers
Strongly suggest using Instagram and Facebook daily to get your message out there to customers. Through short videos using professional video equipment or even just your smartphone — you can show all the behind the scene aspects of your restaurant, such as food preparation, employees, restaurant environment, etc., and get people excited about what you have to offer daily.
Here's a great article from Modern Restaurant Management that breaks down 10 Social Media Marketing Tips for Restaurants https://modernrestaurantmanagement.com/10-social-media-marketing-tips-for-restaurants/#:~:text=63%20percent%20of%20restaurants%20use,about%20food%20through%20social%20networks
Follow up With Customers Through Email About Their Experience Post Contact
Contact your customers after their visit and encourage them you take a survey about their experience to get valuable feedback.
Visible Cleanliness and Health | Perception Can Be Reality
Perception is reality. Not only should you follow proper health and safety guidelines, but it would be a great idea to de-clutter your restaurant as well. Remove unnecessary furniture in the front of the restaurant as well as any unused equipment in the back. Less is more in a COV-19 world.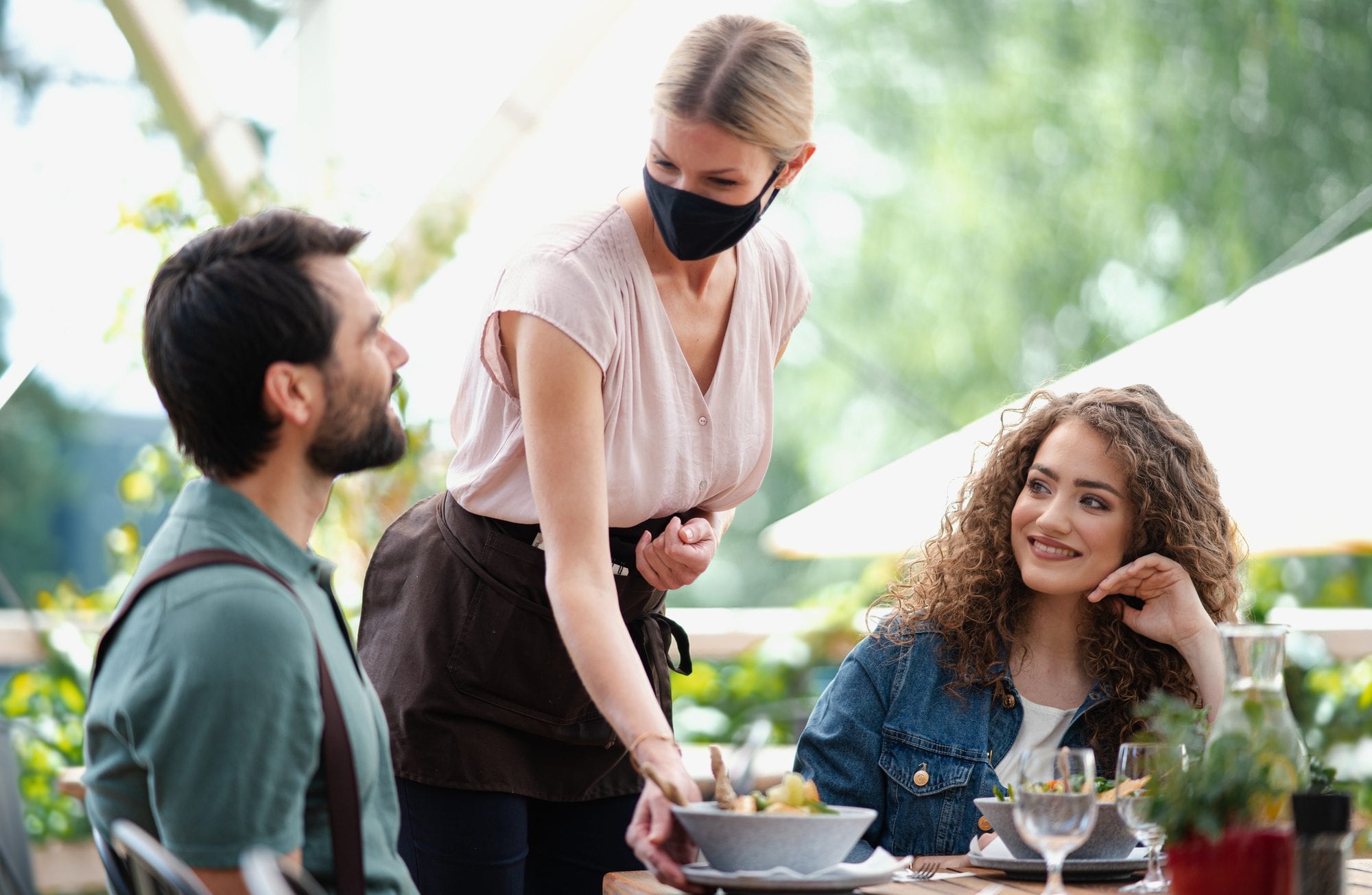 STEP 4: Acquiring & Retaining Customers in a COVID-19 World
Internet Marketing
Search Engine Optimization Firms –These firms can enhance the presence of your restaurant on Google and other search platforms so you can stand out from others. These companies also can refer you to website design companies that can help you maximize that exposure as well. This is essential to success because, in a COVID world, everyone is turning to the internet for food.
Google Business Place page-Check for accuracy of address, business hours, phone numbers, delivery services, and add a TON of current pictures of your location both inside and out, food items both being prepared and the finished product, and recent activity. You may want to also show pictures of actual curbside pick-up, delivery services you use the pick-up, and a bunch of "packed house" photos.
Instagram and Facebook-Daily photos and videos of daily activities at the restaurant are a great idea.
Promotions
You may or may not want to deploy these methods depending on how busy you are and how much you are struggling for business. Promotions bring attention and remind those who are not going out as much that you are still there.
Gift Cards
A great way to promote your business and get people to frequent the restaurant is gift cards. Handing them out at checkout for dining in customers no matter how small the amount is a great gesture of thanks and a way to get them to return.
Step 5: Business Finances: Managing the Money to Survive COVID-19
Keeping an Eye on the Bottom Line: Proactive Cost Management
Managing the money and your finances on a daily weekly basis will acquire additional attention. The following are a couple of great tips on managing your restaurant finances.
Online Business Banking-If you don't already have online business banking make sure you are set up with your bank to do so. All banks and credit unions have this feature. Look at your activity daily. Yes, you heard right, daily. You can afford to make mistakes with cash flow.
Online Merchant Processing-If you don't already monitor your merchant processing, you should start immediately. All merchant processors offer online access to daily activity.
Landlord or Mortgage holder-Remain in contact with your landlord and/or mortgage holder. If you are having cash flow issues, you can contact these folks and potentially get payment deferment during COVID-19. Be proactive and call before you miss a payment or will be late. It will be a great benefit.
Vendors-Interacting with Suppliers and Distributors. Keep in constant communication with your vendors and purveyors; without them, you can't get favors or inside information that can really help your business through tough times.
Expenses of managing COVID-19 Health & Safety-There will be an extra cost in supplies and labor to manage the requirements to comply with health and safety regulators and basically right by your business, employees, and customers. Do not underestimate those costs against your bottom line
Bookkeeping- Tighter financial management is required. You cannot manage your books as if there is nothing different going on. I strongly recommend if you don't have a bookkeeper to get one, even if part-time. Manage your finances weekly. Yes, you read that correctly, weekly. The bookkeeper should reconcile merchant processing with your business bank account, monitor labor costs (payroll), and create a weekly profit & loss analysis and balance sheet. You cannot afford to make mistakes in a COVID-19 environment. You need this information when it comes to making quick decisions about all aspects of the business and what you can and cannot afford to do.
Financing and Financial Help
The CARES Act — the Coronavirus Aid, Relief, and Economic Security Act — was signed into law on March 27, 2020, and provides two trillion dollars in relief through multiple initiatives: a lending program for small businesses, unemployment support for gig economy workers, aid for the healthcare system, tax relief for businesses and individuals, and a fund dedicated to industries that have been severely impacted.
SBA Paycheck Protection Program
Description: The Small Business Administration (SBA) has established the SBA Paycheck Protection Program loan. This SBA loan provides loans to small businesses affected by the Coronavirus (COVID-19) crisis and needs financial help. Under the right conditions, this loan program offers forgiveness.
Maximum Loan Amount: Up to $5 million
Use of Proceeds: Payroll costs, interest on mortgages, rent, and utilities (due to likely high subscription, at least 75% of the forgiven amount must have been used for payroll).
Terms: The loan will be fully forgiven if the funds are used for payroll costs, interest on mortgages, rent, and utilities (due to likely high subscription, at least 75% of the forgiven amount must have been used for payroll). Loan payments will also be deferred for six months. No collateral or personal guarantees are required. Neither the government nor lenders will charge small businesses any fees.
A borrower can remain eligible for loan forgiveness by using at least 60% of the funding for payroll costs. Originally, businesses needed to use 75% of the funding for payroll. The new legislation also extended the time a business can use the funding. A borrower now has 24 weeks to distribute the funding.
If not forgiven, this loan is deferred from payments for 6 months then has a maturity of 2 years and an interest rate of 1%.
Fees: None
SBA Economic Injury Disaster Loan (EIDL) and Loan Advance
Description: Economic Injury Disaster Loans (EIDL)-This type of SBA loan not only provides assistance after natural disasters like tornadoes, wildfires or floods but when President Trump declared COVID -19 a nationwide health emergency based on the recommendation of the CDC on March 13th, congress provided small businesses access to this program for emergency financing.
Maximum Loan Amount: Up to $5 million loan, up to $10,000 Advance
Use of Proceeds: Working capital for expenses such as fixed debt and payroll costs
Rates & Terms: The interest rate is 3.75% and the loan term can be as long as 30 years. The COVID-19 EIDL includes an automatic one-year deferral on repayment, though interest begins to accrue when the loan is disbursed.
The amount of your up to $10,000 grant, which you request when you fill out your EIDL application, is determined by the number of employees you have at $1,000 per employee with a maximum grant of $10,000. For example: If you have three employees, you will receive $3,000. That amount will be deducted from the loan forgiveness amount of any PPP loan you receive and should arrive within days of your EIDL loan application, according to the SBA. As noted above, whether you ultimately qualify for an EIDL, the grant money is yours and does not have to be repaid.
Fees: None
Alternative Business Financing Options
If you already have SBA PPP or SBA EIDL and will need additional money for the business, there are other r products currently available to assist your business in acquiring financing to fulfill certain restaurant needs.
The 7 Best Small Business Financing Alternatives for Restaurants
Long-Term Business Loans
The long term small business loans are small business loans with duration of greater than two years. Businesses are offered a fixed amount of upfront and charged principal & interest. Typically, long term business lending is for business expansion and growth or to finance large long term projects. This business funding option is used for long term projects and needs.
Business Line of Credit
A Business line of credit is an open revolving line. This type of funding allows business owners to draw funds when needed on-demand or make purchases—a business line charges a principal & interest rate. Business lines of credit do have a credit limit that cannot be exceeded without approval and is not open-ended forever and require renewal either semi-annually or annually to be extended. This business funding is primarily used for small purchases and working capital.
Short Term Small Business Loans
Short term business loans are defined as loans that are typically repaid with 6 to 18 months. This small business funding features a lump sum offered up front with a fixed payback amount calculated using a factor rate over a short term of time. Rates are not principal & interest but a "factor rate" that costs more than traditional loans. Most businesses choose short term business loans when they do not qualify for traditional business funding. Short term small business loans charge more for costs and are shorter-term, and the payments are more frequent to compensate for the greater risks business lenders take in offering this product. Short term business loans are popular with small businesses because of the reduced documentation requirements and credit tolerances that are laxer than traditional business loans.
Business Cash Advance
Business Cash Advances (BCA) is also known as the Purchase of Future Sales Agreement that advances future sales at a discount to a business. The business is responsible for paying back a fixed payback amount known as a specified amount, which is greater than the amount that was advanced to the business. This difference between the advance amount and the payback amount is called the "Factor Rate or cost," which is a fixed cost. This is not principal & interest costs. The advance is repaid by taking a fixed percentage of future overall deposits called the specified percentage. The payments are collected by an ACH fixed daily or weekly payment deducted from a business bank account based on the specified percentage of future sales. At the end of every month, reconciliation can occur. If the fixed payments are taken are more than the set future percentage of sales, a business owner can request a refund back to the business for overpayment so that the set specified percentage of sales collected for the business matches the revenue volumes. Repayment continues until the payback amount is paid back in full. There is no term limit with advances as the fixed payback percentage ever changes due to fluctuating revenue.
Merchant Cash Advance
A Merchant Cash Advance (MCA) is also known as a Purchase of Future Sales Agreement that operates very similarly to BCA's, but the biggest difference is the repayment process, which is connected to the future credit card revenues instead of overall sales. MCA's take a set percentage of future credit card sales at the time of batch of credit cards until the advance is paid back in full. Business owners find this valuable when they have fluctuating revenues and don't want to be locked into a fixed payment that could negatively impact capital or margins of profit if revenues decline or fluctuate. This small business funding is used primarily for working capital needs.
Equipment Financing
Businesses that use equipment to operate their business often turn to equipment financing for the purchase of equipment that uses the equipment as collateral. Business owners must have very good to excellent credit, but the good news is limited paperwork is necessary to get approved.
Small Business Credit Cards
Business credit cards are open revolving credit lines that charge a principal & interest rate with a limit. A card is issued that can be used for making payments or purchases. Arizona business owners utilize business credit cards in conjunction with other small business financing products. The primary use of this financial product is for purchase of small items or working capital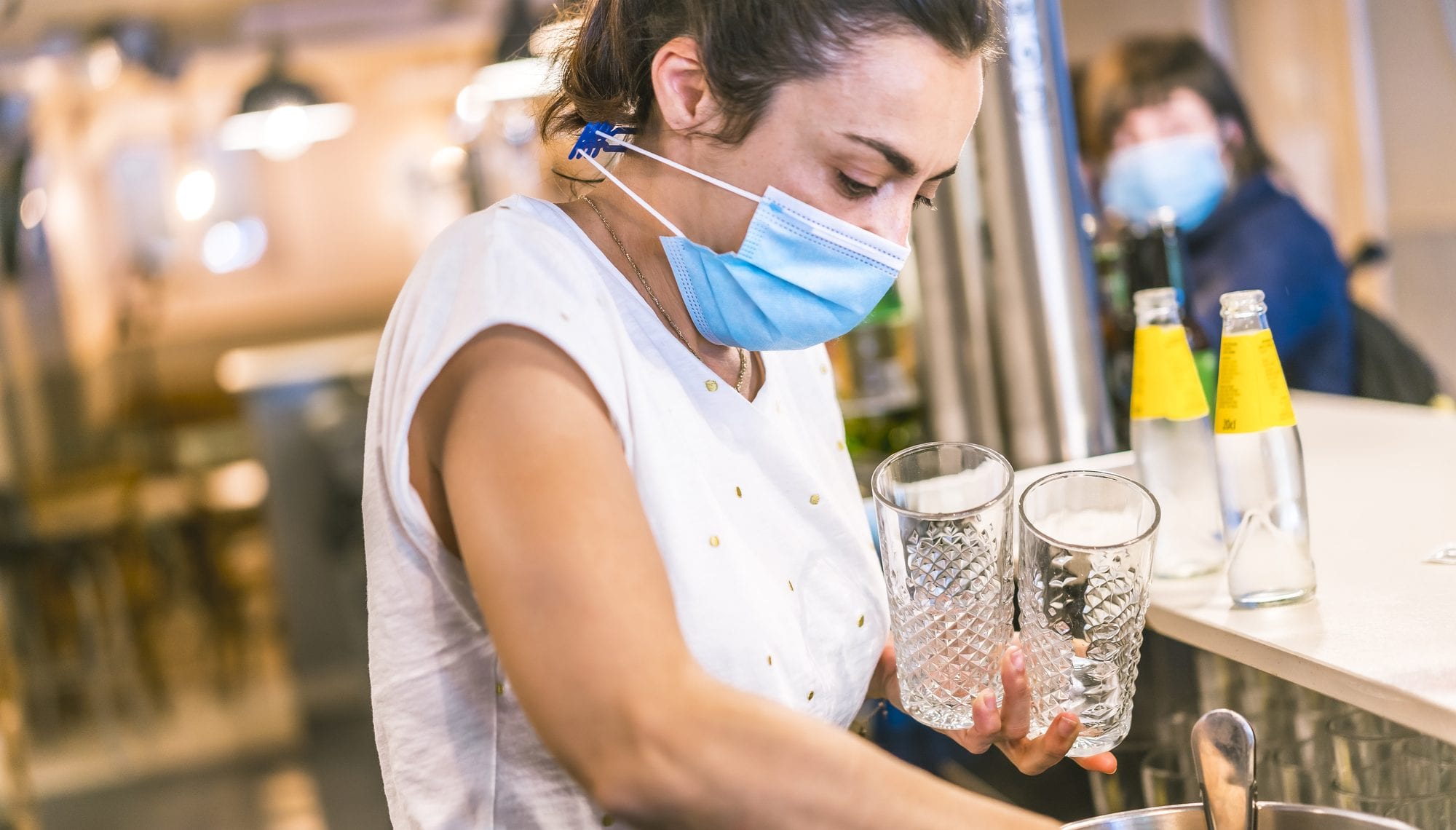 The Bottom Line
The restaurant industry, more than most other industries in the nation, has really suffered from the most significant hit to sales and job loss. Through this, tragedy can come an opportunity. Managing through all that has been thrown at restaurants by COVID-19 can seem overwhelming, but make no mistake about it, the restaurant industry is the heartbeat of main street small businesses and this tragedy shall pass and restaurants will thrive again.\
Facing the current reality head-on is key. Like this article, break down what needs to be addressed by writing down all the facets of the restaurant operation. You then develop a checklist of items to address and start to build your action plan and take the necessary steps to succeed. Embrace the challenge and move forward.